PARTNER POST – Get inspired with creatively crafted Castello Blue Cheese as we celebrate a Summer of Blue with #BluesdayTuesday.
Make a customer burger this summer, filled with gooey, rich cheese punctuating every bite. Watch your eaters devour the spicy patties cooled down by the creamy blue cheese.
By Keith Jackie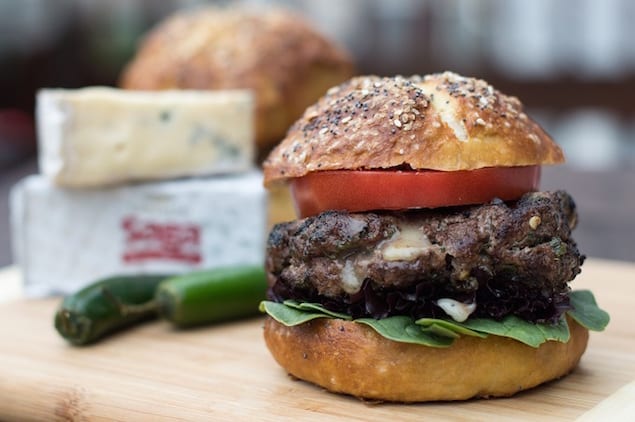 Summertime is burger time, and our grill is in full swing!! With Fathers day right around the corner, we cooked up a special treat for dad: a spicy mouth-watering burger stuffed with rich and creamy blue brie cheese. Dads everywhere love a burger prepared on the grill, but at Superman Cooks, a plain old burger just won't cut it. Our friends at Castello sent us some delectable Saga Blue Brie, and we thought its rich taste and texture would be perfect stuffed inside this special burger. We combined ground chuck with spices and fire-roasted Serrano peppers, and (as if that wasn't enough) we served it on a warm homemade pretzel roll.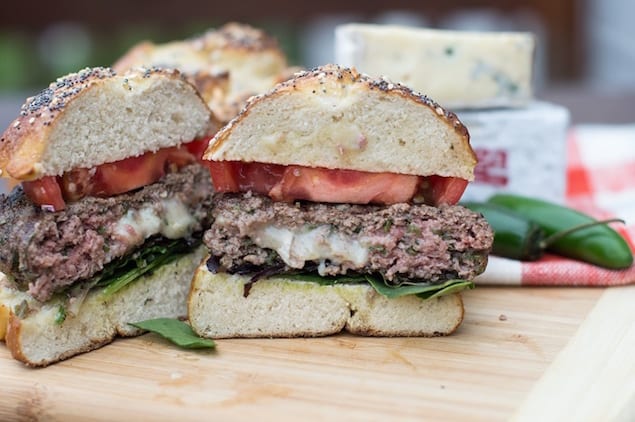 This burger is custom-made for Dad. Serve it up warm, with the gooey rich cheese punctuating every bite. Then watch him devour it and head for the recliner to settle in for a nap. As a dad, this is what I think father's day is all about. The creaminess of the blue brie cheese helps to cool the subtle heat of the pepper. This burger is packed with juicy flavor!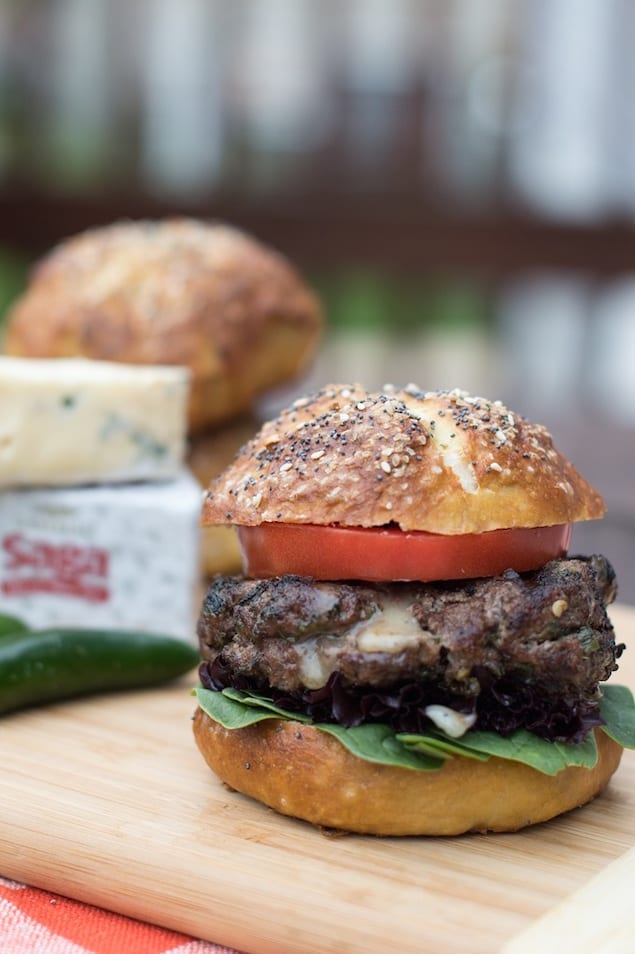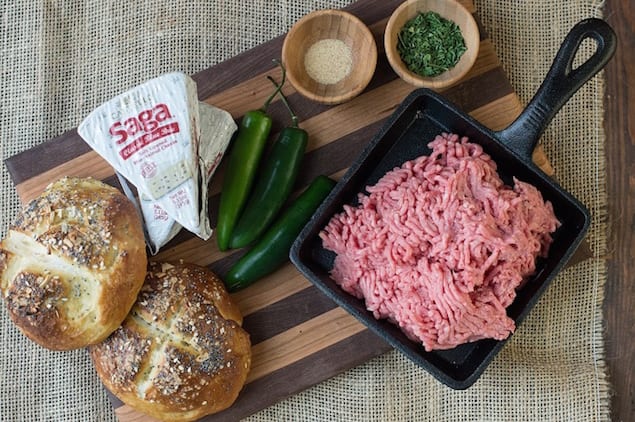 Now you can make potato salad, grilled corn, or many different side dishes to accompany our burger. Just make sure you make two burgers for good ol' Dad. We recommend a side of our Hillbilly Potato Salad. Seriously, this recipe specially created to make sure Dad is happy on his special day. While Jackie and I prepared this meal, we kept snacking on the homemade pretzel buns as they were still warm from the oven. We even spread some of the Costello Blue Brie cheese on the warm pretzel rolls and OMG,what an amazing snack in itself! We are confident that dads everywhere will be happy with this special burger on this special day.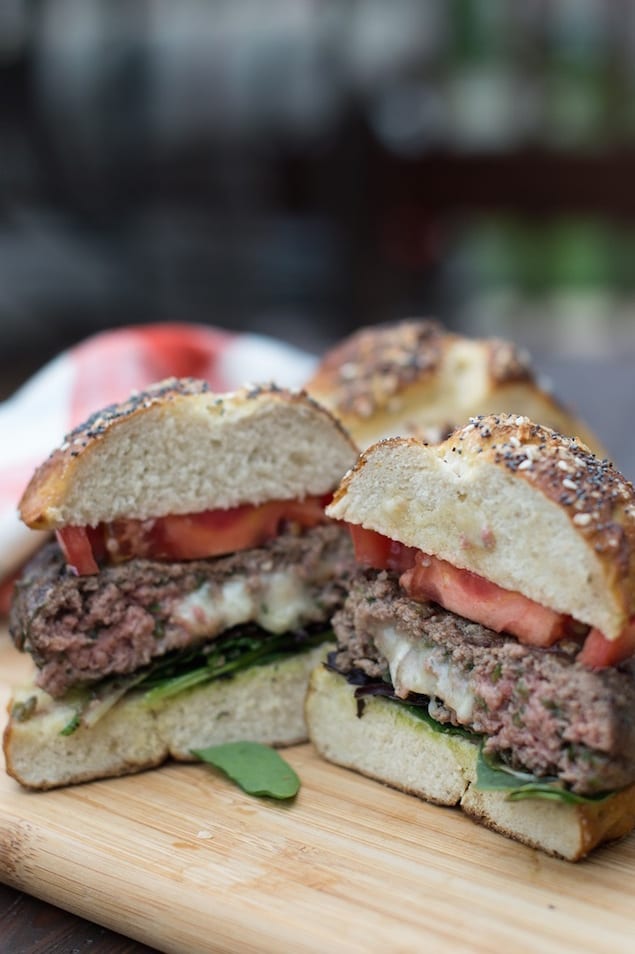 Castello Summer of Blue — Spicy Blue Brie Stuffed Burger
Make a customer burger this summer, filled with gooey, rich cheese punctuating every bite. Watch your eaters devour the spicy patties cooled down by the creamy blue cheese.
Ingredients
1½ pounds ground chuck
3 serrano peppers
1 tbsp garlic powder
1 tbsp parsley flakes
8 oz Costello Brie Blue cheese
Toppings of your Choice,
Buns (we used pretzel buns, link in the first paragraph)
Instructions
To prepare burgers:
Place peppers on grate of grill and cook pepper until all skin is black
Remove from grill and run under cool water and remove charred skin from peppers
Remove stems and seeds from peppers and dice into ? in pieces.
Place Ground beef in a mixing bowl and add chopped peppers, garlic powder and parsley and mix until combined.
Divide Beef into 8 equal portions and patty out to ¼ in thick patties
On top of 4 of the patties add 2 oz of the Blue Brie Cheese.
Top those burgers with the 4 remaining patties and press sides to seal all edges so cheese does not ooze out while grilling.
Grill burgers on grill over a medium/high heat for about 6-8 minutes and turn burgers over for an additional 6-8 minutes. (Do not press down on burgers!)
When burgers are cooked to desired temperature, remove from grill and allow to rest for 5 minutes before assembly.
Place burger on pretzel bun and top with your favorite toppings.
Keith Jackie
We met on a warm summer evening. His square jaw and engaging smile reminded me a bit of Clark Kent. We share a passion for life: music, baseball, and especially food. He makes me feel like I can fly. Welcome to our exploration of food, recipes and ideas that celebrates our life together. He creates the recipes and prepares the food, and I am the documentarian. My superman can cook! Check out our site, Superman Cooks.