PARTNER POST – Get inspired with creatively crafted Castello Blue Cheese as we celebrate a Summer of Blue with #BluesdayTuesday.
Summer takes on a whole new flavor when classic grilled corn is served with a yogurt and creamy blue cheese sauce with fresh basil.
By Rinku Bhattacharya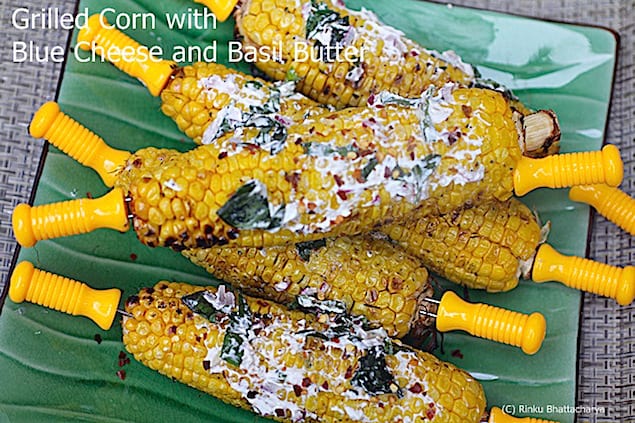 There are few things more characteristic of summer than golden summer corn, roasted or softly cooked until it is tender crisp. My daughter loves her corn, and cannot get enough of it. I like to grill the corn and treat it simply, often sprinkling it with fresh lime juice and salt. There is something fun and childlike about picking up a whole ear of corn and biting into its soft and sweet kernels, actually the fun starts from the moment you begin removing the green leaves.
In fact, last week I tried something very different, combining the corn with the smoky and creamy blue cheese that the folks at Castello had sent me for their #BluesdayTuesday challenge.
For today's feature I decided to make you grilled corn with a blue cheese and basil butter, finished with fresh lime juice and happily sprinkled with crushed red pepper flakes. Happiness or summer, in a delicate sweet and savory cob. I prepared the "butter" ahead of time and it is actually a very versatile spread that works well on your choice of fish, or even drizzled and stuffed into peaches and nectarines. The butter is prepared with loads of chopped basil, creamy blue cheese and some thick and wholesome Greek Yogurt to form a thick and smooth paste, this is spread in chunks over hot freshly grilled corn.
See Also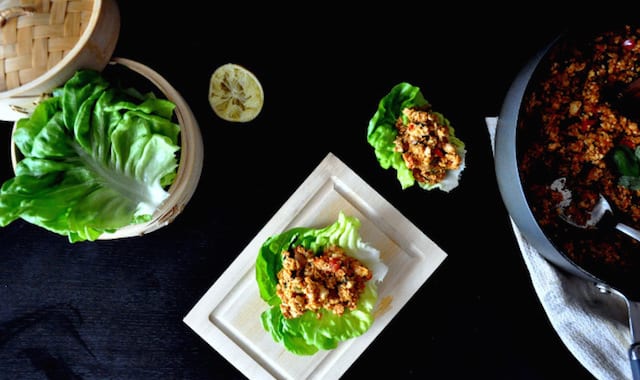 The blue cheese from Castello offers a sophisticated and smoky taste with a creamy texture, I personally feel that the complex flavors work especially well with foods that offer a nice touch of sweetness. So, think fruit, fig jam and in today's case fig jam.
Castello Summer of Blue — Grilled Corn with Basil-Blue Cheese Sauce
Summer takes on a whole new flavor when classic grilled corn is served with yogurt creamy blue cheese sauce with fresh basil.
Author:
Rinku Bhattacharya
Ingredients
Blue Cheese Sauce
4 tablespoons crumbled creamy blue cheese
¼ cup minced basil leaves
2 tablespoons whole Greek Yogurt
Salt to Taste
For the corn
4 medium ears of corn
3 tablespoons olive oil
1 medium sized lime or lemon
1 tablespoon crushed red pepper flakes
Instructions
Beat together the blue cheese, basil leaves, Greek Yogurt and salt until well mixed and smooth.
Place the corn over the grill on an open flame, and turn the corn gently every 3 to 4 minutes, until the corn is nice and golden brown.
Squeeze the corn with fresh lime juice and dab with chunks of the blue cheese butter.
Sprinkle the corn with crushed red pepper flakes and enjoy!
Rinku Bhattacharya
Rinku Bhattacharya, is a teacher of Indian Cooking and the author of the blog, Spice Chronicles. A busy working mother Rinku is committed to offering a practical approach of flavorful, everyday cooking often with an Indian Accent. An author of three cookbooks, Instant Indian, Classic Foods for Every Region of India made easy in the Instant Pot, Spices and Seasons, Simple, Sustainable. Indian Flavors and The Bengali Five Spice Chronicles. Rinku's passion for food starts with cooking and trying new recipes and extends to pairing and drinking wine with food and trying usual combinations by fusing various culinary influences. Rinku and her family are very committed to a sustainable lifestyle, and she uses mostly local produce for her recipes. She is joined in this effort by her husband who is an avid gardener and her children, Deepta and Aadi.