PARTNER POST – Get inspired with creatively crafted Castello Blue Cheese as we celebrate a Summer of Blue with #BluesdayTuesday.
Celebrate the season with an easy menu complete with grilled chicken filled with tangy blue cheese and basil.
By Jovina Coughlin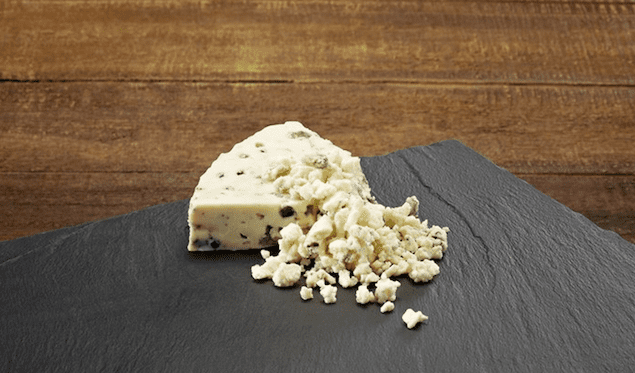 www.castellocheese.com
Beginning this month, Castello Blue Cheese will be featuring creative blue cheese recipes on Tuesdays, also known as #BluesdayTuesday! Castello has a wide range of wonderful cheeses. Check out Castello's website for more information and don't forget to enter the sweepstakes. You can win a season's worth of blue cheese for your summer entertaining.
I used Castello's crumbled Danish Blue in my recipes to celebrate #BluesdayTuesday. I am a big fan of blue cheese and love to put it on so many things, especially salads. However, I wanted this delicious tasting cheese to be a star in a menu I would use for entertaining my guests.
If you are not that familiar with blue cheese, start simple and pair it with different foods to see how they complement each other. Try it alongside sweeter ingredients like figs or pears for a great appetizer. Add blue cheese to spicy recipes to tone down the heat and, then, add it to some of your main dish recipes. Once you start experimenting with blue cheese, you'll become a fan also.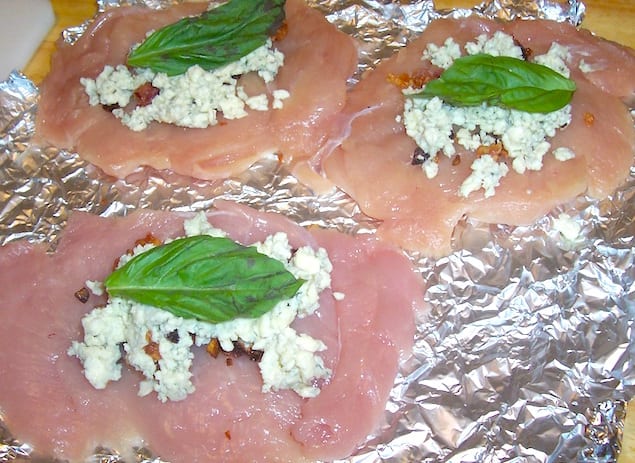 Now that May is here and the weather has warmed, I look forward to entertaining outdoors. It is also the time I think about grilling. I find it very creative to plan a menu for entertaining and, in thinking about what to serve, it is always best to go with seasonal foods because they are going to be flavorful and fresh.
Below is my suggested menu for an outdoor dinner party for 4. This menu is easily doubled for additional guests.
Appetizer
Eggplant Compote, get the recipe here.
Main courses
Grilled Chicken Rolls with Danish Blue Cheese Stuffing, see the recipe below!
Lettuce and Green Bean Salad, get the recipe here.
Grilled Vegetables, get the recipe here.
Dessert
Almond Panna Cotta with Blueberry Sauce, get the recipe here.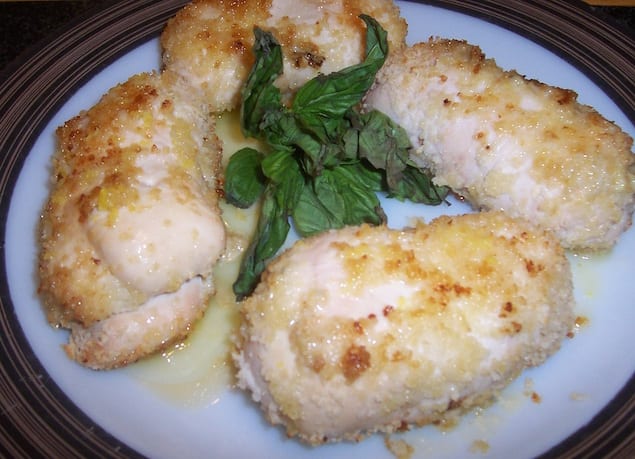 Castello Summer of Blue — Grilled Chicken with Danish Blue Cheese Stuffing
Celebrate the season with an easy menu complete with grilled chicken filled with tangy blue cheese and basil. A technique I like to use for cooking fish and chicken on the grill is to coat them in Panko crumbs and grill them on heavy-duty foil over indirect heat. This technique keeps food moist and delicious. The chicken only uses one side of the grill, which leaves the direct side to use for grilling vegetables.
Ingredients
Lemon Sauce
1 teaspoon lemon zest
2 tablespoons lemon juice
¼ cup unsalted butter, melted
Danish Blue Stuffing
4 oz Castello Danish Blue Cheese
4 large fresh basil leaves
1 teaspoon olive oil
4 slices Pancetta, about 4 oz
2 garlic cloves, minced
4 medium boneless skinless chicken breast halves (about 6 oz each)
¾ cup Panko crumbs
Instructions
For the sauce:
In a small bowl combine lemon zest, lemon juice and melted butter. Divide the sauce in half and set both bowls aside.
For the chicken rolls:
Heat 1 teaspoon of olive oil in a small skillet and sauté the pancetta and garlic until the pancetta is crispy. Drain on a paper towel. Set aside.
Butterfly each chicken breast and place each piece between 2 layers of plastic wrap.
Use the flat side of a meat mallet to pound the chicken into rectangles of an even thickness.
Divide the cooked pancetta evenly on each chicken breast.
Add 1 oz of Castello blue cheese to each breast and top with a basil leaf.
Fold in the sides of each chicken breast and roll up.
Dip chicken into one of the dishes with the reserved lemon sauce and then roll in the Panko crumbs, pressing the crumbs into the chicken.
Secure the rolls with skewers and place on a tray lined with heavy duty foil. Refrigerate the chicken rolls until it is time to grill. Discard the lemon sauce used for the coating.
Preheat the grill on high.
Turn off one side of the grill and place chicken with the foil on the indirect side.
Grill for 10 minutes, turn the chicken rolls over with grill tongs and cook for 10 more minutes or until the chicken registers 160 degrees F on an instant read meat thermometer.
Move the chicken rolls to a serving platter. Let grilled chicken rest 5 minutes.
Drizzle with the reserved lemon sauce and garnish with basil leaves. Serve.