PARTNER POST – Get inspired with creatively crafted Castello Blue Cheese as we celebrate a Summer of Blue with #BluesdayTuesday.
A cool pasta salad starts with a tomato penne combined with shredded chicken, then blended with blue cheese dressing, blue cheese crumbles, red onions, plump red grapes, and tarragon. It is perfectly satisfying on a warm day.
By Kristi Kaiser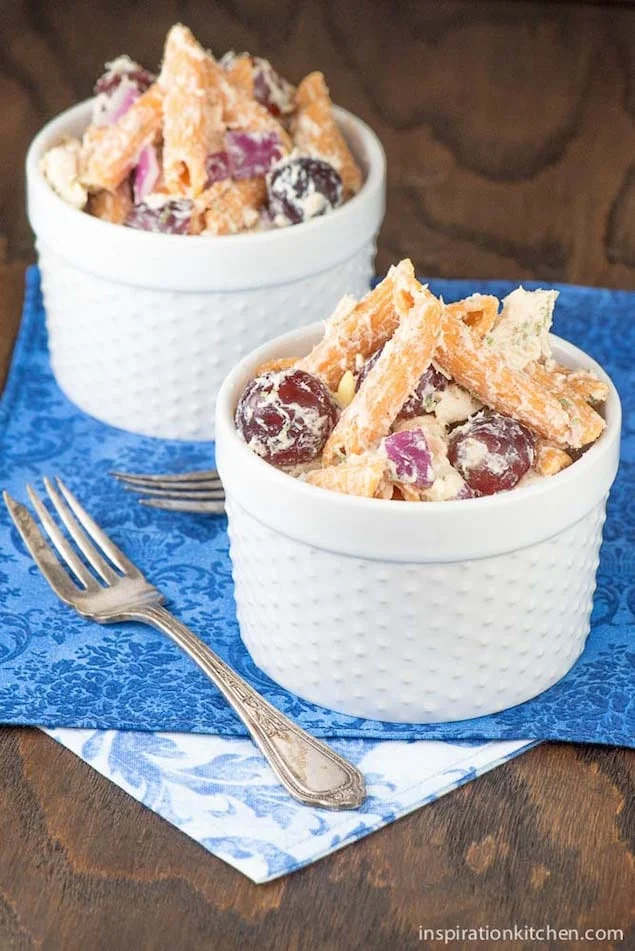 This Blue Cheese Chicken Pasta Salad is so savory for summer! Served chilled with plump, juicy, red grapes, chicken, red onions, blue cheese dressing and blue cheese crumbles will make it your new favorite summer salad to be enjoyed on a warm day!
As a lover of all things savory, you can imagine that I am a huge fan of blue cheese. And of course, because of that, I have an amazing summer salad recipe for you.
This recipe is one of my *all time favorite* salad recipes, no matter what time of the year. In fact, I've been waiting two years to share it.
What took me so long? Well…, when you have a favorite, sometimes it takes patience to get it right. And…, time to make it much better than the original. Time to make it perfect.
Let me explain. We have a local deli that sells the most amazing Chicken Salad that they offer only on special occasions throughout the year. If you're lucky, you get there early…because if you don't, it frequently sells out. Why they only offer it a scant number of times a year, when it's so hugely popular, is a complete mystery to me. My guess is, they mistakenly see it as a winter salad. And, can I just tell you? They couldn't be more wrong.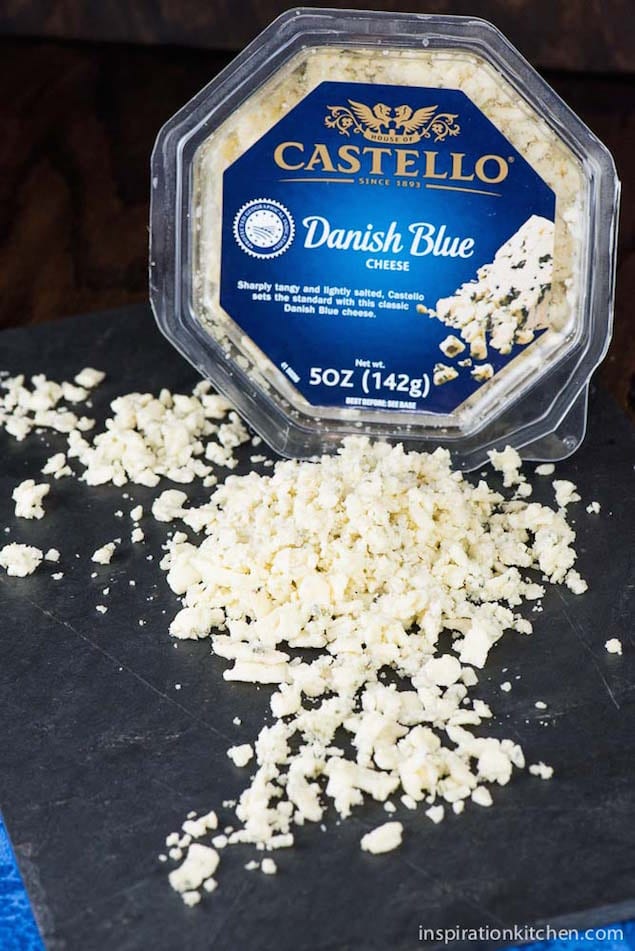 This salad is all things summer! I've re-invented this savory salad into a perfectly light, chilled, summer salad that is perfect to enjoy on a warm, summer afternoon. What I love about it is, that it combines all of my favorite things in one lovely salad place.
This Blue Cheese Chicken Pasta Salad starts with a tomato-based penne, combined with shredded white chicken breast, then blended with Blue Cheese Dressing, Blue Cheese crumbles, red onions, plump, juicy, red grapes then seasoned with salt, pepper, (and my favorite spice) tarragon. Served chilled, it's perfectly satisfying (without being filling), that you will love on a hot summer day.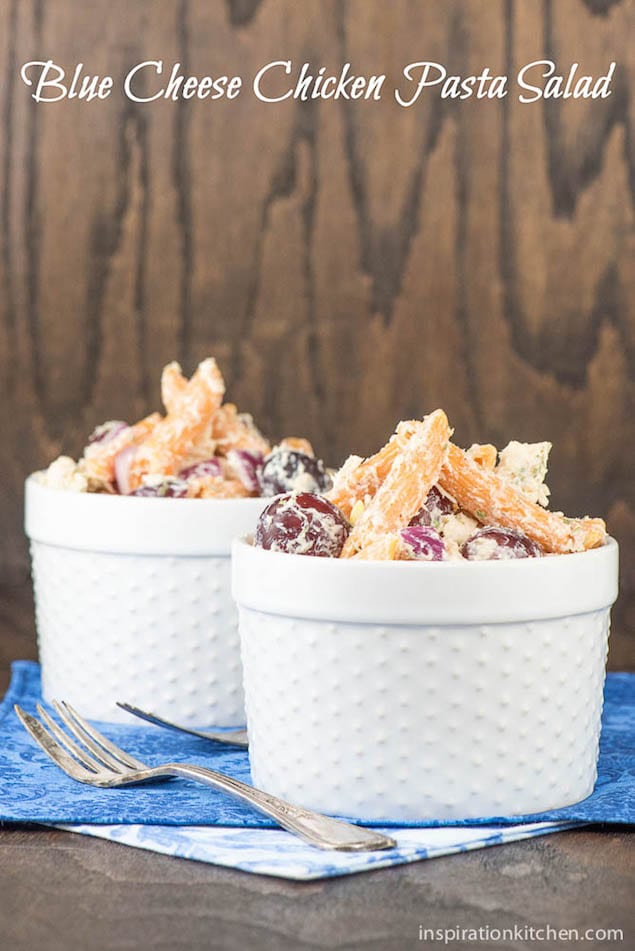 The plump, juicy, snap of the sweet, red grapes is the perfect counter balance for the sharp, tangy, salty blue cheese that is the star of this dish.
We all know that blue cheese is perfect on top of a grilled burger, but…it's also amazing in salad where it adds richness, creaminess and great depth of flavor.
What I love is, that it's so versatile! It's crumbled when sprinkled on top of a green salad, melts deliciously to smother a burger, or spreads to cover a cracker. It's such a great cheese – with amazing flavor – that can be used in a variety of ways. My favorite thing though, is its strong, sharp, tangy and salty bite. It has such a beautiful finish that doesn't overpower the palate.
Castello Summer of Blue — Chicken Pasta Salad with Blue Cheese
A cool pasta salad of tomato penne is combined with chicken, blue cheese dressing, red onions, plump red grapes, and tarragon. Perfect on a hot day.
Recipe Type:
Side, Pasta, Salad
Ingredients
Blue Cheese Dressing
5 ounces crumbled Danish Blue Cheese (Castello preferred)
⅓ cup sour cream
⅓ cup buttermilk
¼ cup mayonnaise
1 tablespoon white wine vinegar
½ teaspoon dry mustard
½ teaspoon garlic powder
¼ teaspoon Worcestershire sauce
¼ teaspoon ground black pepper
Salad
6 cups cooked and drained Tomato Penne Pasta
3 cups cooked, shredded white chicken breast
5 ounces crumbled Danish Blue Cheese (Castello preferred)
1 cup Blue Cheese dressing (from recipe above)
1 cup coarsely chopped red onion
1 cup red grapes, halved
1 teaspoon tarragon
1 teaspoon salt
½ teaspoon ground black pepper
**optional ½ to 1 cup walnuts (optional)
Instructions
Blue Cheese Dressing
Add sour cream, buttermilk, mayonnaise and white wine vinegar into a medium-size bowl and stir until thoroughly mixed. Season with dry mustard, garlic powder, Worcestershire and black pepper. Fold in crumbled Danish Blue Cheese. Set aside
Salad
Cook pasta per instructions, drain and set aside.
Prep by chopping red onion and red grapes and set aside.
Add pasta, chicken and onions to a medium-size bowl and toss until thoroughly mixed. Top with Blue Cheese dressing and season with tarragon, salt and pepper. Gently fold in red grapes. Add walnuts if desired.
Notes
Walnuts in this recipe is absolutely fabulous. I left them out (so you won't see the in the photos) because of friends who are allergic! If you have no nut restrictions, add them for amazing flavor!
Kristi Kaiser
Hi, I'm Kristi. The cook, author and photographer at Inspiration Kitchen. I am so passionate about food and I want to share that love! It is my goal to entertain.inspire.encourage home cooks everywhere that anyone can cook!