Castello Summer of Blue — Blue Cheese Stuffed Burgers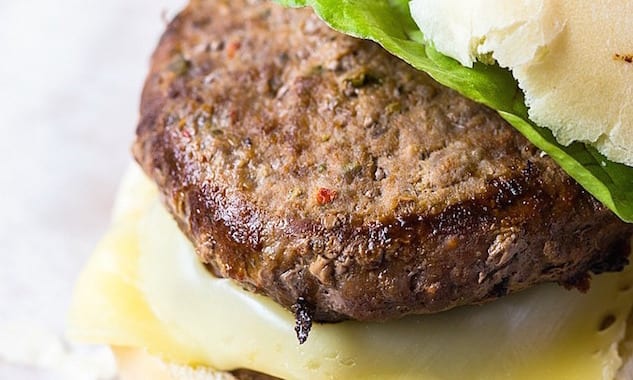 PARTNER POST – Get inspired with creatively crafted Castello Blue Cheese as we celebrate a Summer of Blue with #BluesdayTuesday.
Burgers receive a delicious flavor punch from blue cheese, basil, and red pepper in the patties.
By Arman Liew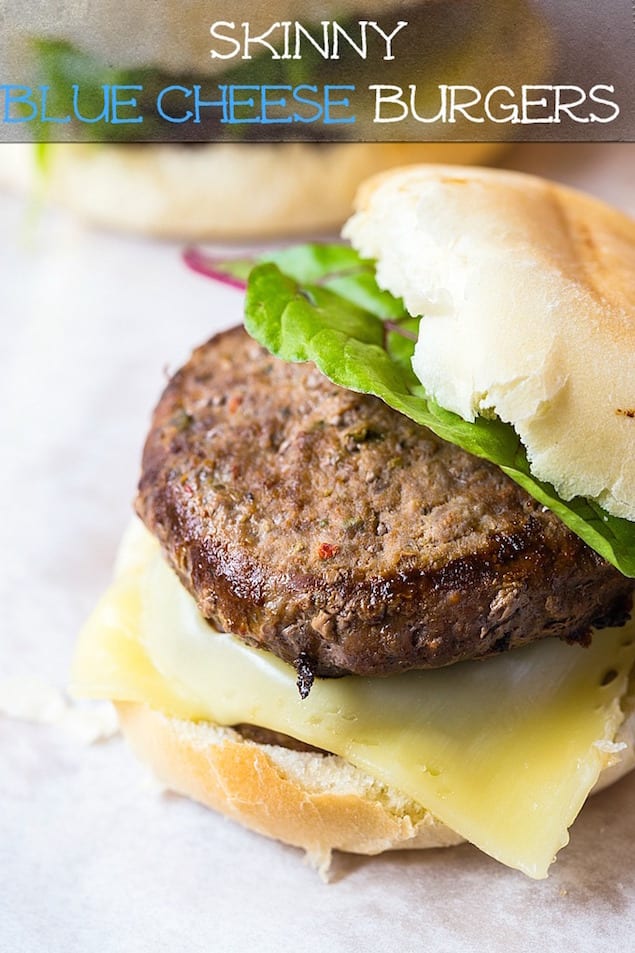 My experience with extra lean ground meat is that is really lacks flavour and when even slightly overcooked can resemble rubber. When made for food prep, I find it dries out much faster regardless of how much oil you cook it in. However, I've found it to be a suitable balance when mixed with certain ingredients containing fat, especially cheese.
I've found that when using a full flavoured, non reduced fat cheese, it balances the extra lean ground meat really well and still produces a juicy, flavourful burger without the greasy aftertaste often found when using standard ground beef. I'm a huge fan of TOPPING my burgers with blue cheese but never thought to add it to the burger mixture.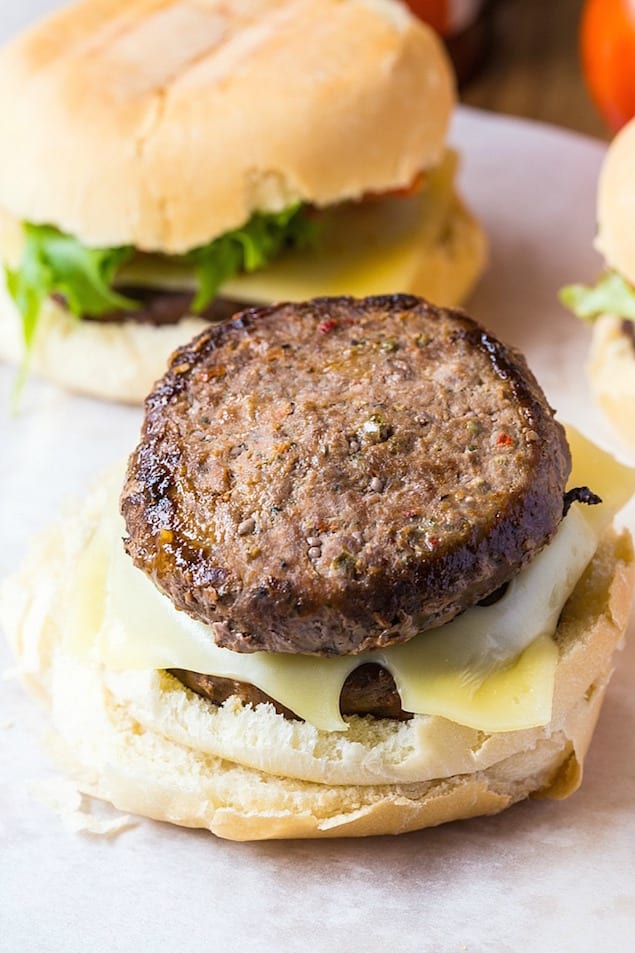 I used Castello's Danish Blue Cheese which was a new one for me. I've grown up enjoying Castello cheeses but never had I tried this particular style of blue cheese. It was slightly more salty and indulgent and a small portion went a very long way! I've always loved Blue Cheese Burgers but they always left me feeling lethargic or as though I'd just had eaten Christmas lunch in burger form, especially with the mound of blue cheese on top.
How was I to combat this? Add a small portion of blue cheese IN the lean ground meat to create the ultimate skinny Blue Cheese Burgers leaving you feeling good, not greasy.
See Also

Using lean ground beef, crumbled traditional Danish Blue cheese and a combination of spices make this delicious, juicy burger. Because of the saltier nature of this particular cheese, I cut back a tad on the salt. For those not fans of ground beef, this works so well with chicken or turkey but I would recommend you DO add some salt to those ones. Because there are no flours or breadcrumbs within it, these are gluten and grain free and pretty much free of carbs- All the excuses to go crazy on the toppings.
Want to know the key to the perfect, juicy and well rounded burger? Blending all the ingredients together to ensure it's fully incorporated.
Castello Summer of Blue — Blue Cheese Stuffed Burgers
Burgers receive a delicious flavor punch from blue cheese, basil, and red pepper in the patties.
Ingredients
500 grams ground meat of choice (just over 1 lb)
½ large onion, chopped
1 clove garlic, minced
1 T black peppercorns (can substitute for ground pepper)
1 tsp basil
1 tsp chives
1 tsp red pepper flakes (adjust to taste- I tend to go heavy on it)
¼ cup crumbled blue cheese (I used Blue Danish)
Swiss cheese for topping (optional)
Salad ingredients for topping
Instructions
In a food processor or blender, add all the ingredients and blend very well for mixture to be incorporated. Form into 4 palm sized patties.
Coat a grill or frying pan with oil on medium heat. Once hot, add the patties and cook 3-5 minutes, until the edges are browned and the cheese isn't oozing out. Flip and repeat until the sides are charred.
Remove from pan and wrap in aluminum foil and allow to sit for 5 minutes before serving.
Arman Liew
The Big Man's World is all about great recipes, epic travels and random rants from all things fitness, diet trends and why my body will never look like Channing Tatum's.There is an unfair stigma that healthy food can be boring and tasteless- It is my personal mission so prove that wrong.