Castello Summer of Blue — Blue Cheese Potato Salad with Bacon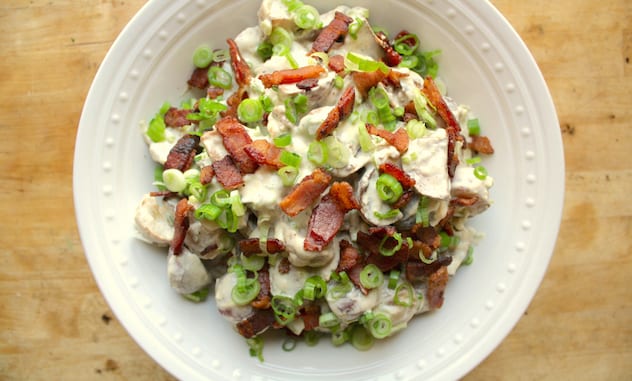 PARTNER POST – Get inspired with creatively crafted Castello Blue Cheese as we celebrate a Summer of Blue with #BluesdayTuesday.
Ready to join your barbecue spread, this bright potato salad with lemon juice, blue cheese, scallions, and mouth-watering bacon is a backyard winner.
By Aaron Hutcherson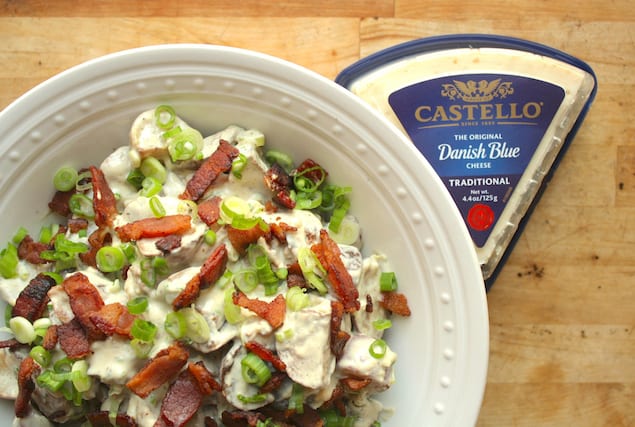 Summer is here! For me, summer equals barbecues and cookouts with friends and family. Any good barbecue spread deserves a delicious potato salad recipe. Potato salad can be a very divisive dish—in my family at least—and many claim that their recipe is the best.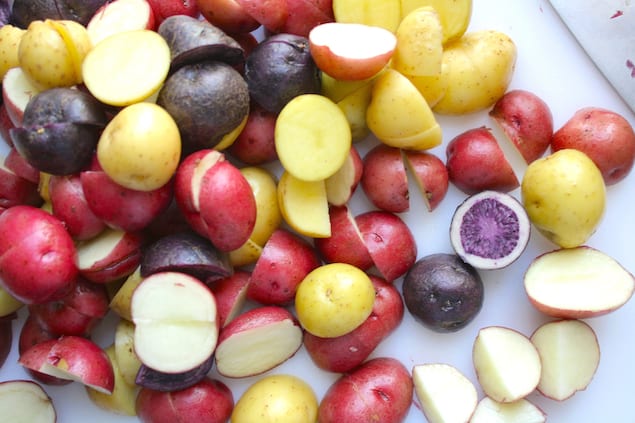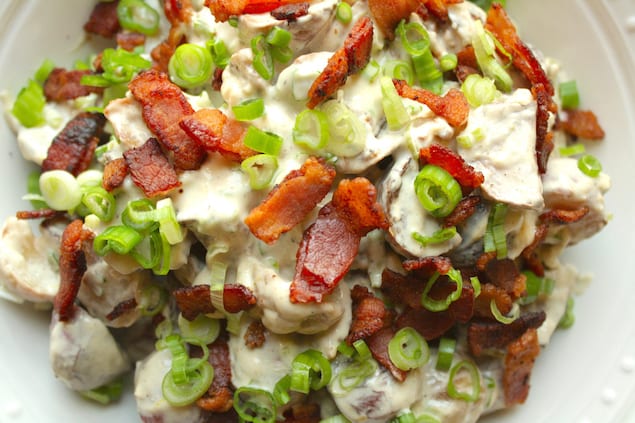 As can be expected, this potato salad recipe is far from traditional. First, I decided to use sour cream instead of mayonnaise. Lemon zest and juice give some brightness to balance out the delicious funk of the blue cheese. Sliced scallions add a bit of freshness. And last, but not least, bacon because…well…bacon makes everything better. Bring this bacon blue cheese potato salad recipe to your next barbecue and it is sure to impress.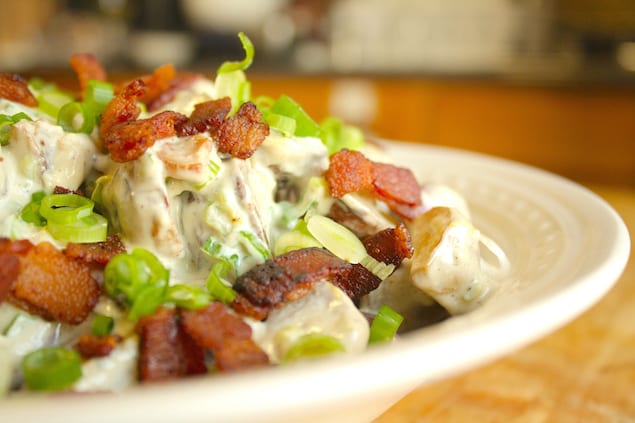 Castello Summer of Blue — Blue Cheese Potato Salad with Bacon
Ready to join your barbecue spread, this bright potato salad with lemon juice, blue cheese, scallions, and mouth-watering bacon is a backyard winner.
Ingredients
6 slices bacon, cut into strips
One 28-ounce bag baby potatoes, halved or quartered depending on the size
Salt and pepper
One 4.4-ounce package Castello Traditional Danish Blue Cheese, crumbled
½ cup sour cream
Zest and juice of 1 lemon
4 scallions, sliced
Instructions
Add the bacon to a large skillet over medium heat and cook until the fat is rendered and the bacon is crisp. Use a slotted spoon to transfer the bacon to a plate layered with paper towels, leaving the bacon fat in the pan.
Add the cut potatoes to the pan and sprinkle with salt and pepper. Cook the potatoes in the bacon fat until tender and brown. To speed up the cooking process, you can cover the potatoes until tender, and uncover to get them to crisp up.
Transfer the potatoes to a bowl lined with paper towels and let cool slightly. Remove the paper towels.
Add the sour cream, lemon zest and juice, and three-quarters of each of the bacon and scallions. Mix and add more salt and pepper, to taste. Sprinkle with the remaining bacon and scallions to garnish.
Aaron Hutcherson
I am a classically trained chef, writer, and lover of all things food. My passion for food is even greater than my love of sleep (which is saying a lot). Hopefully my recipes will inspire you to go out and cook something of your own.