PARTNER POST – Get inspired with creatively crafted Castello Blue Cheese as we celebrate a Summer of Blue with #BluesdayTuesday.
Slightly savory, slightly sweet, this fun custard ice cream highlights the soft notes of caramel in the blue cheese for a silky smooth, cold treat that is great next to a charcuterie plate.
By Asha Yoganandan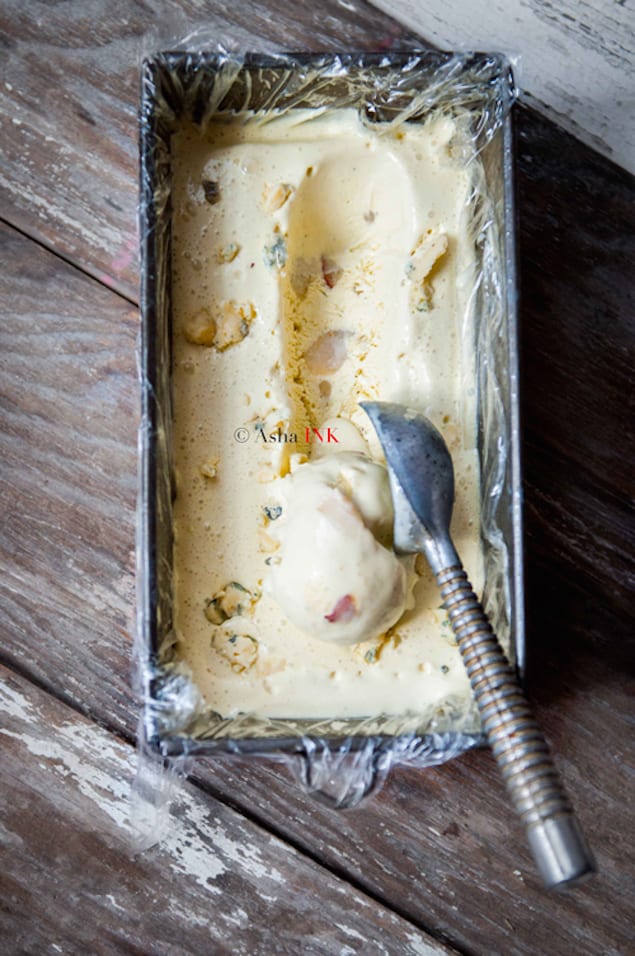 Oh yes! It's ice cream season. Well, is not that what Memorial Day is all about? The subtle signal that summer is here and now?!
Speaking of which, hope you all had a great long weekend. We in the US, don't have nearly enough long weekends. So, we may as well make the most of it.
Let me tell you about this ice cream. Blue Cheese Ice Cream. Because, it blew my mind! Ever since a little Italian gelataria opened by me, I have been fascinated with savory ice creams. They make an amazing olive oil one that is served with the charcuterie platter. Divine. And, yes, that is where my inspiration for this came about.
Of course, it then is a question of what kind of blue to use. Much like every other cheese there are several variations of blue. For one, you would not use Roquefort in this recipe. Not only would the French consider it appalling, so would your wallet. Then there is the English Stilton, which would be just right but also a touch snobbish. But, I would really like a little less of the stiff upper lip and more of the OMG effect when I have a new flavor of ice cream.
When the good folk at Castello asked me to test their line of Danish blue cheeses, happy bells rang in my head. A mild blue cheese, it is slightly creamy and slightly caramelly in flavor, which, seemed to scream ice cream to me! Once the bill fit, I pursued it with single minded determination. Well, it all actually came together rather naturally.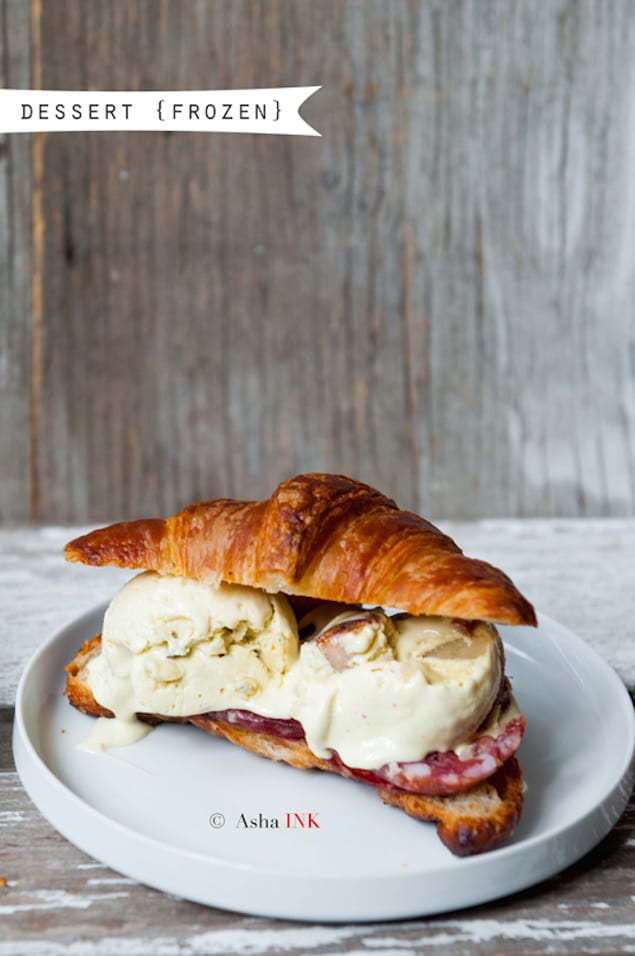 To highlight the soft notes of caramel in the cheese, I used condensed milk to thicken and sweeten the custard. To balance all that richness, I made a lighter custard with half and half rather than cream and lesser yolks. The result, was a super creamy frozen custard that melted in your mouth in a stream of satin. As to flavor, it was not exactly sweet and had the definite tang and fulsome feel of blue cheese. With specks of pear running through the ice cream, it was an all in one dessert.
Wait! Dessert? Then what is up with the sandwich photos you ask? Well, the thing is, this ice cream made a ridiculously fulfilling dessert. But, I felt in my bones, it was meant to be more than just a scoop at the end of the meal. Visions of cold cuts started haunting me for no reason, until, I surrendered to their wisdom.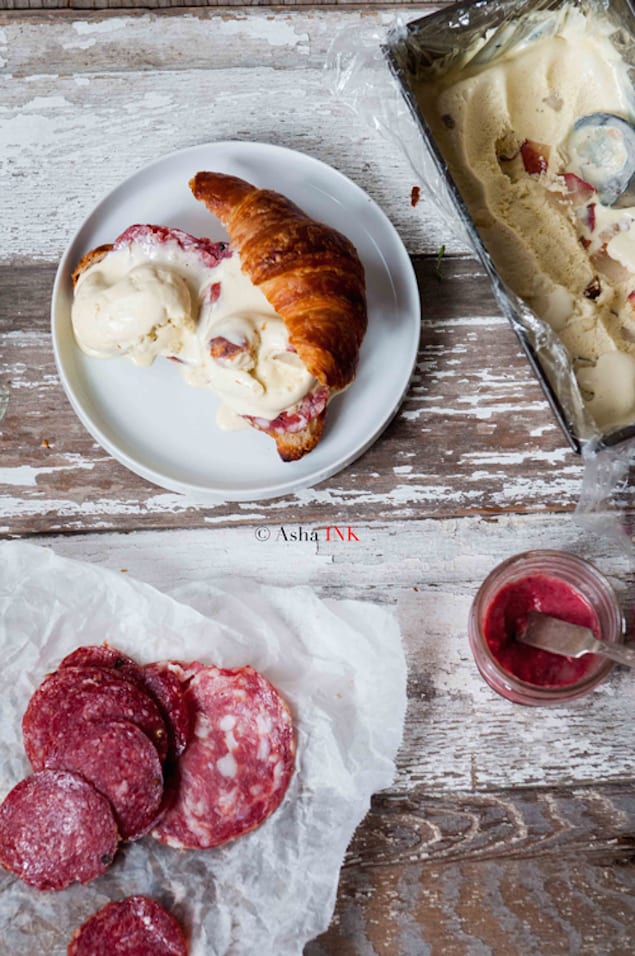 Indeed, an ice cream such as this, with the subtle savory element, must be highlighted in a savory role as well. Sopressata that richly peppered and favored of cured meats is meaty enough to stand up to blue cheese and definitely spiced to cut through the creaminess of the ice cream. The croissant was inevitable.
Rich, buttery flaky layers that crunch and then give into the softness of the ice cream, leading to the bite of the meat ending in another cushion of layered dough – Imagine starting your day with that. It is bound to leave you inspired for the whole day. Exactly, what we need for Summer!
So, all through the season, I'll have it on demand in my freezer. Yes, it is going to be one heck of an ice cream season!
Print
Castello Summer of Blue — Blue Cheese and Buttered Pear Ice Cream
Slightly savory and sweet, this frozen custard highlights the notes of caramel in blue cheese for a silky cold treat that is great with a charcuterie plate.
Author:

Asha Yoganandan

Category:

Dessert, Appetizer
6 oz

Castello's Danish blue cheese

1 cup

half and half

2

egg yolks

1/2 cup

sweetened condensed milk

1

T light brown sugar or maple sugar

1

ripe pear, cubed into

1

inch pieces

3

T butter
Instructions
In a heavy bottomed pan, heat the half and half on low to a gentle simmer.
Meanwhile, whisk together the yolks and sugar until light and pale yellow in color.
When the milk is ready, pour the milk into loosened yolks in a slow, steady stream, continuously whisking to incorporate the hot milk into the yolks.
Wash the pan and pour the yolk-milk mixture back into it.
Over low heat, stir constantly with a wooden spoon and cook until it thickens into custard and coats the back of the spoon.
Remove from heat and place in a pan of cold water and continue stirring to stop cooking the eggs.
In another pan, crumble the cheese at the bottom and pour in the hot custard, stirring to melt the cheese and combine. Some bits will stay as chunks and that is great.
Add the condensed milk and mix to incorporate. Set aside to cool.
In a frying pan, melt the butter and add the pear chunks. Cook until soft and slightly browned. Remove from and heat and cool completely.
When the custard is cooled, chill in the refrigerator for an hour. Then transfer to an ice cream maker and follow instructions. To hand whip the custard in to ice cream, follow these instructions.
Just before leaving it for the final freeze, fold in the buttered pears as evenly as possible without disturbing the volume of the freezing cream.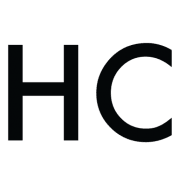 Asha Yoganandan
Asha is the Founder and the Creative Strategist of INK, a digital marketing consultancy focused on food and leisure clients. A key social influencer, she has a reach of over 400K across digital platforms. She edits and publishes NOURISHED magazine, a seasonal and quarterly food magazine with international distribution. She writes an acclaimed blog, Fork Spoon Knife, on food and culinary travel related topics. She pens for and has been featured in The Daily Meal, Redbook Magazine, Spenser Magazine, Huffington Post, Good Food Jobs, Food 52, Mashable among others.