Sausage and Summer Vegetable Skillet with Hirten Cheese Pesto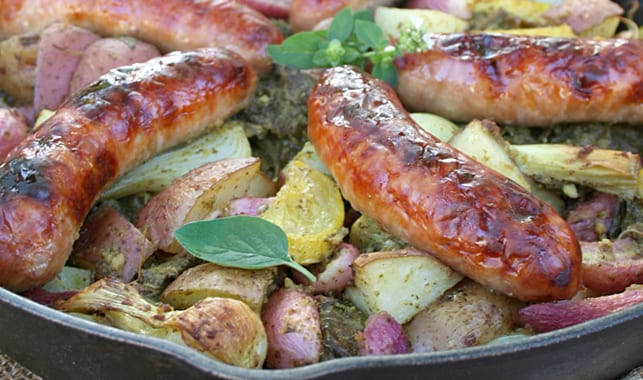 SPONSORED STORY – BROUGHT TO YOU BY CASTELLO ALPS SELECTION
This a perfect, simple summer dish to eat on a hot summer day along side a hand crafted cold beer.
By Diana Bauman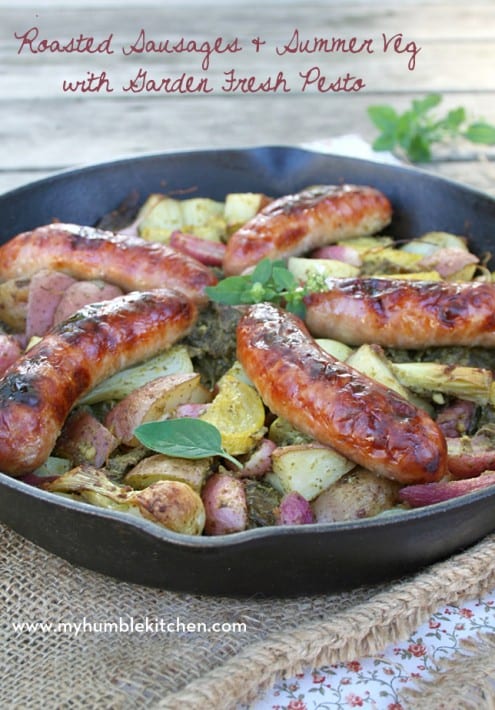 As the days get warmer and the gardens grow lush with greens and vegetables, more of my meals are being made from what I've harvested in that day. One of the main reasons I have a passion for gardening is for the magnificent meals that come from my soil that I've labored over. The vegetables have flavor and punch that I can only imagine is what our ancestors tasted in their days of homesteading and working the land.
It never fails to make me smile when I dice into my first green onion that I've allowed to bulb. They have a crisp bite that makes my eyes tear unlike any I have bought at a grocery store.
Or the radishes, I grow in my front yard.

I've just used the last from my spring harvest that I had stored in my crisper. Their color remained just as vivid as the day I picked them, as did their delightful crunch that spits at you when you take a bite.
When you grow your own food, you're not only saving money, cooking becomes simple. The vegetables taste so great, that they're best cooked in dishes that highlight their flavors. A simple way to do this is by cooking them with fresh herbs grown at home, and with crafted meats and cheeses made from family farmers.
I was excited to be able to taste the Castello Alps Selection cheeses produced with raw milk from cows grazing on the green pastures in the Alps.
I was smitten with joy to see the three varieties of crafted cheeses Castello had sent me. You can definitely note the flavor in cheeses made from cows grazing on grass. There's distinct flavors of meadow and earthiness that come through with each bite. Similar to drinking a good raw milk when the pastures and its grasses come to life in the spring.
With radishes and its tops begging to be used, fresh herbs growing in abundance, and a grand variety of cheeses to choose from, I decided to put together a simple summer meal.
In being economical, I like to put to use all parts of a vegetable. This includes the tops of radishes, beets, and turnips. An easy way to put them to use is by making a fierce pesto. I like to make a big batch so that I can freeze what I have left to use in future meals – which you'll thank yourself for, I promise.
A pesto can be made in many ways. As long as you add a green, something nutty, a good dry cheese, and extra virgin olive oil, you really can't go wrong.
With the Castello Hirten in my hands, I shred up a 1/2 cup to use in this radish top pesto.
This cheese was just what it needed. Rich and complex, It had a nice crumbly, texture with just the right amount of dry saltiness that paired beautifully with the hazelnuts I used. The pesto was silky, yet nutty and the earthy tones of the radish leaves left it something to be desired. All I had to do after making the pesto was chop up some fresh vegetables from the garden and farmers market.
One of my newly found roasted vegetable loves are radishes. With such a heavy harvest I had to put them to use and I've found that once a radish is sauteed or roasted, it looses its spice and develops a sweeter undertone. They're quite lovely. With the abundance of radish leaves I had left, I threw them in with the vegetables as well. I tossed the vegetables with the pesto and then topped it all with locally crafted beer brat sausages.
All that was left was to roast it at 375F for 1 hour.
Win a Castello Alps Selection cheese tasting for you and your friends – enter below!
Win a Castello Alps Selection Cheese Tasting
Sausage and Summer Vegetable Skillet with Hirten Cheese Pesto
This a perfect, simple summer dish to eat on a hot summer day along side a hand crafted cold beer.
Cuisine:
American / Italian
Ingredients
Homemade Radish Top Pesto
2 cups radish leaves
2 garlic cloves
½ cup Castello Hirten Cheese
½ cup roasted hazelnuts (sub pecans or almonds)
3 tbls fresh oregano
4-5 stems fresh thyme, stems removed
juice of one lemon
1 cup extra virgin olive oil
Roasted Sausages and Vegetables
4-5, beer brat sausages - sub any other variety or flavor of sausages
4 large red potatoes, chopped into bite sized pieces
2 bunches radishes with leaves, separate the leaves to use for pesto and reserve the rest to toss with the vegetables. Halve the radishes
1 yellow squash or zucchini, sliced in moon halves
8 large green onion bulbs, halved - sub 1 large white onion, chopped in large pieces
Instructions
Homemade Radish Top Pesto
In a food processor, pulse the radish leaves, garlic, Castello Hirten Cheese, hazelnuts, oregano, thyme, and lemon juice until finely ground.
Once ground, with the food processor still on, slowly add the olive oil in a constant stream through the top feeding tube.
Roasted Sausages and Vegetables
In a a large bowl, add the potatoes, reserved radish leaves, radishes, yellow squash, onions and toss in 1 cup of homemade pesto.
Place the contents of the bowl in a deep cast iron skillet or baking dish. Arrange the sausages on top of the vegetables.
Top the cast iron pan or baking dish with parchment paper and bake for 45 minutes at 375F.
After 45 minutes, remove the parchment paper and bake for an additional 15 minutes to brown.
Diana Bauman
As a first generation American, Diana shares her family's traditional Spanish and Mexican recipes at her successful blog Spain In Iowa. She also writes about faith, family, organic gardening, raising backyard chickens and preserving the harvest.