SPONSORED POST: From Dijon Originale mustard to Cornichons, Maille has a rich heritage starting in 1747 that honors tradition. Check out these easy one-pan brunch recipes that pack great flavor, thanks to Maille. PLUS, be sure to enter for a chance to win their epic brunch makeover giveaway.
Buttery savory rolls filled with bright garden pesto, mustard, and for that extra decadence, we're throwing in a few strips of prosciutto. Dig into these one-pan Carrot Top and Green Garlic Pesto Rolls With Prosciutto and Broccolini.
Maille Brunch Makeover Giveaway!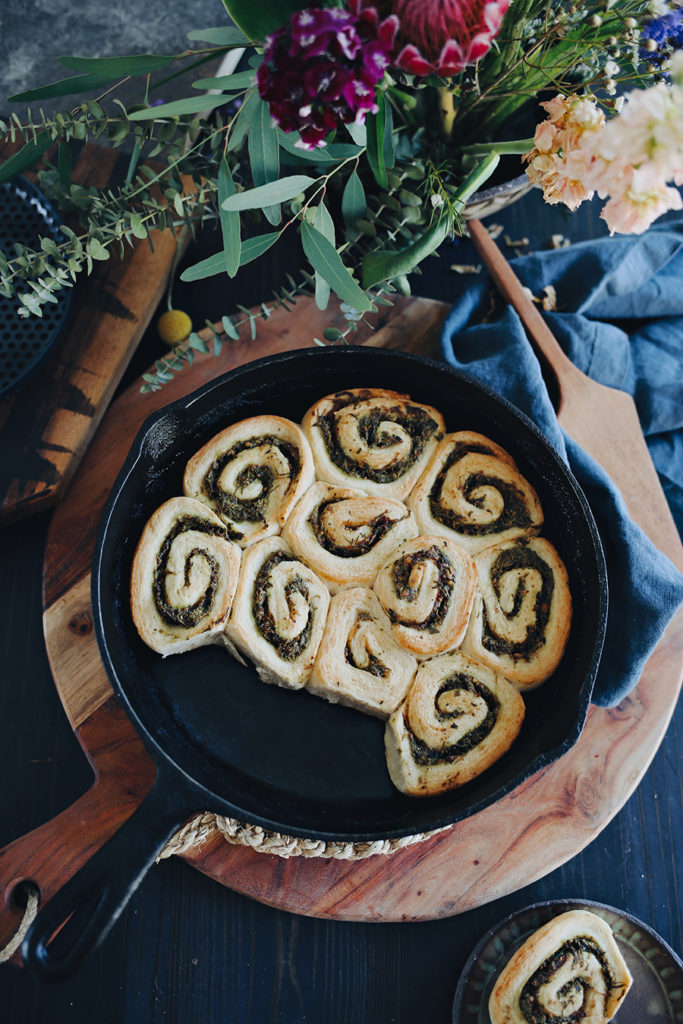 I don't know about you, but I start to come back into the entertaining state of mind around the start of spring. We've all recovered from the holiday blur, the new year groove has settled in nicely and that hint of warmer weather and sunnier days just really calls for celebration.
Not to mention the produce!! Have you looked in your garden or visited the farmers market this week?! Everything is springing to life (literally) and it is the time of year for some very special findings. I'm talking green garlic, spring onions, ramps, all the luscious chive varieties you could dream of…and one of my favorite (often overlooked) ingredients: carrot top greens.
Yup. You can eat those – and I promise once you try, you'll never cut and toss those frilly little green tops again!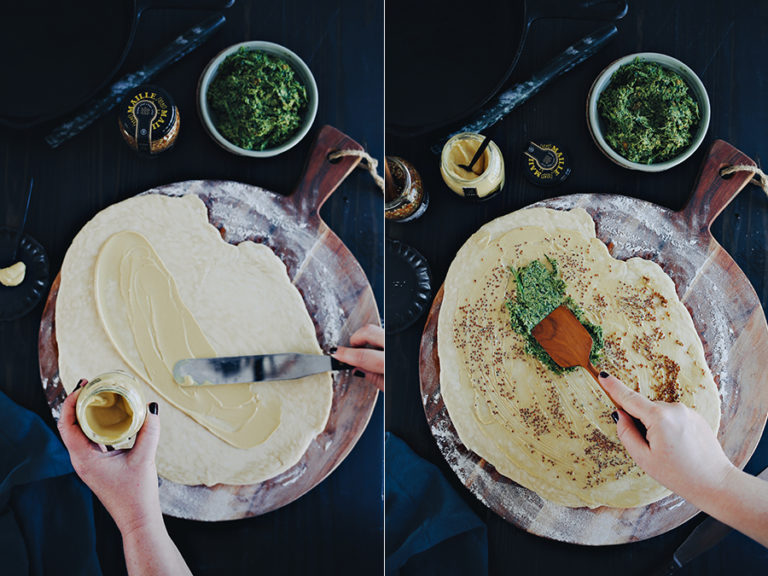 Right now when I look at my garden I'm seeing LOTS of brunch ideas. Radishes, fennel, broccolini and a bounty of early/young onions and garlic are just asking to be enjoyed alongside eggs or other savory bites. I love when the garden picks the party – what do you say, shall we brunch!?
Brunch is one of those meals that doesn't have to be overly complicated (in fact, turn it into a pot luck if the idea of putting together a spread sounds daunting). But I've got one fool-proof recipe that you should add to your to-do…and it's a one pan smash hit that everyone will be asking for again: Carrot Top and Green Garlic Pesto Rolls With Prosciutto and Broccolini.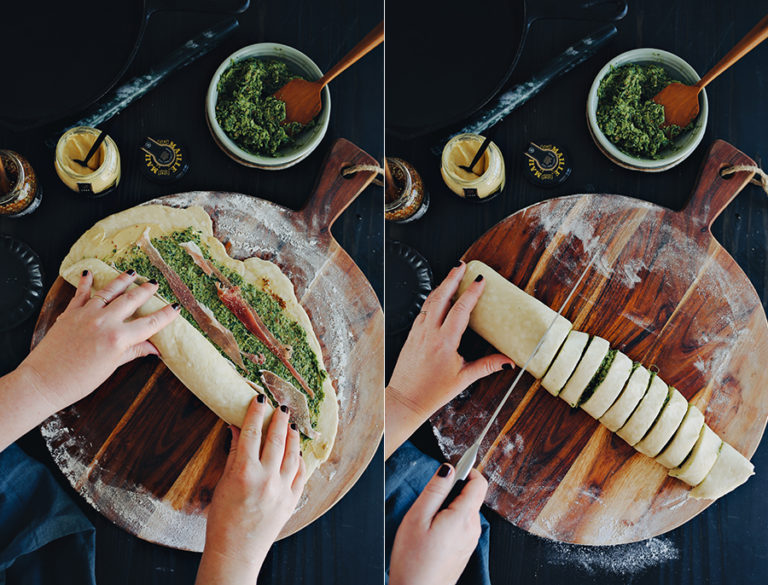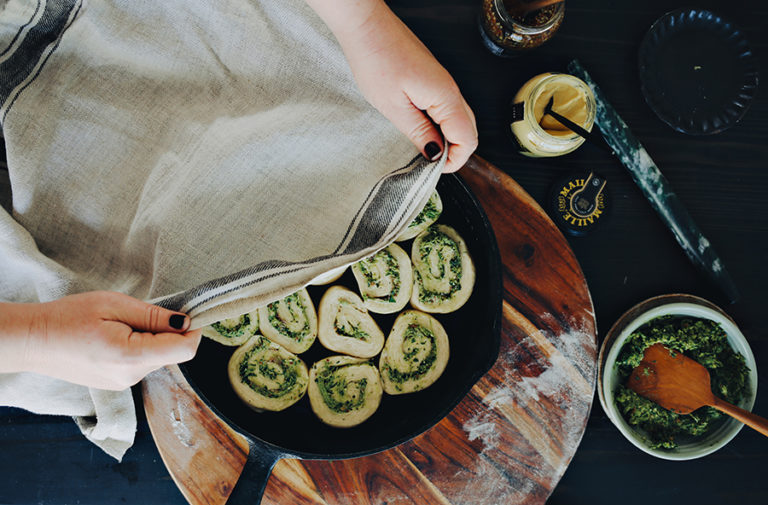 Think buttery savory rolls filled with bright garden pesto, a mix of Maille Dijone Originale and Maille Old Style Mustard..and for that extra decadence, we're throwing in a few strips of prosciutto (which can totally be left out for a veg friendly option). You've heard about my love of pesto before, and this is just another amazing way to pack in lots of flavors (not to mention a ton of vegetables) into a decadent bite.
I often get asked about items that I always stock in my pantry, one of them is mustard. And not just any mustard…I like an arsenal of quality mustards by Mialle that can be whipped up into vibrant salad dressings, marinades and in this case, the unexpected punch swirled inside these brunch savory rolls. Honestly, it's the ingredient that takes these little cutie twists into gourmet status and it's as easy as can be.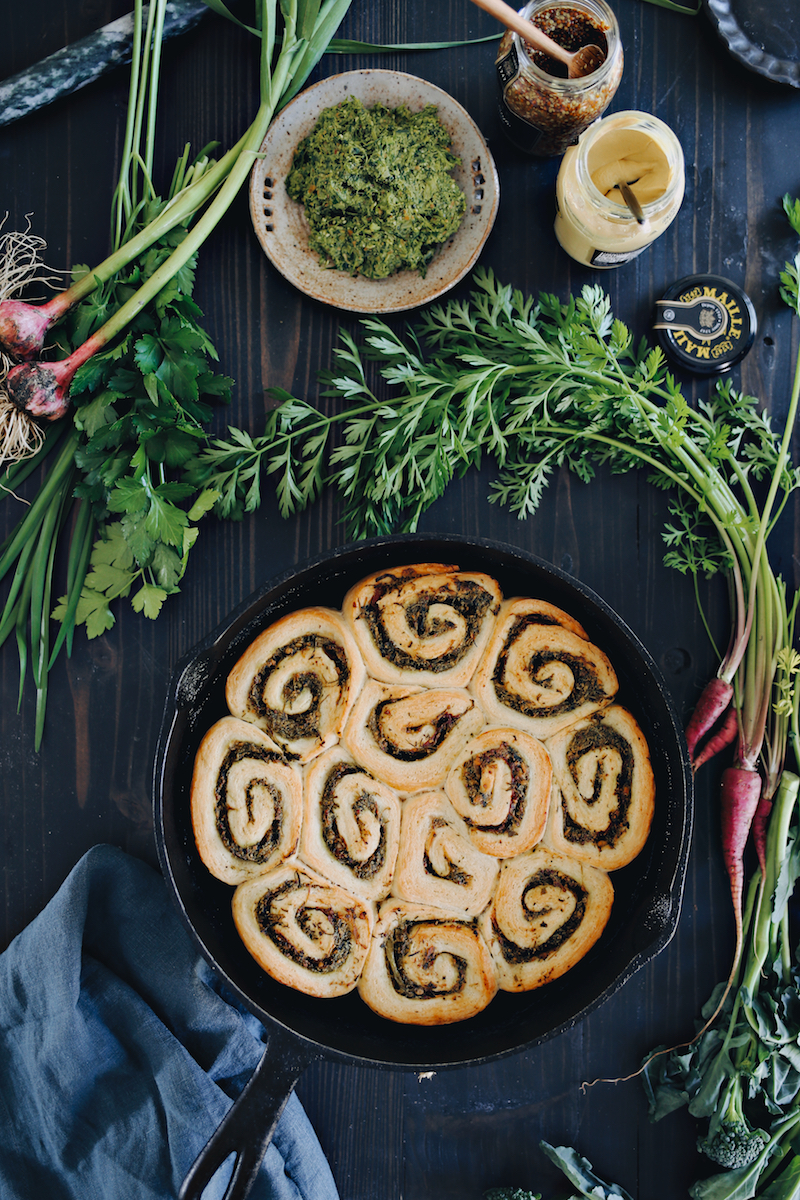 Soft, buttery, with a powerful punch of savory flavors, these one pan spiral rolls are the perfect accompaniment to any brunch spread. Pair these with your signature egg dish, a fresh spring salad with radishes and peas, or on their own as a breakfast on the go (which is exactly why you should hide a few leftover rolls for yourself).
Happy Spring brunching to you my friends – let me know what kind of spread you'd pair with these savory spirals below! And go enter for a Mialle brunch makeover while you're at it!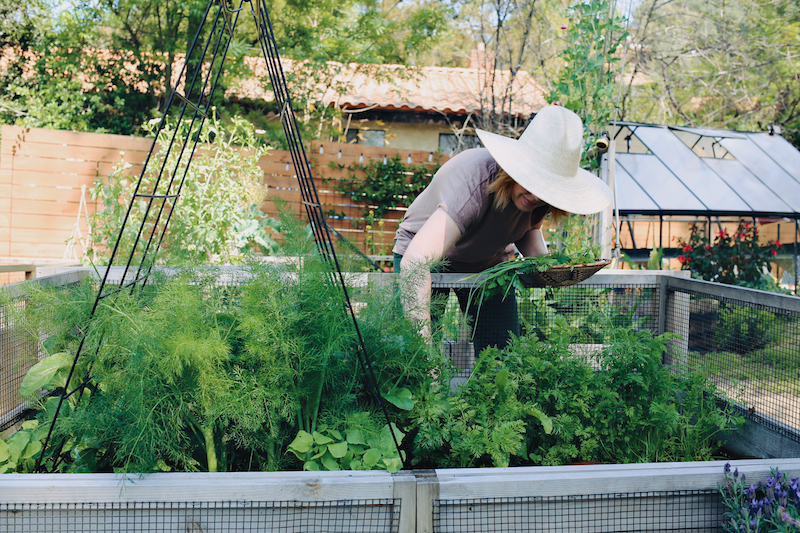 Carrot Top and Green Garlic Pesto Rolls With Prosciutto and Broccolini
Recipe Type:
Baking, Brunch
Ingredients
Carrot Top and Green Garlic Pesto Spiral Rolls With Prosciutto and Broccoli
Prep Time: 3 Hours
Cook Time: 30 Minutes
Makes 12 Rolls
ROLL INGREDIENTS
1 packet active dry yeast
1 TBS sugar
¾ warm water
3 cups flour
2 tsp salt
½ cup vegetable oil
3 – 4 TBS Maille Mustard (we used a combination of Dijon Originale and Maille Old Style)
½ cup carrot top pesto (recipe below)
3- 4 slices of Prosciutto for rolls (optional)
PESTO INGREDIENTS
1 bunch green carrot tops
1 small bunch parsley
1 small bunch basil
1 bunch chives (or spring garlic tops)
3-4 broccolini florets (with greens)
2-3 baby leeks or spring garlic bulbs (can be replaced with ramps)
¼ roasted pistachios (can be replaced with sunflower seeds or pine nuts)
¼ cup grated parmesan cheese
Zest and juice of one lemon
3-4 TBS olive oil
Fresh cracked pepper to taste
Instructions
Add yeast and sugar to warm water and allow to activate until foamy, about 3 minutes. In a food processor, fashioned with the dough hook attachment, add flour and salt. Slowly add yeast mixture and vegetable oil on medium speed, mixing for 5 – 10 minutes until dough is well formed and no flour is sticking to the sids.
Remove dough ball and allow to rise to twice the size in a well greased bowl for 2 ½ – 3 hours. Cover with plastic wrap or a damp cloth.
Roll out dough into a 12 x 6 rectangle on a lightly floured surface. Add a layer of Maille Dijone Originale and Maille Old Style mustard, followed by a layer of pesto and prosciutto. Carefully roll lengthwise, placing seam side down. Using a serrated knife, cut into 1 inch slices – wiping blade between each slice for a clean cut.
Place rolled dough slices into an oiled cast iron skillet or glass pie pan, cover and allow to rise for an additional 30 minutes.
Preheat oven to 350F. Brush tops of rolls with melted butter and bake for 30-45 minutes until golden. If using a cast iron skillet, rolls will bake quicker than glass.
PESTO DIRECTIONS
Bring a small pot of water to boil and quickly blanch broccolini florets and leaves, approximately 3 minutes, until bright green. Immediately remove and dunk in a bowl of ice water. Ring all water out completely before adding to pesto. In a skillet with olive oil, saute chopped baby leeks and green garlic until golden. Remove and cool completely before adding to pesto.
Add all herbs, vegetables, nuts, cheese lemon and olive oil to a food processor and blitz until smooth. Season with pepper and additional lemon juice as desired. Serve immediately or store in the refrigerator in a seal container for up to 3 days.