Since her first taste of this fresh juice, Nandita Nataraj makes it at least twice a week.
By Nandita Nataraj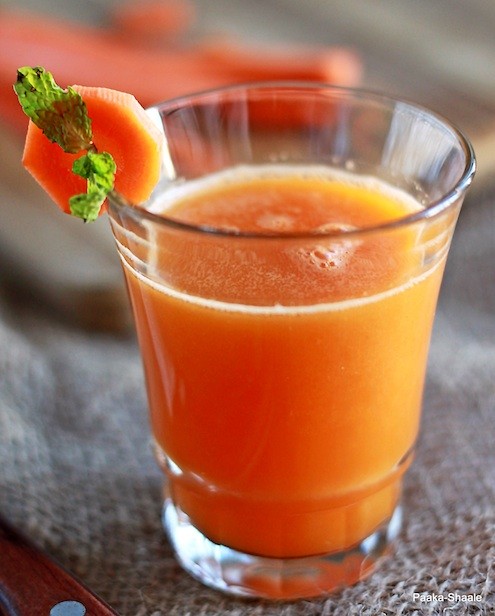 Even though I love fresh fruit juices, I am not the one to concoct them for myself. I would rather prefer a cup of hot coffee or a fruit juice straight from the pack. To top this, I am not the person to have carrots in the form of juice. I love carrots but in my stews or salads. I could never "drink" carrots. All this changed when I accidentally sipped on this drink at a restaurant on a hot day. I remember vividly. I had involuntarily asked the server what this amazing drink contained. I was pleasantly surprised when I was told that it had carrots and oranges. The drink had a refreshing flavour and yet different from all the other fruit juices that I had had earlier. It seemed to energize me almost instantaneously.  From that time on, I make this refreshing yet healthy concoction atleast twice in a week. This drink can either be had as a breakfast drink or as a refreshing drink in the afternoon

Carrot and Orange Juice with Mint and Honey
Ingredients
Carrot- 2 med, sliced
Orange juice- ½ cup or
Orange- 1, peeled and segmented
mint leaves- 5-6
Honey- 2 tbsp
Brown sugar- 3tbsp or to taste
Water- 3 cups or 24 Oz
Instructions
Juice the oranges and carrots together.
Blend mint leaves, honey and water. Strain and extract the juice
Mix the carrot and orange juice with the mint and honey mix - add sugar to taste. Serve at room temperature or chilled.
Notes
Variations: Mint can be replaced with a ½" piece of fresh root ginger Orange juice can be replaced with either lime juice. Honey can be excluded and the juice can be made with just sugar and a pinch of salt. Add some papaya puree instead of Orange juice to get a mocktail version
Nandita Nataraj
Nandita was born, bred and spread in India, but right now lives in Tanzania where her quest for simple and exotic pleasures of food led to the creation of the blog Paaka-Shaale. She believes that food is not just a means to feed a body. But it is also meant to appeal the mind and satiate the soul.