Moist fluffy carrot muffin, made with okara, which is leftover soybean pulp.
By Shannon Lim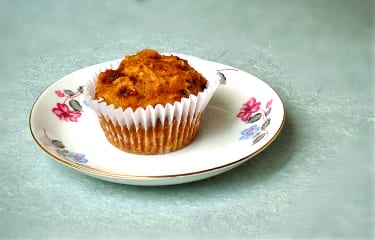 Moist fluffy carrot muffin, made with okara, which is leftover soybean pulp.
Ingredients
Wet Ingredients (combine together in a medium bowl)
½ cup Soy Milk
1 cup Wet Okara (soybean pulp leftover from making soymilk)
⅓ cup Canola Oil
1 teaspoon Vanilla
½ cup Homemade Yogurt
1½ cup Carrots – grated
Dry Ingredients (Sift together in a large mixing bowl)
1½ cup Flour
¼ cup Corn Flour
1 teaspoon Ground Cinnamon
¼ teaspoon Ground Nutmeg
¼ teaspoon Ginger Powder
½ teaspoon Salt
¼ cup Brown Sugar
1 teaspoon Baking Powder
1 teaspoon Baking Soda
Toss in:
½ cup Chopped Walnuts
½ cup Raisins
Instructions
Preheat your oven to 375°F / 175°C. Fill your muffin tray with 12 paper liners or generously grease and flour your tins.
Combine wet ingredients in a medium bowl. Sift dry ingredients in a larger mixing bowl.
Pour wet ingredients, walnuts and raisins into dry ingredients, mixing until just combined. DO NOT OVER MIX.
Spoon the batter into the liners until almost full. Bake for 25 to 30 minutes until lightly brown or until the toothpick test comes out clean. Depending on the wetness of your okara, the baking times might be slightly different.
Cool for 10 minutes, take muffins out of tins and place on wire racks to cool completely. If you use paper liners, you must cool the muffins completely or the muffins will stick to the liner.
Shannon Lim-de Rooy
Shannon's kitchen is her playground and creative outlet, where she loves to experiment with recipes. As a Malaysian, her food influences are mainly Malay, Chinese and Indian cuisine but her curiousity in other culture lead to cross cultural cooking. On her blog JustAsDelish.com, she pursue her mission in creating healthy and delish food.