This gnocchi recipe is a unique and wonderful dish that can be prepared rather quickly.
By Emiko Davies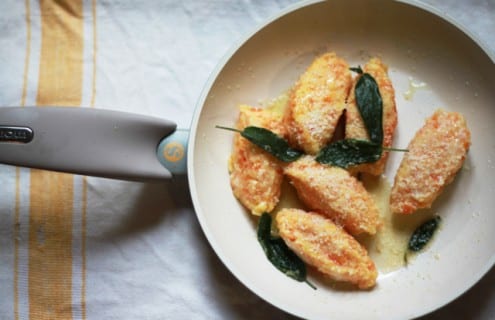 I once heard that the goodness in carrots helps get over jet lag. I've just gone through a 30 hour journey from Italy to Australia, passing through five airports and being thrown 10 hours ahead to get from one home to the other. I'm going to need some carrots.
This gnocchi recipe is a unique and wonderful dish that can be prepared rather quickly.
Ingredients
1 kg organic carrots
100 gr plain flour
100 gr ricotta
2 tbs finely grated parmesan cheese
2 tbs semolina flour
4 egg yolks
salt
nutmeg
100 gr butter
handful of fresh sage leaves
Instructions
Boil or steam (I prefer steaming) the carrots until tender, then squash them with a fork or a potato masher until you get a mash. Let cool. In a separate bowl, mix the ricotta, egg yolk, flours and parmesan cheese until just combined (try not to play around too much with the mixture to avoid it from eventually getting too chewy). Add the cooled carrot mash and season with salt and nutmeg.
With two tablespoons, make quenelles out of one tablespoon of the mixture (if you can't get these right you can also simply roll them into ping pong sized balls), placing them on a lightly floured surface until you've finished. Heat a large pot of salted water to boil and drop in the gnocchi. Give a gentle stir to make sure they are not stuck to the bottom of the pot. Let boil for several minutes, when they begin to float they are ready. Reserve some of the liquid from boiling, and strain the rest. Set aside while you prepare the sauce.
Prepare a sage and butter sauce, which should take you about 3 minutes at the most. Melt the butter in pan and allow to colour slightly. At this point, add the sage and then some of the reserved cooking liquid to create a sauce that you just want to coat the gnocchi. Let it reduce for a couple minutes, then add the gnocchi to the pan, season and divide onto plates. Serve with freshly grated parmesan cheese.
Emiko Davies
Emiko Davies is a food writer, photographer and illustrator who Amanda Hesser calls the "Renaissance Woman for the Internet Era". She lived in Florence, Italy, for seven years where she nurtured her love of regional Italian cuisine and now calls Australia's food capital, Melbourne, her home.