Carrot, Celery and Apple Juice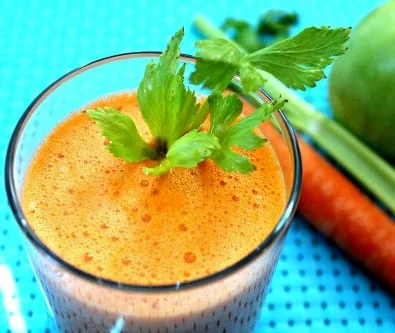 Juicing is a great way to get those essential nutrients your body needs to repair the damage done to your cells over time.
By Soni Sinha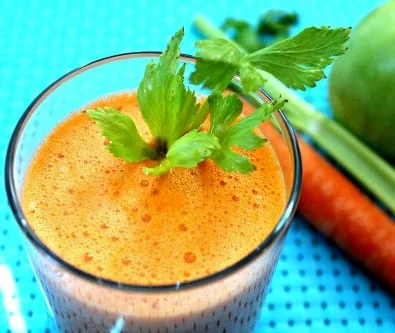 Juicing is a great way to get those essential nutrients your body needs to repair the damage done to your cells over time. Although I'm not on any kind of a juice diet, I still like to drink them on a regular basis and if you have a juicer at home, nothing beats the freshly juiced fruits and veggies in terms of color, taste, flavors and nutrition.
My juice today is made of three ingredients carrots, celery and apple and I have to tell you that its absolutely delicious! The addition of celery makes all the difference in this juice and not being a big celery lover myself, I was surprised by the amount of flavor it adds to it. The carrots bring the earthy sweetness, almost creamy texture and the apples just bring their great flavor. Have it right after you've juiced to get all the nutrients and the fresh taste. It lacks the same if you've left it for too long in the refrigerator.
Carrot, Celery and Apple Juice
A healthy juice drink made using Carrots, Celery and Apple!
Recipe Type:
Drinks,Beverage,Non Alcoholic
Ingredients
3 Large Carrots
1 Large Celery Stalk
1 Apple
Instructions
Wash the ingredients and juice them in your juicer, stir to mix.Pour into glasses and serve immediately!
Soni Sinha
Soni is a recipe developer, food writer/blogger who creates recipes with a healthy Indian twist. She is a passionate cook and her recipes cater to readers who are are willing to try contemporary Indian flavors in wide ranging fusion dishes that she creates.She shares all her cooking adventures on her blog Soni's Food.