This is a heavy Portuguese dish for lazy weekends when you have the whole day to dedicate to cooking and eating.
By Rochelle Ramos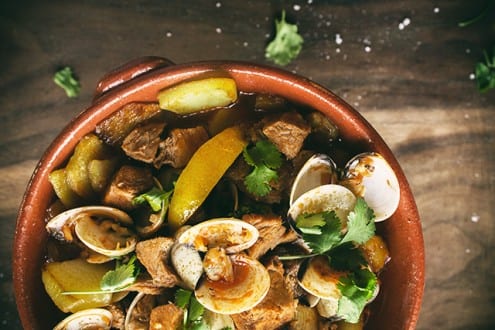 Autumn keeps trying its best to take charge of the season. Each evening as the sun starts to set there is a chill in the breeze, but summer seems to be reluctant to let go. It keeps coming back with a fierceness that I, personally, dread and I'm envious of all the people around the web and their talks of rain, cool weather and exclamations of "It's fall!".
I'm ready for stews to be simmering and breads baking. It's high time that minha cozinha became a warm sanctuary again where good food is produced. It's also time for me to play with the real flavors of Portugal again.
Not the flavors of summer, such as grilled fish, simple fruit desserts, and fresh garden soups. Those are plenty Portuguese too. As long as it's simple and delicious, it's pretty much Portuguese. Especially when saturated with garlic, olive oil and a healthy pinch of salt. And make no mistake, Portugal likes her rich and heavy dishes no matter the time of year, but for me, most of it is just too much until that crisp bite of fall rolls around.
The flavors that really mean Portugal to me require copious amounts of bread to sop it all up. Ones that are only caused by at least an hour of cooking, and resulting in a savory aroma so thick in the air you can almost pick out each ingredient on your tongue before even tasting. That's what I mean by the flavors of Portugal.
One such dish is the Carne de Porco à Alentejana, or Alentejo style pork and clams.
You're probably thinking, "Who would ever put pork and clams together???" It's what I thought when I first heard about it. Then I smelled it in a restaurant and my mouth began to water. Then I tasted it. It's now my favorite dish to come out of this lovely country.
Try it, you'll like it. If you don't like pork or clams, then do it for the sauce and be sure to use generous amounts of bread to soak it all up.
Print
Carne de Porco à Alentejana
---
Author:

Rochelle Ramos, adapted from The Food of Portugal by Jean Anderson

Total Time:

9 hours

Yield:

4

1

x
Description
This is a heavy Portuguese dish for lazy weekends when you have the whole day to dedicate to cooking and eating.
---
Pork marinade
1 ½ tablespoons

sweet paprika

2

cloves garlic, crushed and minced

1 tablespoon

olive oil
pinch of salt

2 1/4

lbs (1 kg) boneless pork loin, cubed

1/2 cup

white wine vinegar

2

bay leaves
Pork and Clams
2 tablespoons

olive oil

3

garlic cloves, minced

1

onion, chopped

2

–

3

tablespoons tomato paste

1 cup

white wine

2 ¼

lbs (1 kg) clams, scrubbed clean
Batatas Fritas (fried potatoes)
Garnish
1

lemon, sliced into wedges (optional)
Cilantro/coriander leaves (optional)
---
Instructions
Place the pork into a large plastic zip bag or a deep bowl. Add the paprika and garlic paste to the pork and massage it into the meat with your fingers. Add in the bay leaves and wine/vinegar, remove the air from the bag and seal it or cover the bowl. Allow to marinate at least 6 hours and up to 24 hours. The longer the better! Be certain to stir the meat or massage it in the bag every so often.
Heat the olive oil in a deep pan over high heat. Add in the marinaded pork, reserving the marinade for later. Brown the pork on all sides in a single layer, cooking it in batches if needed. Transfer cooked pork to a clean bowl.
Once all the pork has been browned, reduce the heat to medium low and toss in the onion and garlic and allow to brown lightly, about 2-3 minutes. Pour in the the wine and scrap any bits off the bottom of the pan with a spatula. Stir in the tomato paste and the reserved pork marinade and allow to cook about 10 minutes.
Add the pork back into the pan, stirring so that the pork is covered in the sauce. Reduce heat to low and cover with a lid to allow to barely simmer for 1 ½ hours, checking occasionally.
Once the pork is nice and tender, turn the heat up to medium-low and bring it to a gentle boil. Add the clams to the pot, distributing them evenly throughout. Cover and cook an additional 20-30 minutes or until the clams open.
While the clams are steaming in the pork and sauce, prepare the batatas fritas.
Cut the peeled potatoes into 1 inch by 1/3 inch thick pieces and put them into a pot of salted water and place on the stove. Bring the water to a boil and allow to boil 5-7 minutes or until the outside is cooked, but the potatoes are still firm.
Transfer the potatoes to a bowl of cold water to cool, then drain of excess water.
Heat olive oil in a clean pan over medium-high heat. Add in the potatoes and cook until golden brown all over and tender in the middle, about 7-10 minutes.
Place potato in a soup plate or shallow bowl with plenty of the pork and clams on top and lots of sauce. Add wedges of lemon and cilantro leaves for garnish and serve with crusty Portuguese bread.
Prep Time:

6 hours

Cook Time:

3 hours

Category:

Main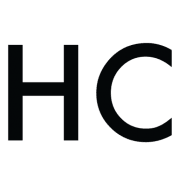 Rochelle Ramos
Rochelle is an Americana cooking, eating, photographing and writing in Portugal. She has a love for real food and learning to make it from scratch. As a new expat, she is slowly learning to speak the language and will soon be able to order more than just a café and pastel de nata from the local pastelaria.