Caribbean Inspired Rum Punch Cake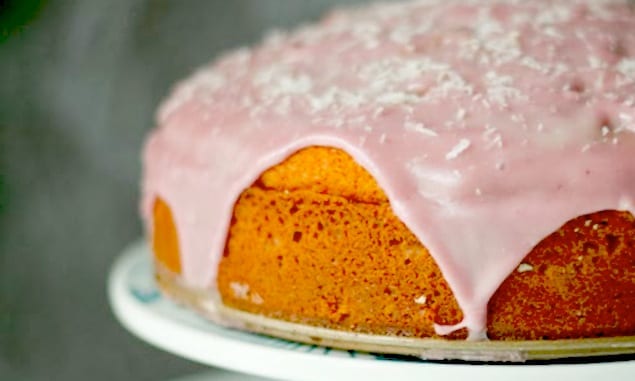 Rum cake with black currant glaze is incredibly moist and flavorful with a crispy, crunchy edge. It's something you could bring to a party or just nosh at home for a snack.
By Amrita Rawat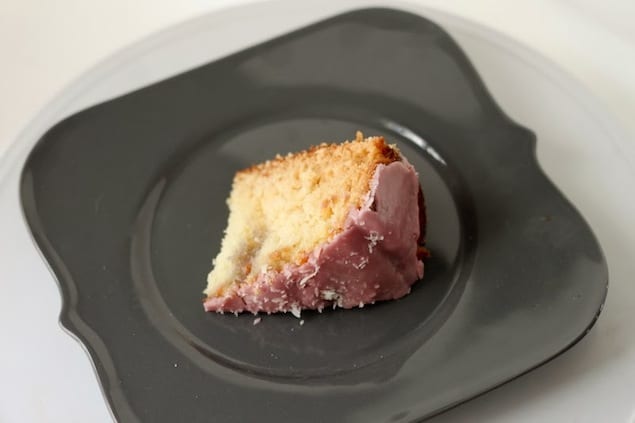 After a vacation to Turks and Caicos where all of our activities were punctuated with rum drinks or desserts in some form or another I was inspired. The island is known for their Bambarra rum (as well as their salt and conches), and we definitely took advantage, indulging in pina coladas, rum punches, and rum cakes everywhere we went. When I got home, I set out to make a cake in honor of that rum punch. I didn't have any grenadine but found out that black currant is a suitable substitute for it so I used it in the glaze. I found the cake rummy enough but if in doubt, feel free to add more rum to the glaze or in the soaking stage.
The cake turned out incredibly moist and flavorful with a crispy, crunchy edge. It's something you could bring to a party or just nosh at home for a snack.
The glaze added an extra oomph of rum flavor and the black currant surprisingly lent just the right authenticity of flavor that made us feel like we were back in the islands.
Caribbean Inspired Rum Punch Cake
Rum cake with black currant glaze is incredibly moist and flavorful with a crispy, crunchy edge.
Ingredients
Cake
2 cups plus 2 tablespoons sifted cake flour
1 teaspoon baking powder
¾ teaspoon baking soda
½ teaspoon salt
1 stick (4 oz) unsalted butter, softened
1 cup granulated sugar
2 teaspoons coconut extract
2 teaspoon orange extract/zest of 1 orange
2 large eggs, at room temperature 30 minutes
½ cup well-shaken buttermilk
2 tbs coconut rum
2 tbs dark rum
2 tbs white rum
¼ cup pineapple juice
Soaking liquid
¼ cup mixture of pineapple juices and rums, according to preference
Glaze
1½ cup powdered sugar
2 tsp dark rum
2 tsp coconut rum
2 tsp black currant puree*
Instructions
Preheat oven to 350°F with rack in middle.
Butter a 9-inch cake pan and line bottom with a square of parchment paper, then butter parchment.
Sift together flour, baking powder, baking soda, and salt.
Beat butter and sugar in a large bowl with an electric mixer at medium speed until pale and fluffy, then beat in extracts.
Add eggs one at a time, beating well after each addition.
At low speed, beat in buttermilk, rum, and juice, until just combined (mixture may look curdled).
Add flour mixture in 3 batches, mixing on low until each addition is just incorporated.
Spread batter evenly in cake pan, then rap pan on counter several times to eliminate air bubbles.
Bake until golden and a toothpick inserted in center of cake comes out clean, 30 to 35 minutes.
Cool in pan on a rack for 10 minutes, then run a knife around edge of pan.
Invert onto rack and discard parchment, flip cake so it is right-side up.
Use a chopstick to poke holes all over the top of the cake.
Fill a quarter measuring cup with a mixture of the liquors and pineapple juice according to your preference.
Pour over the top of the cake into the holes and let it soak in.
Let cool completely, about one hour.
Meanwhile, stir all the ingredients for the glaze together until it is a thick but pourable consistency (add more sugar or more liquid to your preference).
Pour glaze over the top of the cake and use a spatula to gently spread around.
Sprinkle with coconut flakes (optional).
Let dry before cutting and eating.
Store at room temperature in an airtight container for about 4 days.
Amrita Song
Amrita Rawat is the author of the blog Chai and Dumplings. Born in India and a lifelong resident of Atlanta, she recently moved to Saint Louis. Her love for food stems in part from its ability to bring cultures together and in part from how darn good it feels to eat a delicious meal. She loves traveling and has eaten her way through cities like Hong Kong, Paris, Budapest, Mumbai, and Shangri-la. Amrita is also a contributor to Sauce Magazine in St Louis.