Fragrant yoghurt and crunchy pumpkin seeds help make persimmons the perfect snack.
By Katherine Sacks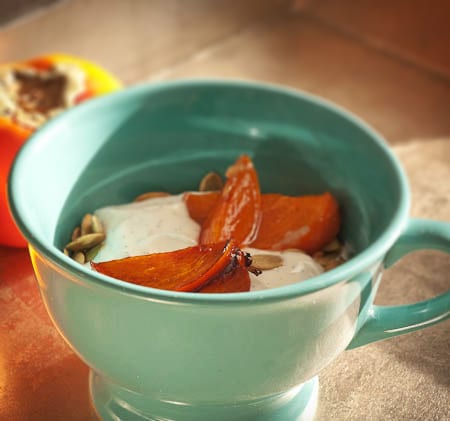 I'm a fruit fanatic, but as soon as it starts to get chilly, the idea of eating fresh berries no longer seems quite right. Instead, I begin to crave the sweet taste of permissions — the crunch of a Fuyu, sliced like an apple, or the creamy Hachiya, perfectly ripe and diced into a salad. Something about the earthy flavor and gritty texture of these orange orbs just feels like biting into a sunny winter day (their Autumn coloring doesn't hurt either). While they are wonderful all alone, caramelizing the fruit brings out the rich, dark sugars in persimmons. This dish adds toasted pumpkin seeds for crunch and vanilla-infused Greek yogurt for a delicious low-fat base. As a simple, refreshing breakfast, or easy dessert, it's a great way to enjoy persimmons.
Caramelized Persimmon and Vanilla Yoghurt
Fragrant yoghurt and crunchy pumpkin seeds help make persimmons the perfect snack.
Ingredients
¼ cup pumpkin seeds
1 Fuyu persimmon
¼ cup sugar
1 cup 2 percent Greek-style yogurt
1 tablespoon honey
½ vanilla bean
Instructions
Preheat the oven to 300°F. Place the pumpkin seeds on a sheet tray and bake for 10 to 15 minutes, stirring occasionally, until toasted and lightly browned. Remove the seeds from tray (to avoid carry over cooking) and reserve.
Slice the sides off the Fuyu, like an apple, avoiding the core. Slice into ¼-inch pieces and coat in sugar. Heat a non-stick sauté pan over medium-high heat and cook, allowing the sugar to caramelize and reach a dark brown color before turning over. Line a sheet tray with parchment paper or non-stick mat. Transfer persimmon slices to tray and let cool slightly.
Split the vanilla bean in half and scrape the seeds into the yogurt. Whisk the honey and seeds into the yogurt. Scoop the yogurt into two bowls, and top with persimmon slices and pumpkin seeds.
Katherine Sacks
Katherine Sacks is a Berlin-based freelance writer and recipe developer specializing in travel, food, lifestyle, and health topics. A graduate of Drexel University's culinary arts department and Northwestern University's Medill School of Journalism, Katherine combines seven years of restaurant experience with her reporting and editing background. Her work has appeared in Chicago magazine, the Chicago-Sun Times, and FoodandWine.com, among other publications. She also contributes to culinary trade publication StarChefs.com, Forbes Travel Guide, and Snooth Eats, and blogs at LaVitaCucinare.com.