SPONSORED STORY – BROUGHT TO YOU BY CASTELLO ALPS SELECTION
This decadent dish pairs smoky cheese with caramelized onions for a mouth-watering meal.
By Brittany Everett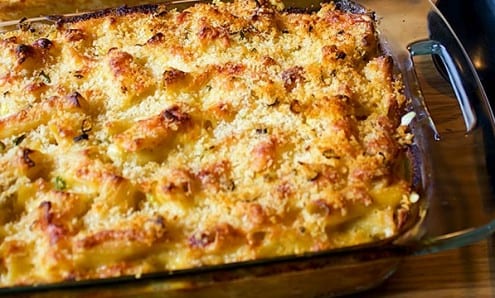 Win a Castello Alps Selection Cheese Tasting
Caramelized Onion Macaroni and Cheese
This decadent dish pairs smoky cheese and caramelized onions in a mouth-watering meal.
Ingredients
olive oil
2 medium yellow onions, diced
kosher salt
granulated sugar
1 pound rigatoni (or pasta of your choice), cooked and drained
4 tablespoons butter, plus extra for the baking dish
4 tablespoons all purpose flour
4 cups milk, warmed
pinch freshly grated nutmeg
½ teaspoon smoked paprika
freshly ground black pepper
4 cups freshly shredded cheese, ½ cup reserved for topping
2 tablespoons melted butter
½ cup panko breadcrumbs
¼ cup chopped parsley
Instructions
To caramelize the onions: heat a large pan over medium-low heat with enough olive oil to coat the pan. Add the onions and a pinch each of salt and sugar. Cook, stirring occasionally, until the onions are an even golden brown, about 45 minutes. Set aside.
Preheat oven to 400 degrees F and butter a casserole dish (~8x12).
In a large pot, melt 4 tablespoons butter over medium heat. Whisk in the flour and keep whisking for 2 minutes to cook out the raw flour taste. Slowly whisk in the heated milk in a few batches, letting each addition get thoroughly combined before adding the next. Add the nutmeg, paprika, 1 teaspoon kosher salt, and pepper to taste. Raise the heat, bring the mixture to a simmer and cook for several minutes until thickened slightly.
Off the heat, add 3½ cups of cheese to the sauce and stir to combine. Taste and adjust seasonings if necessary. Stir in the caramelized onions and cooked pasta. Pour the pasta mixture into the prepared casserole dish.
In a small bowl combine the melted butter, breadcrumbs and parsley. Sprinkle the pasta with the reserved cheese, then the breadcrumb mixture. Bake until the top is nicely browned, about 25 minutes.
Brittany Everett
A graphic designer by day, Brittany enjoys cooking, eating, photographing and discussing food with every other waking moment. She created Kitchenette, a food blog dedicated to making delicious comfort foods from scratch and with love.