Caramelized bananas, an oat-pecan crumble, and a yogurt whipped cream take this butter pecan cake to a whole new level of amazing.
By Whitney Miller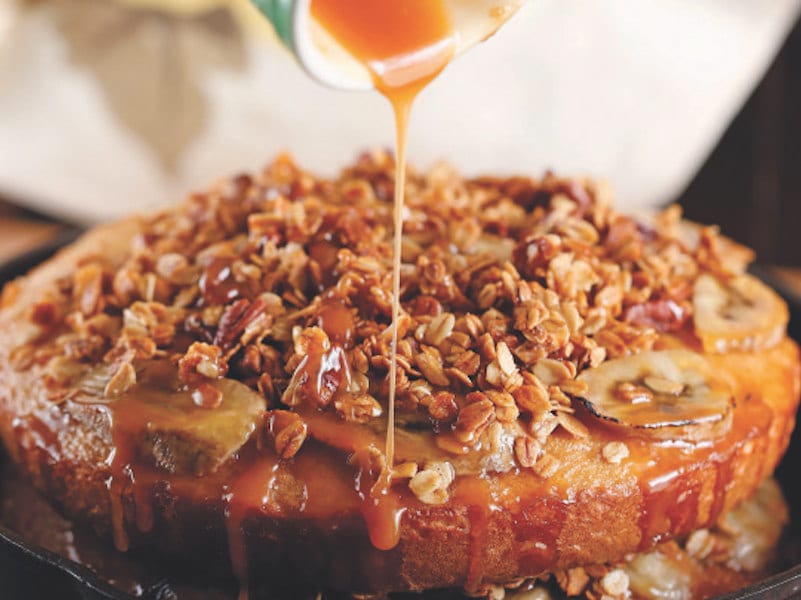 This article has been posted with permission and originally appeared as Caramelized Banana Butter Pecan Cake on Relish.
Click here for the caramel recipe.
Print
Author:

Whitney Miller

Category:

Baking, Cake, Dessert
Butter Pecan Cake
cooking spray
flour for dusting pans

1/2 cup

1 stick plus 1 tablespoon butter, softened, divided

1/2 cup

pecan halves

1/2 cup

whole milk

1 1/2 cups

cake flour

1/2 teaspoon

baking powder

1/2 teaspoon

baking soda

1/4 teaspoon

fine sea salt

1/2 cup

firmly packed light brown sugar

1/2 cup

pure cane sugar

2

large eggs (room temperature)

1 teaspoon

pure vanilla extract

1/4 cup

buttermilk (room temperature)

1/4 cup

homemade caramel (recipe linked in instructions below)
Caramelized Bananas

2

medium ripe bananas

1 tablespoon

butter (divided)

3 tablespoons

firmly packed light brown sugar (divided)
Oat-Pecan Crumble
2 tablespoons

butter

1 cup

old-fashioned oats

3 tablespoons

chopped pecans

1/4 teaspoon

ground cinnamon

1/8 teaspoon

fine sea salt

3 tablespoons

firmly packed light brown sugar

1 tablespoon

honey

1 tablespoon

maple syrup
Yogurt Whipped Cream
3/4 cup

heavy cream

1/4 cup

plain Greek yogurt

3 tablespoons

powdered sugar
Instructions
To make the cake, preheat the oven to 350 degrees F. Grease two 8-inch round cake pans with cooking spray. Lightly dust with flour.
Melt 1 tablespoon of the butter in a small saucepan over medium heat. Add the pecans and cook for 5 minutes, stirring occasionally. Add the milk and reduce the heat to low. Cover and cook for 20 minutes. Place a wire mesh strainer over a small bowl and strain the milk. Discard the pecans. Let cool slightly.
In a medium bowl, sift the flour, baking powder, baking soda, and salt.
Place the remaining 1?2 cup butter in a large bowl. Using an electric mixer on medium speed, beat until soft and creamy. Gradually add the brown sugar and cane sugar, and beat until well blended. Add the eggs one at a time, beating after each addition. Add the vanilla and beat until blended.
Add the buttermilk to the cooled pecan milk.
Alternately add the flour mixture and milk mixture to the batter, beginning and ending with the flour mixture and beating well after each addition.
Divide the batter evenly between the two pans. Smooth the tops with an offset spatula. Bake for 20 to 22 minutes, until a wooden pick inserted near the center comes out clean. Place the cakes on a wire rack to cool for about 10 minutes. Invert the cakes onto the rack to cool completely.
Reduce the oven temperature to 325 degrees F.
While the cakes are cooling, make the Caramelized Bananas. Cut the bananas on a diagonal into 1?4-inch-thick slices. Place a sheet of waxed paper in a small baking pan and set aside.
Melt 1?2 tablespoon of the butter in a 9-inch cast-iron skillet over medium heat. Sprinkle 1 1?2 tablespoons of the brown sugar evenly in the skillet. Cook until the sugar begins to melt. Increase the heat to medium-high if necessary. Add the slices from one banana.
Cook for about 1 minute, until the bottoms of the banana slices are caramelized. Flip and cook for another 30 seconds. Transfer to the waxed paper. Wipe the skillet clean and repeat the process with the remaining ingredients.
To make the Oat-Pecan Crumble, melt the butter in a medium microwave-safe bowl. Add the oats, pecans, cinnamon, salt, sugar, honey, and maple syrup. Stir together and transfer to a baking sheet. Bake for 10 minutes at 325 degrees F. Toss the granola with a spoon. Bake for another 12 minutes. Toss the granola and let cool.
To assemble the cake, transfer one of the cake layers to a 9-inch cast-iron skillet, and evenly cover with half of the Caramelized Bananas. Drizzle 1 tablespoon of the Homemade Caramel (click the link above for a recipe) over the bananas and cake. Place the second layer on top. Repeat with the remaining banana slices and another tablespoon caramel. Cover the pan with aluminum foil and bake for 15 minutes at 325 degrees F. Top the warm cake with the crumble and drizzle with additional caramel.
To make the Yogurt Whipped Cream, beat the cream in a medium bowl using an electric mixer on high speed until thickened. Add the yogurt and beat until soft peaks form. Gradually add the powdered sugar until combined.
Slice the cake into wedges and serve warm with the Yogurt Whipped Cream.
This recipe was republished with permission from the pages of Whitney Miller's New Southern Table (Copyright Thomas Nelson, 2015).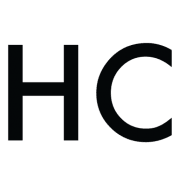 Relish
Offering more than 14,000 recipes plus features and DIYs on cooking, dining and entertaining, Relish celebrates America's love of food. Relish is about honoring cooking traditions while exploring new trends and ideas, which is why millions of people turn to both Relish.com and Relish Magazine for special occasion recipes, quick and easy weeknight suppers and culinary adventures.