A simple sugar-free oven-baked Caramelised Pork Chop dish that can also be made with other pork cuts such as pork belly, spare ribs or scotch fillet.
By Martyna Candrick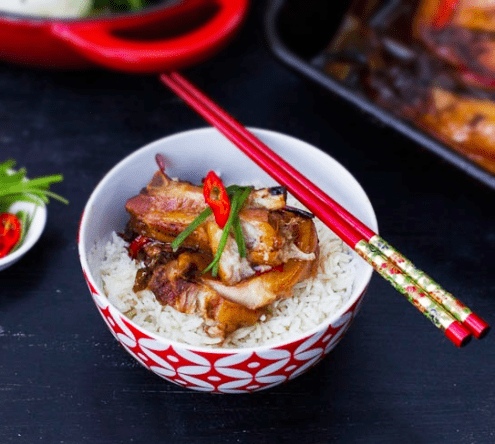 I'd encourage you to find free-range pork chops or whichever cut you prefer and use organic stock because it tastes "fresher" – some regular brands have that burnt bottom of the pan aroma lingering around…
Caramelised Pork Chops with Braised Greens
A simple sugar-free oven-baked Caramelised Pork Chop dish that can also be made with other pork cuts such as pork belly, spare ribs or scotch fillet.
Ingredients
For the Caramelised Pork Chops:
1 cup chicken stock
2 tbsp soy sauce (or tamari)
½ cup rice syrup
1 tsp five spice powder
4 x 200g pork chops
1 sprig spring onions, sliced
1 red long chilli, seeds removed, sliced
For the Braised Greens:
1 tbsp olive oil
1 leek, white part only, sliced lengthways in half
1 bunch boy choy, sliced lengthwaysin halves
½ cup water
1 tsp sesame seeds
To serve:
Instructions
Preheat oven to 180C (160C fan forced, 350F, gas mark 4).
Mix together stock, soy sauce, rice syrup and five spice powder. Pour mixture into a baking dish large enough to hold the chops. Arrange chops in the dish and sprinkle over with sliced spring onions and chilli. Cover with foil and bake for about 1 hour and 15 minutes, or until the pork chops are tender.
(If you would like to use the same pan for the greens, simply toss them with olive oil and add them on top of the chops for the last 15 minutes of cooking then sprinkle with sesame seeds to serve).
Heat oil in a medium-sized pan over medium high heat. Add leeks and allow to caramelise on both sides before adding the bok choy. Stir fry for another minute, then add water, cover and lower heat to low. Braise for about 10 minutes. Sprinkle with sesame seeds to serve.
Serve caramelised pork chops with steamed rice and braised greens. Garnish with extra spring onion and chilli, if you like.
Martyna Angell
Martyna is a Polish-born Australian recipe developer and food blogger. Her creativity and passion for good food shines through in many of the delicious and easy to prepare meals which she cooks, styles and photographs for her blog, Wholesome Cook. Fresh cream-filled eclairs are her only weakness.