Gooey, warm and loaded with chocolate, these skillet brownies are topped with a nutty caramel crunch and are the perfect sweet on a gloomy, cold day.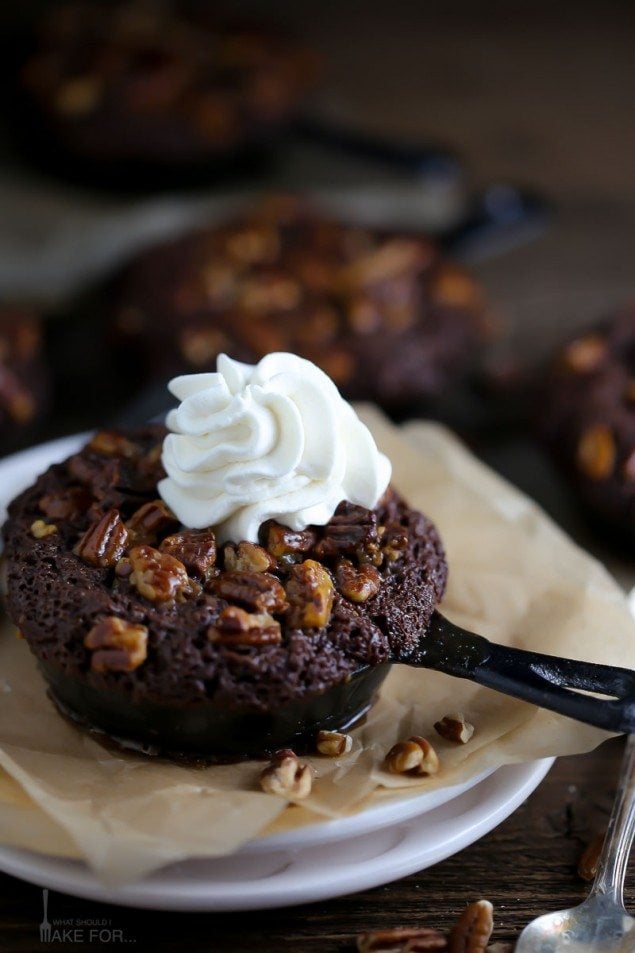 Let's just say these skillet brownies are the answer to your chocolate-loving prayers. Served piping hot out of the oven, with a caramel pecan topping and a dollop of fresh whipped cream, you're going to want to skip right to dessert. They are baked in individual 3.5 inch skillets so you can go ahead and be selfish or stick a couple spoons in there if you're saving room for some of the other goodies on the table.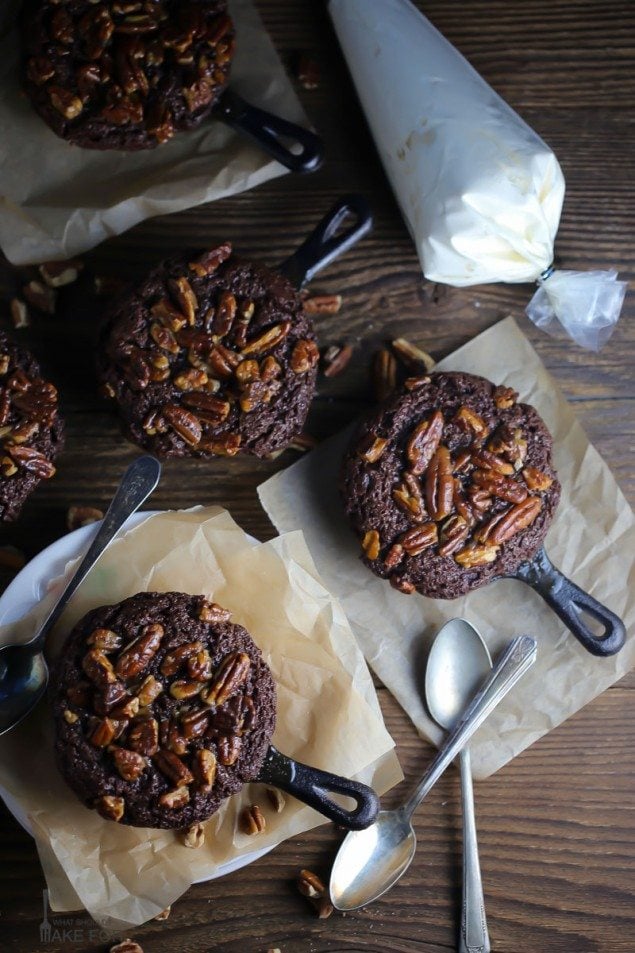 Now these are best suited to a smaller gathering, as I'm sure most of us don't have 18 mini cast iron skillets on hand, but you could adjust the baking time and bake these in a large skillet too. If your crowd is just too big and you don't want to even deal with the oven, well just bookmark this recipe and come back to it in the winter. There's nothing like a warm brownie to soothe the soul on a cold and blustery day.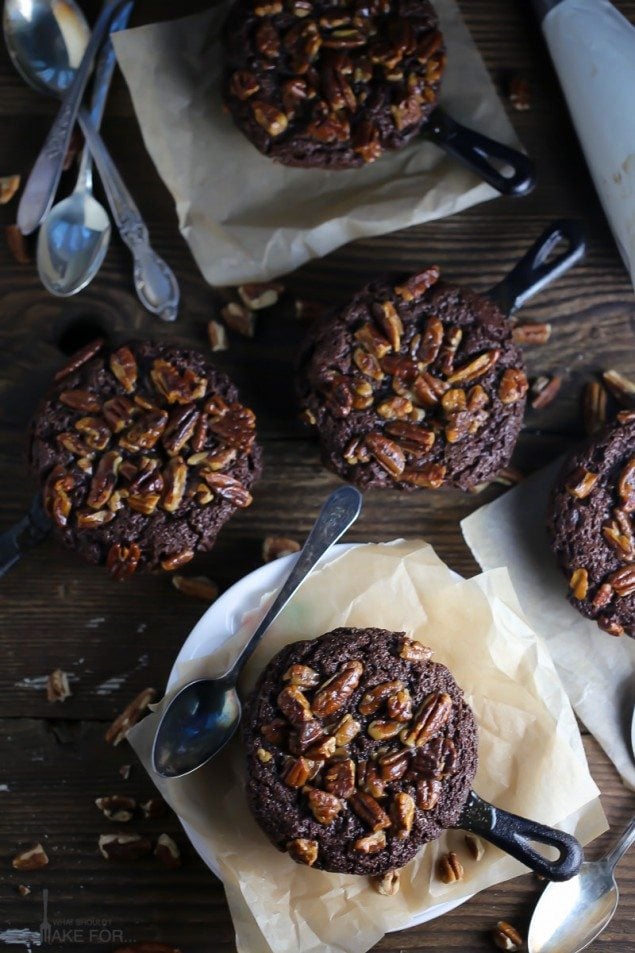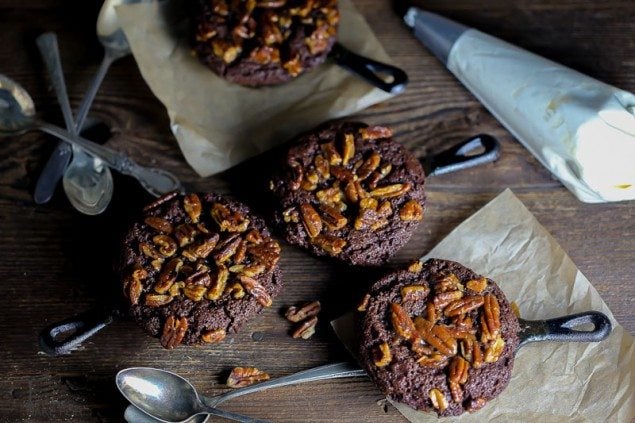 Love chocolate? Click here for more decadent recipes.

Caramel Pecan Skillet Brownies
Gooey, warm and loaded with chocolate, these skillet brownies are topped with a nutty caramel crunch and are the perfect sweet on a gloomy, cold day.
Ingredients
Brownies
4 oz unsalted butter, coarsely chopped
¼ cup cocoa powder
4 oz bittersweet chocolate, coarsely chopped
2 eggs
⅔ cup sugar
½ tsp kosher salt
1 tsp vanilla extract
¼ cup all-purpose flour
1 tsp baking powder
Caramel Pecan Topping
1 Tbsp unsalted butter
2 Tbsp light brown sugar
1 Tbsp light corn syrup
2 Tbsp heavy cream
pinch of salt
¾ cup pecans, coarsely chopped
*special equipment: 5 or 6 - 3.5 inch cast iron skillets
Instructions
Brownies:
Preheat oven to 350 degrees.
Fill a small saucepan with a few inches of water and bring to a simmer over low heat. Place the butter, cocoa powder and bittersweet chocolate in a small heat-proof bowl and set it on over the saucepan to melt.
Stir the chocolate, cocoa and butter until melted and remove from heat. Cool slightly.
In a medium bowl whisk the eggs, sugar, salt and vanilla until just combined.
Slowly add the chocolate mixture and stir until just combined.
Fold in the flour and baking powder.
Divide the mixture evenly between the skillets (no need to grease the pans).
Caramel Pecan Topping:
Combine the butter, brown sugar, corn syrup, heavy cream and salt in a small saucepan over medium heat. Bring to a boil and reduce to a simmer. Cook for 1-2 minutes, stirring constantly. Remove from heat and fold in the chopped pecans.
Divide the topping evenly over the brownies and place the skillets on a parchment lined sheet tray. The topping may drip over onto the pan and the parchment makes for easy clean up.
Bake the brownies for 15-20 mins until they are set, but still a little jiggly.
Serve immediately and top with ice cream or whipped cream.
Notes
This recipe makes 5-6 servings. If you use 5 skillets, the brownies will puff up a little more and give you a nice crispy edge. For a less crispy edge and less full pan, use 6 skillets.
These are best served right out of the oven for a warm, gooey center, however they're still delicious at room temperature and will have a more traditional brownie texture.