Caramel Croissant Bread Pudding with Bourbon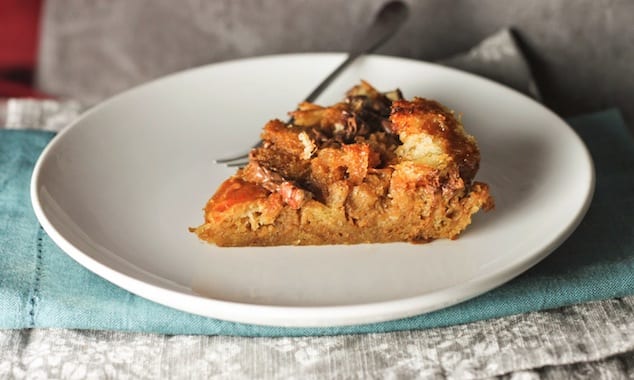 Infused with tea and bourbon these rich croissant pieces are coated in a sweet caramel sauce. Sprinkle with chocolate chunks and pecans for a gooey crunch that is best enjoyed warm with maple syrup or ice cream.
By Amrita Rawat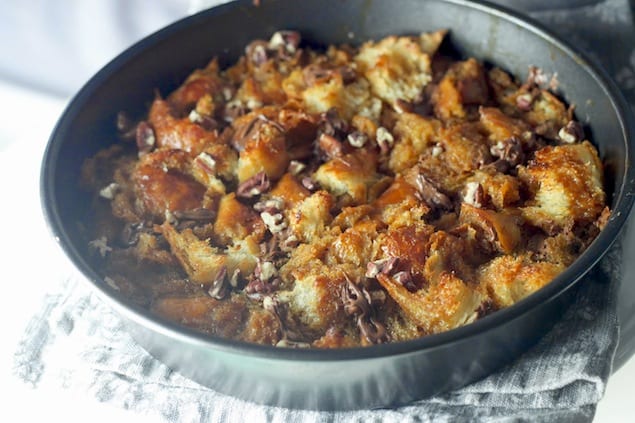 Caramel Croissant Bread Pudding with Bourbon
Infused with tea and bourbon, rich croissant pieces are coated in caramel. Sprinkle with chocolate and pecans and enjoy warm with maple syrup or ice cream. Adapted from a recipe by Nigella Lawson. Read through entire recipe before beginning.
Ingredients
2 large day-old croissants
¾ cup milk
½ cup plus 1 Tbsp. heavy cream
¼ cup lapsang souchong tea leaves
¾ cup sugar
Squeeze of lemon juice
2 large eggs
2 Tbsp. bourbon (or vanilla extract)
Handful milk chocolate chips, divided
Handful toasted pecans, chopped, divided
Maple syrup, bacon, or ice cream, to finish
Instructions
Preheat the oven to 350 degrees.
• Tear the croissants into large chunks and place in a 9-inch pie pan or 8-inch square pan. Set aside.
• Bring the milk and cream to a simmer in a saucepan over medium to medium-high heat until it almost reaches a boil. Stir in the tea, reduce heat to low and steep 5 minutes. Cover, remove from heat and steep another 10 minutes. Use a fine mesh sieve to strain the tea-infused milk into a bowl and set aside. Discard the tea leaves.
• Swirl the sugar, lemon juice and 3 tablespoons water in a saucepan to help dissolve the sugar. Caramelize the mixture over medium to high heat until it turns a deep amber color, about 3 to 5 minutes.
• Remove the pan from the heat and add the tea-infused milk, whisking quickly to ensure the caramel doesn't harden. (If it gets too thick, warm over low heat and stir until melted.) Set aside to cool slightly.
• In a separate bowl, whisk together the eggs and bourbon. Then whisk the eggs into the warm caramel (Be sure the caramel is warm, not hot, or the eggs will cook.). Immediately pour the mixture over the croissants and let soak 10 minutes.
• Sprinkle with half the chocolate chips and pecans. Bake 20 minutes until bread pudding is set. Top with remaining chocolate chips and pecans. Serve warm with maple syrup or vanilla ice cream.
Amrita Song
Amrita Rawat is the author of the blog Chai and Dumplings. Born in India and a lifelong resident of Atlanta, she recently moved to Saint Louis. Her love for food stems in part from its ability to bring cultures together and in part from how darn good it feels to eat a delicious meal. She loves traveling and has eaten her way through cities like Hong Kong, Paris, Budapest, Mumbai, and Shangri-la. Amrita is also a contributor to Sauce Magazine in St Louis.