Miniature tarts like these are great party food, but you can make these in the form of one large tart as well.
By Tamara Novakoviç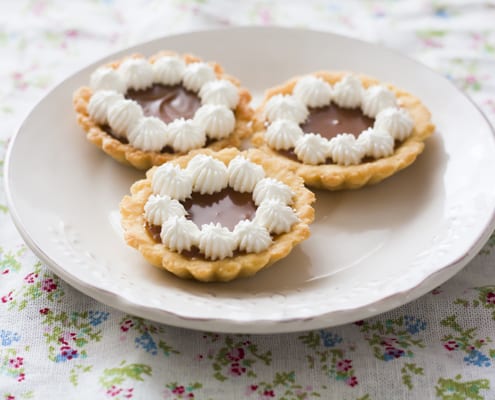 Caramel Banana Tarts
Delicious combination of caramel sauce and bananas in the form of great looking miniature tarts!
Ingredients
The pastry
3.1 oz (90 g) powdered sugar
8.8 oz (250 g) all-purpose flour
4.4 oz (125 g) butter, cold
pinch of salt
1 egg
The filling
1 or 2 bananas
7.4 oz (210 g) sugar
2.9 oz (85 g) butter
0.5 cup (120 ml) sour cream
½ tsp salt
0.8 cup (200 ml) whipping cream
Instructions
For the pastry, combine all ingredients in a food blender, until all ingredients come together. Form a ball and wrap in plastic wrap. Refrigerate for at least an hour. Roll out on lightly floured surface. Cut out circles and place them into tart shells. Bake at 356 F (180 C) for 15-20 minutes. Let cool.
Make caramel sauce: melt sugar in a pot with thick bottom until it reaches brown caramel color. Add sour cream and butter. Stir until all lumps disappear. Let cool.
Cut bananas into thin slices and place each slice into a tart shell. Fill with caramel sauce and decorate with whipped cream.