This delectable dessert is better known around Kathy's house as caramel apples for adults.
By Kathy Gori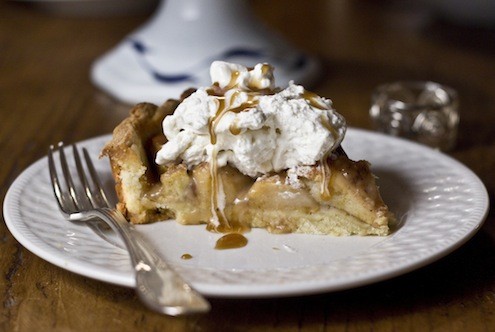 See that tart up there? I made that, and in making it, I feel as though I invented the wheel or the iPad or something. Now for everyone out there who is a born baker this is no great accomplishment. Among all the food writers and bakers and chefs I know, making a dessert is no problem. I've seen perfect cakes, towers of delicately iced cookies, immaculately crusted pies, meringues that look like the Himalyas, cunningly iced cupcakes and all manner of other delights. I have generally been in awe of such things because for 99% of the year I really do not bake. When the holidays come around, I crank out a pumpkin or mince pie, (the repertoire ends there) a few cookies and maybe, just maybe the occasional cheese cake.
It's not like I don't have the baking equipment. I do. I have Madelaine pans, cookie sheets and angel food cake pans, spring form molds and pie and cake pans galore. It's just that I never use them. I love to buy them though. I don't know what sort of sickness this is. Maybe it's an offshoot of the people who buy shoes and hide them in the back of the closet and never wear them, (I've done that too) but this is much worse. Baking equipment makes me feel all cozy and homey and long winter's nappey. Plus as long as I have the equipment and I can look at it, it's not like I'm actually eating any of the cakes and pies etc and therefore my butt gets no bigger. It's some sort of vicarious thrill that even I don't understand. I just keep acquiring the stuff and never do anything with it. Well, all that ended the other day.
Thursday we remembered that we had booked a dinner date with Alan's cousin Joanie who was coming up from Berkeley with a friend. Usually that kind of news sends me into the planning stages for a multi-course Indian company feast, but with the mass of work we're involved in right now, cooking a big complicated Indian dinner was a definite no no. Not that I couldn't put something simple together, but I wanted the evening to be special. I decided to prepare a simple classical Americana home-style harvest dinner.
I thought I was all set. Then I remembered, or rather forgot about dessert. That's when the trouble started. Give me an Indian meal and I can plan a perfect dessert. Give me an American style meal… not so much. I get totally lost and usually end up making ice cream or strawberry shortcake… but mostly ice cream. With an American menu, unless it's Thanksgiving (pie) or Christmas, (my mom brings something) I'm lost.
Now when I mentioned my mom brings something for Christmas I don't mean she actually makes anything. If I am not a baker, my mom is really, really and truly not a baker. We like to tease that she invented lava cake eons ago. Only it wasn't chocolate, the icing was puke green (hey it was St . Patricks Day) and the stuff that came out when it was cut was not a filling, it was the cake batter itself because she never ever pre-heated (pre-heating is for sissies) her oven which brought about some pretty interesting results. We stopped her baking quite a few years ago and she's now found a wonderful bakery which takes care of all the family's cake and pastry needs. So when it comes to planning a dessert, I wasn't picking up the phone to mom to ask for advice. Instead, I turned to Twitter.
I put out a call for help and my Twitter friends answered. I got great suggestions from @janis_tester and @WickedRandom which led me attempt an apple tart. After all, among all the rest of the baking junk I have around the house, I am the proud owner of two virgin tart pans, a 9″ and an 11″. It was time to put them to use. I searched around the internet and came up with a recipe from Bon Appetit Magazine  November 2006 edition. All praise to Lord Google.
It was an Apple Tart with Caramel Sauce, or as the recipe put it, Caramel Apples for adults! Wheee. Sounds racy! Apples and caramel. Thrills spills and challenges, especially the caramel part.
See Also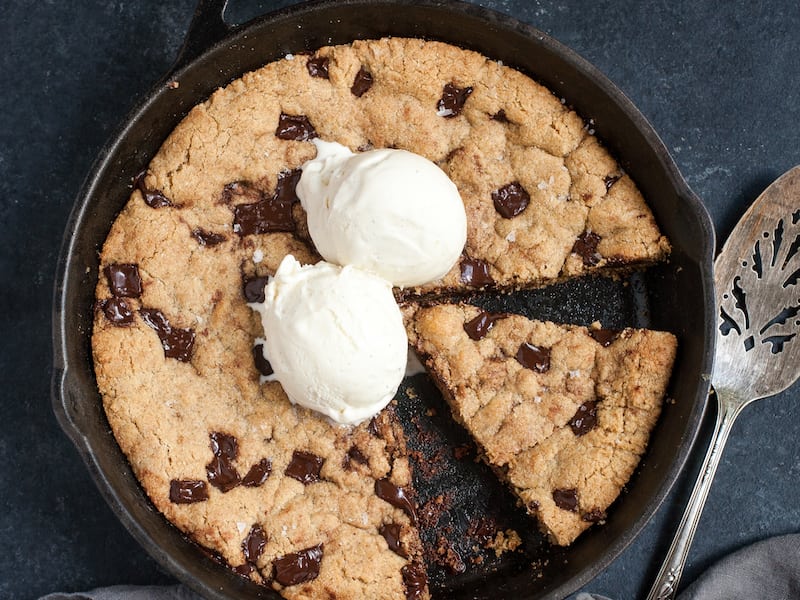 Print
Apple Caramel Tart
This delectable dessert is better known around our house as caramel apples for adults!
Author:

Bon Appetite Magazine 2006

Prep Time:

1 hour

Cook Time:

45 mins

Total Time:

1 hour 45 minutes

Yield:

1

0

1

x
1

and 1/2 cups of tight packed dark brown sugar

6

Tbs of unsalted butter

1

and 1/2 cups of whipping cream

1

and 1/4 cups of unbleached all purpose flour

3/4 cups

of powdered sugar

1/4 tsp

of kosher salt

1

stick of chilled unsalted butter diced

2

egg yolks

6

large Macintosh or Golden Delicious apples

1

Tbs flour

1/2 tsp

ground cinnamon

1/2 tsp

ground cardamom
Instructions
The Caramel:
Boil the brown sugar, butter and 1 and 1/2 cups of whipping cream until the caramel thickens enough to coat a spoon. Whisk it ofetn. This should take about 10 minutes or so.
The Crust:
Put the flour, powdered sugar and salt into a food processor and mix together.
Add in the butter
Mix until a coarse meal forms
Add in the egg yolks
I added 1 extra egg yolk for a total count of 3 yolks. The crust is extremely dry as the recipe is written and can be difficult to work with. I was almost ready to add a bit of water, but didn't, though attempting this again I probably will.
Pulse the dough until moist clumps form. Then roll it into a ball, and flatten it into a disc shape.
Wrap it in plastic wrap and store it in the fridge for at least 1 hour.
Roll the dough out on a floured surface to 13″ and place it in the tart pan .
Cut off the overhang so it's even with the pan.
Pinch the sides of the dough up to 1/4 of an inch above the side of the pan.
Preheat the oven to 375 degrees
The Filling:
Peel, core and quarter the apples.
Toss the sliced apples in the sugar, cinnamon and cardamom mixture until they're well coated.
Putting It Together:
Arrange the apple pieces cut side down in a circle around the outside edge of the pan.
Cut the remaining slices lengthwise in half and stand them in the center.
Bake the tart in the oven at 375 degrees for 45 minutes to an hour or so until the apples have gotten tender and the crust has browned.
Take it out of the oven and brush the apples with some of the warm caramel sauce.
Let the tart cool to room temperature and unmold it from the tart pan.
It looked and smelled great and I got it out of the tart pan in one piece. I was so freaking proud of myself! I was rocking my inner Julia Child. I served the tart with unsweetened whipped cream and a drizzle of warm caramel sauce.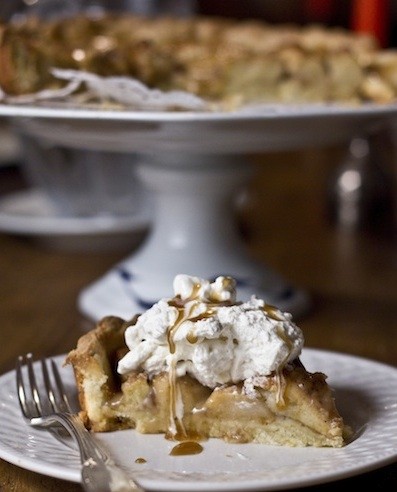 They loved it, and I mean really and truly Sally Field time loved it! I'm definitely making this again and it has emboldened me to take out some of that other baking equipment that I've got squirreled away and start experimenting.
Kathy Gori
Kathy Gori has a passion for Indian cooking. She brings 20 years of cooking experience and a natural flair for communicating her culinary adventures to her blog The Colors of Indian Cooking "A Hollywood Screenwriter, A Bollywood Kitchen". Food writer, commercial and cartoon voice actor (Rosemary the telephone Operator in Hong Kong Phooey among others) and screenwriter (Chaos Theory starring Ryan Reynolds) Kathy is also a Clio award-winner. She and her screenwriting-partner husband Alan live with their Siberian Husky Patsy in Sonoma, California.