This rendition of classic Fall flavors is especially delectable when served a la mode.
By Bowen Close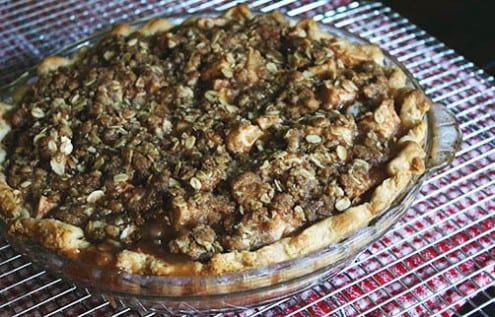 Caramel Apple Pie
This rendition of classic Fall flavors is especially delectable when served a la mode.
Ingredients
1 unbaked pie crust, rolled out and fitted into a pie dish
Filling:
About 3 lbs. of apples (around 8 large, 9 medium, or 10 small apples), peeled, cored, and cut into small bite-size chunks
½ cup sugar
3 Tbsp. flour
1 Tbsp. cinnamon
Around ⅓ cup slightly salted caramel sauce, or any other prepared caramel sauce, warmed if necessary to be easily spreadable
Topping:
¼ cup flour
¼ cup rolled oats
¼ cup brown sugar
1 tsp. cinnamon
Scant ½ tsp. salt (kosher – if using table salt, use ¼ tsp.)
4 Tbsp. butter, slightly softened (doesn't need to be room temperature, but out of the fridge for at least 15 minutes to soften a bit will make it easier to work with)
Instructions
Heat oven to 425F. Place a piece of aluminum foil on a lower rack or on the bottom of the oven to catch any filling that might drip out of the pie while baking.
Prepare filling: Toss apples, sugar, flour, and cinnamon in a large bowl. (Set aside caramel sauce for a later step.)
Prepare topping: Toss together the dry ingredients for the topping. Cut or pinch the butter into small pieces and rub together with the dry ingredients to create a crumbly mixture.
Spread caramel and fill and top pie: Spread the caramel over the bottom of the crust. Fill the crust with the apple mixture, then crumble the topping across the apples to cover.
Bake the pie at 425F for 15 minutes. Lower the temperature to 375F and bake for another 25-35 minutes, or until the crust and topping have browned and the apples are tender when poked with a sharp knife. Cool on a rack before serving.
Bowen Close
Bowen Close believes that food should make people happy and healthy, and loves bringing together people with creative, delicious food made from the heart. She loves making farm-inspired, flavorful dishes with sustainable ingredients - whether that's a big plate of roasted veggies, a towering chocolate layer cake, or a cocktail utilizing backyard ingredients - and collects recipes and other food-related stories on her website, Bowen Appétit. She is a chef, cooking instructor, and food writer living in Southern California with her husband and fully stocked pantry.