Calamari Restaurant, Coconut Grove – Italian Comfort Food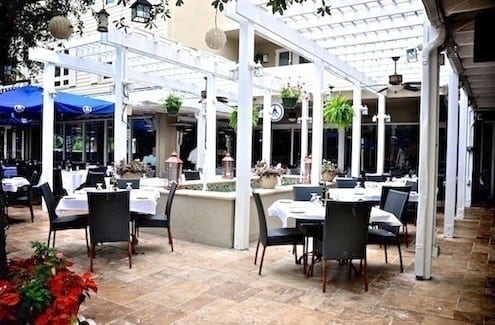 In an outdoor terrace this little gem of a restaurant sits amid a fountain, tropical foliage and flowers. It offers simple, happy food that will remind you of the generosity of family meals.
By Brenda Benoit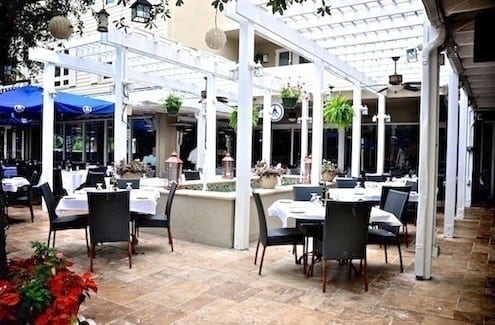 First off were served a delicious and untraditional Bruschetta: triangles of warm, thin flat bread topped with diced tomatoes, herbs, shallots, olive oil, and vinegar. It was mellow and pleasing, the flatbread crackly and crunchy with each bite. The flavors and textures blended well together. It was a very nice introduction to the surprises to come.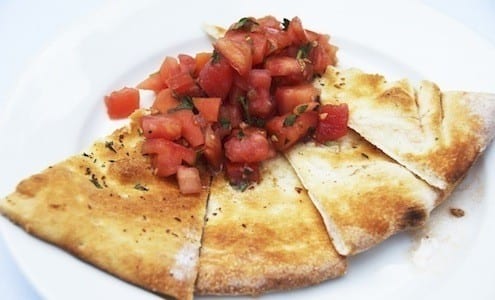 The Stuffed Whole Baby Calamari ($8.50) was not a very handsome dish at first glance as it was drenched in a tomato sauce that covered the beauty of the squid. The humble presentation was hiding a very important secret: one bite was a lusty morsel of baby squid stuffed with crab meat, seasoned bread crumbs and Italian seasonings. I could have eaten three plates of this and not share with anyone! The crab stuffing was especially wonderful, with the distinct flavor of the crab shining thru like morning light after a very dark night.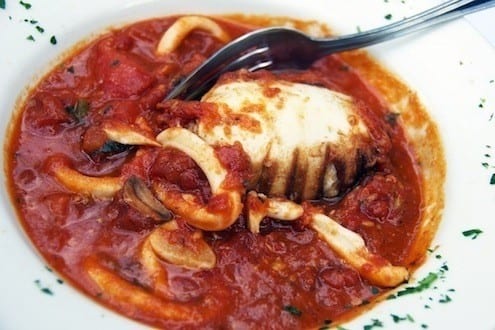 The Roasted Italian Sausage and Peppers ($13.50) were homemade Italian sausages, fire roasted, served with sautéed peppers and onions over spinach in garlic and olive oil with a side of potatoes. The sausages were bursting with flavor and goodness, the spinach and potatoes a gentle yet intensely tasty accompaniment.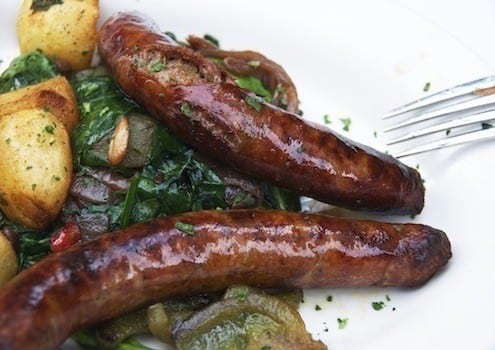 Dessert was a classical, creamy Tiramisu, a sweet ending to an enchanting evening.
Calamari Restaurant is part of the Grove Trilogy of restaurants surrounding a court garden, including La Bottega by Carmen Trigueros which is an enoteca sociale (wine bar) and Taurus, the Grove's most legendary bar.
Calamari's La Dolce Vita Bar features Happy Hour 7 days a week, from 4 to 8 pm, with drinks offered at 2 for 1 and a Small Bites, Bar Delights Menu of items under $5.
The service was cordial, friendly and efficient. The abundant menu features Italian favorites at reasonable prices. Nothing fancy, nothing over-the-top, nothing over-presented; just good food that will make you want to come back for more.
CALAMARI RESTAURANT                       
Tel – 305-441-0219
3540 Main Highway
Coconut Grove, FL 33133
Website
Brenda Benoit
Brenda Benoit was born in the city of St. George's in Grenada and grew up in Caracas, Venezuela. She has been living in Miami for over 20 years, loves to cook, eat and to try new restaurants & cuisines - always with her camera as a companion. She's a dedicated cookbook collector and is in the process of writing one of her own.