Explore the coastal cuisine of Calabria, Italy. Typical sheep's milk ricotta fills the mushrooms for an authentic, regional appetizer.
By Jovina Coughlin
Calabria is at the toe of the boot, the extreme south of Italy – lapped by the crystal blue Ionian and Tyrrhenian Seas and separated from Sicily by the Strait of Messina. The warm climate, the beautiful colors of the sea, rocky coasts that alternate with sandy beaches, the classic flavors of local foods and the vestiges of its ancient origins make Calabria a unique place in both winter and summer. The provinces of Calabria are: Catanzaro (regional capital), Reggio Calabria, Cosenza, Crotone and Vibo Valentia. With farmland sparse in Calabria, every viable plot is cultivated to its greatest advantage. Tomatoes, eggplants, potatoes, artichokes, beans, onions, peppers, asparagus, melons, citrus fruits, grapes, olives, almonds, figs and mountain-loving herbs grow well in the area. Calabrians tend to focus on the high quality of their ingredients, so that virtually everything picked from a garden is useable and worthy of praise. Calabrians use the mountainous area covering most of the region to raise pigs, goats and sheep and comb the woods for chestnuts, acorns and wild mushrooms to add rustic flavors to their cooking. Fishermen have little trouble finding swordfish, cod and sardines and shrimp and lobster are common on their tables. The inland freshwater lakes and streams offer trout in abundance.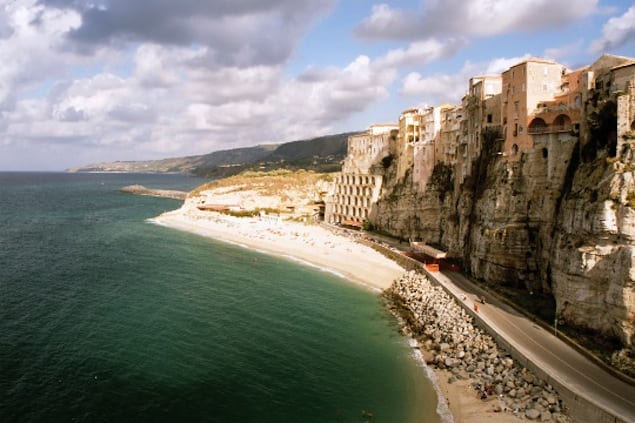 Due to the humid climate and the high risk of rapid molding and spoilage, food preservation has become a fine art in Calabria. Oiling, salting, curing, smoking – almost all of the area's food products can be found preserved in some form or another. Calabria's many varieties of cured meats and sausages are served alongside fresh produce and the local pancetta pairs perfectly with plump melons in summer. Breads, cheeses and pastas are all important to Calabrian cooking. Cheeses lean toward the goat and/or sheep milk varieties, though cow's milk cheeses are becoming more common. Pane del pescatore ("fisherman's bread") is a local specialty rich with eggs and dried fruits. Focaccia and pita breads are popular in the region, due to Greek and Arabic influences. Greek influence still pervades in eggplant, swordfish and sweets by incorporating figs, almonds and honey into the preparations. Similarly, special pastries and desserts take on a Greek flavor with many being fried and dipped in honey.

Calabrian Inspired Ricotta Stuffed Mushrooms
Ricotta stuffed mushrooms from the Calabrian region.
Ingredients
One dozen mushroom caps
1 cup well-drained skim milk ricotta
¼ cup grated Pecorino cheese
2 teaspoons fresh basil leaves, chopped
¼ teaspoon kosher salt
Ground black pepper to taste
¼ cup Italian seasoned breadcrumbs
Olive oil for drizzling
Fresh parsley or basil, chopped, for garnishing
Instructions
Preheat the oven at 400 degrees F.
Remove stems from mushrooms and set the caps side. Use the stems for soup or other recipes.
Thoroughly combine the next five ingredients -ricotta through pepper- in a mixing bowl.
Coat a baking dish just large enough to hold the 12 mushrooms with olive oil cooking spray.
Stuff each cap with ricotta filling. Sprinkle the tops lightly with breadcrumbs.
Place the stuffed mushroom caps in the baking dish and drizzle with olive oil.
Bake at 400 degrees F 20 minutes for large caps, 15 minutes for small caps. Garnish with chopped parsley before serving.
Jovina Coughlin
I was born in New Jersey to first generation Italian parents. Both sets of my grandparents were born in Italy and emigrated to the United States in the early 1900s. They brought with them a love of the Italian culture and cooking. I have 2 brothers and 1 sister. I learned many of my cooking skills from my parents and grandparents, but I also studied Italian cooking and made many of the recipes for my children as they were growing up. I am married with three children and six grandchildren. Besides New Jersey, I have lived in Pennsylvania, Michigan and now on the Gulf Coast of Alabama. I have a Bachelor of Arts Degree and a Masters of Science Degree and I have taught high school English and special education. I have also been an administrator in the public schools at the district and county levels. Now that I am retired from the teaching profession, I have the time to write a blog and share my information about Italian American cooking and culture. Because I am a teacher by trade, I feel that I have the skills to share with readers the techniques for preparing authentic and healthy meals.