This is a full meal soup with a range of textures and flavors that makes a great dinner party centerpiece.
By Ariel Rebel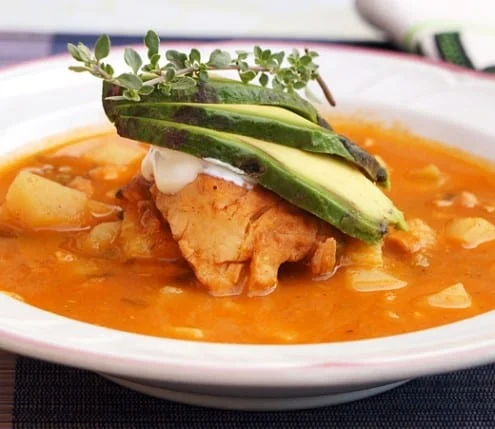 Cajun Tilapia Soup with Polenta
This is a full meal soup with a range of textures and flavors that makes a great dinner party centerpiece.
Ingredients
1 Big red tomato, blanched
3 smaller red tomatoes, blanched
1 medium size yellow tomato, blanched
1 small/medium yellow onion, chopped
3 big garlic cloves, finely chopped
6 teaspoons of olive oil
3 cups of fish broth
2 cups of white potato cubes
1 jalapeno pepper, cut in small pieces
2¼ tablespoon of finely chopped fresh coriander
2 branches of fresh silver thyme
¼ teaspoon of hot Hungarian paprika
6 teaspoons of lime juice
5 small Tilapia Fillet
3-4 tablespoons of my homemade cajun spice blend
For the polenta:
For the garnish:
small and thin avocado slices
4 small branches of silver thyme
4 teaspoons of 0% fat Greek yogurt
Instructions
The day before or a few hours before, rub your Tilapia fillets with the cajun spices. Place them back in the fridge and wait an hour or two for the fish to absorb a bit of the taste. Grill your fillets in a flat bottom pan with 2 teaspoons of olive oil once you're ready. Put them right back in the fridge till it's time to start your soup.
For the soup, bring to the stove top a big stainless steel flat bottom pan and open your heat to medium/high. Add 3 teaspoons of the remaining olive oil and start grilling the yellow onion, jalapenos peppers and chopped garlic for 2-3 minutes. During that time, cut your previously blanched tomatoes in cubes before adding them to the pan.
Add your fish broth, the freshly chopped coriander and lower your heat to medium/low, let it simmer covered for 5 minutes while stirring a few times.
Bring the content of your pan in a blender and liquify it. Pour it back in the pan, add your white potato cubes, 2 branches of thyme, the hot Hungarian paprika, lime juice and shred (in small pieces) 1 small tilapia fillet from the fridge. Cover it and let it gently simmer for 1h while stirring once in a while and lowering the heat if you find that it's simmering too hard.
After one hour, cut your remaining 4 filet in half and add the ticker part of each fillets in the soup, cover it again and let it simmer for an extra 30 minutes. You may flip your big fillet pieces half way.
At the last minute grill your polenta rectangles both sides in another pan with 1 teaspoon of olive oil. Reserve.
Set up 4 wide soup bowls, start adding your soup (juice and potatoes only) at the bottom, place the polenta in the middle of the liquid and 1 piece of filet on top of it. Then add 1 teaspoon of Greek yogurt in each plates, on top of the filet (this is going to add a great taste and help the avocado slices hold in place, then add your sliced avocados!
Ariel Rebel
Canadian food blogger, model and web designer Ariel Rebel was born in Montreal in 1985. Her love for food started at a young age by looking at her grand mother cooking pie after pie while she was trying to steal some uncooked dough from the counter. Ariel inspiration for recipes comes from her French Canadian roots mix with all her traveling memories and the countless hours she spent running around Montreal to taste all the different culinary cultures. Her passion for cooking big dinners for her friends and family never ceases to increase every year and that's what motivate her to keep learning new skills while experimenting in her kitchen at much as she can. On her blog (ZestyandSpicy.com) Ariel shares with the world her passion for flavorful and healthy recipes while blogging small pieces of her life as a model and a web entrepreneur.