Buttery, Chocolate Coated Espresso Bean Scones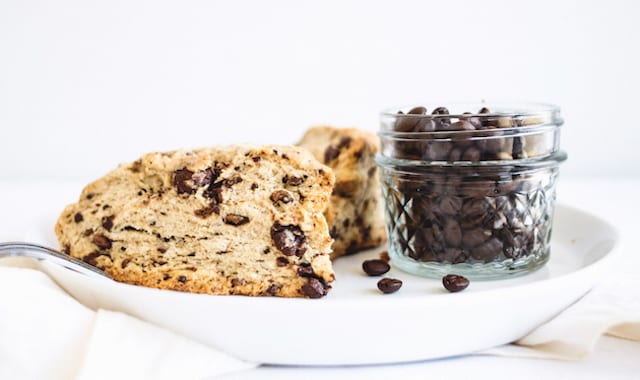 Have as a decadent breakfast or a high tea treat. Scones are the quintessential English indulgence. 
By Thalia Ho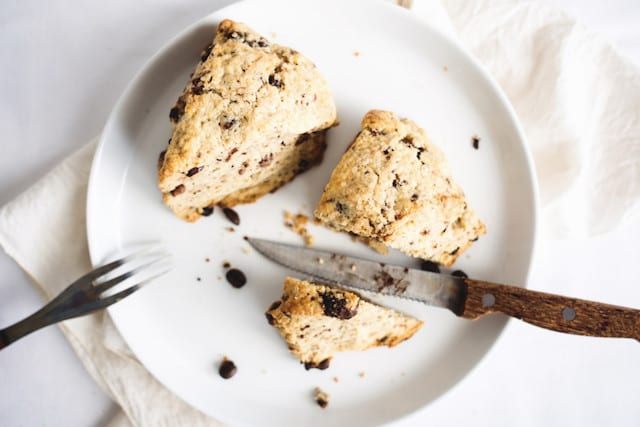 I guess you could say that scones, and my memories associated with them hold a special place in my heart. Be it classic British or triangle-ed American… I will forever endlessly enjoy their flaky texture, rich and buttery taste. So, with all my scone experience – I would probably say that I know just enough to differentiate between very good ones and very bad ones.
And I know just how I like to eat them too. I make plain buttermilk scones at home quite a few times, trying to make them just as delicious as my memories of the best ones – though this is the first time I have delved into 'flavoured scone' territory.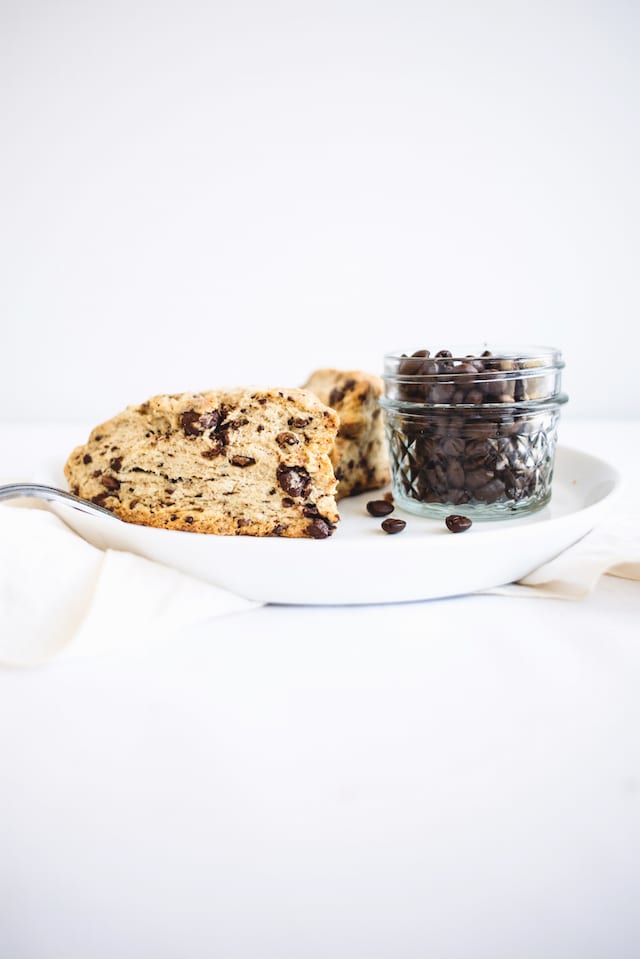 Chocolate Coated Espresso Bean Scones. Don't they just sound indulgent and delicious? Extremely golden, flaky, aerated and layered with just the right amount of chocolate coated expresso bean filling. A good sprinkling of sugar and slather of cream on top of the scones before baking, ensures that the scones develop a sweet crust too, which gives these tender treats an even more delicious flavour and textural structure.
They taste like perfection too. I find the best way to serve them is warm or straight from the oven – when the buttery solids are still slightly melting and the chocolate from the espresso bean shell is gooey and oozy… a sweetly perfect contrast against the textured, crisp and bitter bean.
Or you could enjoy them at room temperature for breakfast in the morning too as they are not overly sweet…with a big pat of butter. A decadent breakfast every now and then never hurt anybody, right? I definitely won't be the one sending any judging glances your way.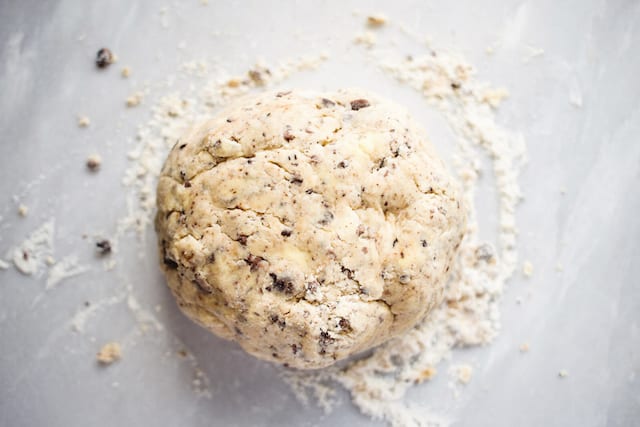 Chocolate Coated Espresso Bean Scones is where my great love of scones matches another of my life loves, in a comforting cup of strong black coffee. It is a combination destined to be paired and a recipe I will continue to return too. Each bite is a play on opposing texture – crisp yet soft, aerated but slightly dense, flaky and buttery. They are so delicious and a truly worth your time. Trust me.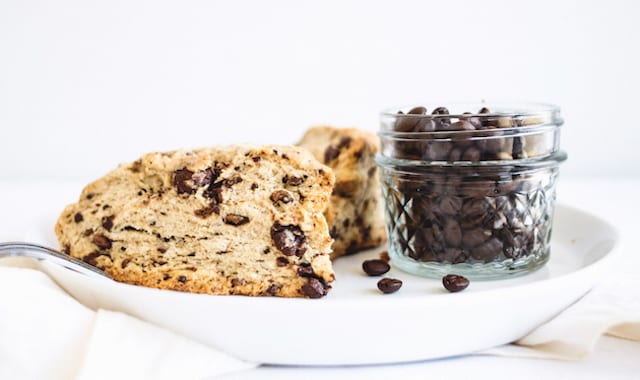 Buttery Chocolate Coated Espresso Bean Scones
Thalia Ho
Course
Breakfast or Snack
Ingredients
3

cups

plain flour

1/3

cup

caster sugar

1 ½

tbsp.

baking powder

1

tsp.

finely ground espresso powder

1

tsp.

sea salt

4

ounces

/ 115 grams butter

chilled and cut into ½ inch / 1 ½ cm cubes

1

cup

chocolate coated espresso beans

roughly chopped

1 ½

cups

heavy cream

plus more for brushing

1

tsp.

vanilla bean extract

Raw sugar

for sprinkling
Instructions
Pre-heat the oven to 425 F / 220 C.

In a large bowl, whisk together the flour, sugar, baking powder, espresso and sea salt.

Using a pastry blender or spatula, quickly cut the cold butter into the flour mixture until it resembles a coarse meal. Some small pea sized remaining pieces are okay. Then, with a wooden spoon, mix in the chopped chocolate coated espresso beans.

Stir the cream and vanilla bean extract into the dry ingredient mixture with a wooden spoon, until the dough begins to roughly come together.

Transfer the dough and any loose floury bits to a lightly floured surface and quickly knead the dough to just bring it together then flatten into a ¾ inch / 2cm thick disc.

Fold the dough in half, give it a quarter turn and then flatten it again then repeat this folding and turning process for a total of 3 more times.

Shape the dough back into a ¾ inch / 2 cm thick disc that is roughly 6 inches / 15 cm in diameter. Cut into 4 equal triangles then cut those in half again to make 8 even triangles.

Place the triangles on an ungreased rimmed sheet pan and place in the freezer to let the scones firm up and set for 10 to 15 minutes.

Once set, brush the tops of the scones with cream and sprinkle with raw sugar.

Bake for 18 to 20 minutes, or until the tops are golden brown and a skewer inserted into the center of the scones comes out clean.

Cool the scones on a wire rack before serving warm.
Thalia Ho
thalia is a law student by day, blogger at butter and brioche by night and all around francophile. In her free time you'll find her spending hours on end in her kitchen, testing recipes, baking decadent treats, exploring cookbooks and getting lost in the digital world.