This creamy spread is just calling for your to make it, spread it on a baguette and serve with a tart cherry jam.
By Ann Kaufman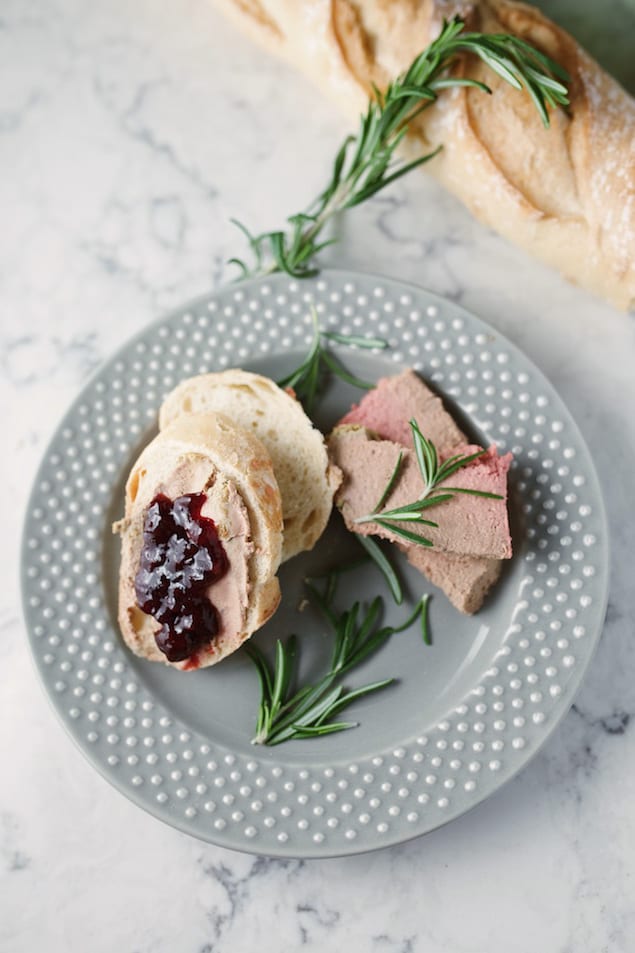 I love chicken liver mousse. I love it so much that sometimes when I'm thinking about what I can have for snack, I think to myself, "Self, it would be great if there were just some chicken liver mousse that I could smear on some crusty bread."
I told the hubby I was going to make a huge batch of chicken liver mousse and stash it in individual portions in the freezer.
I agonized over tons of recipes trying to figure out chicken liver mousse. I knew I wanted a mousse that would err on the side of light and creamy and that didn't scream "liver" the second it hit my mouth. Years ago, when Cork Wine Bar opened near our little apartment in DC, I had the most delightful rustic chicken liver pate with a cherry compote that still lingers in my brain today. I hadn't ever thought of eating chicken livers with cherries before, and it's always just stuck with me as a surprising but winning combination. With that in mind, I set about using this Food & Wine recipe but made modifications, substituting cherry brandy for Calvados brandy, which is apple-based.
As it turns out, this recipe makes a lot of chicken liver mousse. So much, in fact, that I sliced up a few meaty pieces for a cheese board as part of our Feast of Seven Fishes with our friends and then had about six hunks leftover. I popped those hunks in the freezer, unsure of how they'd defrost given that the recipe is very cream-heavy. I then served it up with sprigs of fresh rosemary and Dalmatia sour cherry spread, which was a great sweet/sour balance to go with the decadent chicken liver mousse. When spread on crusty bread, it's a heavenly appetizer.
See Also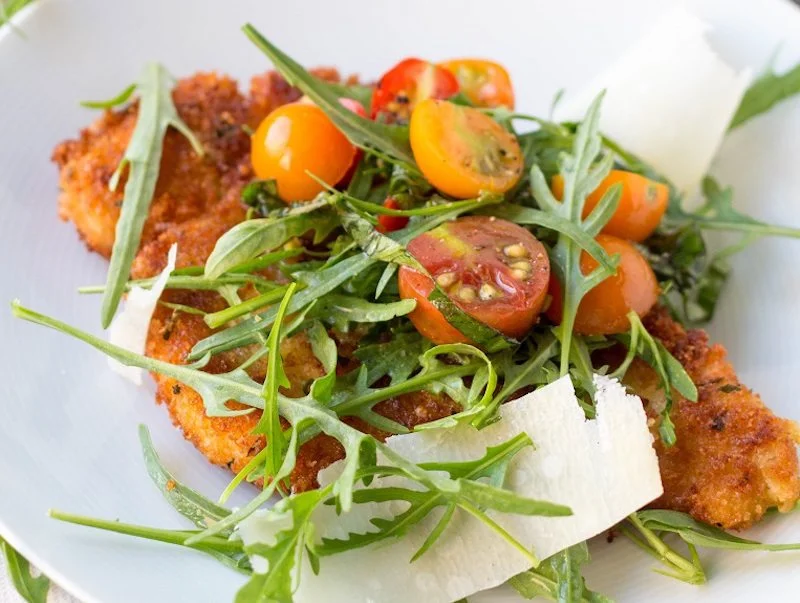 Unlike a lot of my recipes, which are really easy and can fly on a weeknight, I've discovered that chicken liver mousse isn't one of those recipes. Making a smooth, creamy one takes dedication, attention to detail, and, most importantly, kids who are asleep in bed. I put my terrine in a warm water bath as suggested by F&W's recipe, and the whole time I kept thinking about my little chickens upstairs, whom I'd just bathed in a warm bath a half hour before I started working on my mousse. The mousse took me until nearly 11 pm that night. The kids, as usual, were up by 6.
Print
Buttery Chicken Liver Mousse
This creamy spread is just calling for your to make it, spread it on a baguette and serve with a tart cherry jam.
Author:

Ann Kaufman

Yield:

12

-

1

6

1

x
Category:

Appetizer
1½

pounds chicken livers, trimmed, at room temperature

8

large egg yolks, at room temperature

3 tablespoons

cherry brandy

1 tablespoon

salt

1½ teaspoons

freshly ground white pepper

¾ teaspoon

ground allspice
Pinch of freshly grated nutmeg

3

sticks (3/4 pound) unsalted butter cut into large chunks, at room temperature

2 cups

heavy cream, at room temperature
Dalmatia sour cherry spread, fresh rosemary and crusty bread, for serving
Instructions
Preheat the oven to 275°. Make sure your butter, cream, egg yolks and chicken liver are all at room temperature (note: this is very important to ensure a smooth, creamy texture)
Puree the livers, egg yolks, brandy, salt, pepper, allspice and nutmeg and puree until smooth in a food processor.
With the food processor still on, blend in the softened butter very slowly and 1 chunk at a time, until all the butter is incorporated and the puree is creamy. The mixture will be bright pink and somewhat unappetizing looking, but should be uniform in color throughout. if it looks curdled, wrap a hot kitchen towel around the processor bowl and puree until light and creamy. You may have to do this several times until the puree is uniform in color without any small bits floating around.
Set a fine mesh strainer over a large bowl and press the puree through twice. Stir in the heavy cream until blended.
Pour the puree into a 1½-quart enameled cast-iron terrine and set the terrine in a roasting pan. Pour enough boiling water into the roasting pan to reach halfway up the side of the terrine and bake for 1 hour and 10 minutes, or until the mousse is lightly browned on top and a toothpick inserted in the center comes out clean.
Remove the terrine from the water bath and let cool, then cover with plastic wrap and aluminum foil and refrigerate overnight.
To unmold, dip the bottom of the terrine in a pan of hot water for 10 seconds, and run a paring knife around the edge of the mousse. Invert the mousse onto a cutting board. Cut it into ½-inch slices.
To freeze any unused portions, wrap tightly in plastic wrap, followed by parchment paper and foil (to prevent the mousse from becoming gritty).
Ann Kaufman
Ann Kaufman is an emotional food enthusiast who writes about food at Grits & Chopsticks. When she's not writing about food, she's caring for her two young children, lawyering and thinking about her next meal.