This is crowd-pleasing, vegetarian friendly, and can be made ahead – a holiday trifecta.
By Jessica Smith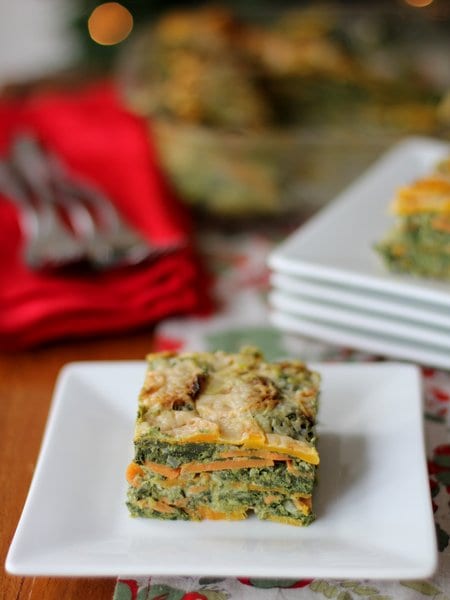 This is one recipe that I knew needed to make the holiday cut this year, for a rather personal reason – I keep losing it. I've made this many times, but I can never remember if the original contains sweet potatoes or kale, or some crazy mix of cheese. And that makes it very difficult to track it down in google.
At last, I'm happily putting this recipe online, where it will never again go missing. And where I can share with you the fact that this really is a fantastic holiday recipe. It's crowd-pleasing, vegetarian friendly, and can be made ahead – a holiday trifecta.
Despite my forgetfulness about the origins of the recipe (and my laziness in simply printing a copy years ago), it's always the first to come to mind this time of year. This recipe was one of those that defined an entire winter season when I was living alone in my mid-20s. I'd invite friends over for dinner and serve just this and a salad. It seemed like a grown-up sort of thing to serve, full of thinly sliced vegetables, coming to the table hot and bubbling and smelling like heaven, when only I knew that I had made it 2 days earlier and stashed it in the fridge.
I've made this in countless variations. This year I combined butternut squash and sweet potato which made for pretty layers, but either one would shine on its own as well.
I still don't own a mandolin (a reality which bites me in the booty every year when I find myself trying to uniformly slice butternut squash with a knife), but a mandolin makes quick work of the prep for this dish.
This will likely go fast, but I can guarantee that you'll want to keep any left-overs for yourself.
Butternut Squash and Creamed-Spinach Gratin
This dish is crowd-pleasing, vegetarian friendly, and can be made ahead – a holiday trifecta.
Ingredients
3 pounds fresh spinach, stems discarded, or 3 (10-ounce) packages frozen leaf spinach, thawed
5 tablespoons unsalted butter plus additional for greasing pan
¾ cup finely chopped onion (1 small)
3 garlic cloves, minced
1½ teaspoons salt
¾ teaspoon black pepper
Rounded ¼ teaspoon freshly grated nutmeg
1 cup heavy cream
4 pounds butternut squash (2 large), peeled, quartered, and seeded (see note)
½ ounce finely grated Parmigiano-Reggiano (1/4 cup)
Instructions
If using fresh spinach, bring 1 inch water to a boil in a 6- to 8-quart pot over high heat. Add spinach, a few handfuls at a time, and cook, turning with tongs, until wilted, 3 to 5 minutes. Drain in a colander and rinse under cold water.
Thoroughly squeeze cooked fresh or thawed frozen spinach in small handfuls to remove excess moisture, then coarsely chop and transfer to a bowl.
Melt 3 tablespoons butter in an 8-inch heavy skillet over moderately low heat, then cook onion and garlic, stirring, until softened, 3 to 5 minutes. Add onion mixture to spinach along with salt, pepper, nutmeg, and cream and stir to combine.
Put oven rack in upper third of oven and preheat oven to 400°F. Butter a 3-quart shallow baking dish (13 by 9 inches; not glass).
Cut squash to separate bulb section from solid neck section, then cut pieces lengthwise into ?-inch-thick slices with slicer.
Layer squash and spinach mixture in baking dish, using about one fifth of squash and one fourth of spinach for each layer, beginning and ending with squash.
Sprinkle top layer of squash evenly with cheese and dot with remaining 2 tablespoons butter, then cover directly with a sheet of parchment or wax paper.
Bake until squash is tender and filling is bubbling, 25 to 30 minutes. Remove paper and bake gratin until browned in spots, 10 to 15 minutes, or broil 3 inches from heat, 2 to 3 minutes.
Jessica Smith
Jessica Smith is a native of the American Midwest, currently living in Thailand where she writes about food and travel throughout Southeast Asia. Jessica believes that the best way to understand a place is through its local cuisine.