Beautiful butternut squash is cooked like risotto with barley for a festive fall dish topped with crunchy almonds.
Autumn is a nice season of the year: leaves share their most brilliant colors and soil offers us healthy fall produce. One of my favorite autumn veggies is pumpkin. I love its sweet and chestnutty taste. I even eat it just baked plain, all by itself. This orzotto is a delicious comfort dish to eat on a cold, gray autumn day when you need something warm and colorful to warm you up and cheer you up too. It is a fast recipe to prepare for an appetizing meal. You can enjoy as a first course or light vegetarian lunch accompanied by a fresh salad. The addition of almonds adds a nutty and crunchy taste, while sage gives an additional delicate aroma. The term orzotto refers to orzo (barley in English) cooked as risotto. I use barley in many recipes, especially in stews and soups, because it is very tasty, nutritious and healthy. Medieval peasants ate it regularly, and it is still today a staple cereal of the Italian cuisine. It is good source of vitamins, minerals, carbohydrates, proteins and fiber. It has a lot of health benefits, such as aiding in controlling blood sugar levels (it has a relatively low glycemix index in comparison to other cereals), reducing blood pressure and keeping your cholesterol in check. It even helps to keep your intestines in working order. Finally, it will help you increase your strength and endurance. Plainly said: Eat more barley and you will be healthier!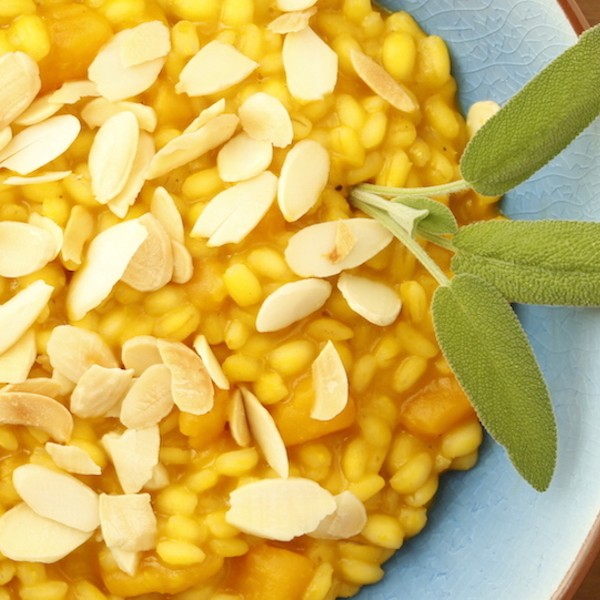 Butternut Squash and Barley
Paola Lovisetti Scamihorn
Ingredients
320

g

heaping 1 ½ cups pearl barley

500

g

18 oz zucca di Mantova (or butternut squash), peeled and cubed

1

shallot

finely chopped

4

tablespoons

olive oil

extra virgin

1

liter

about 1 quart vegetable stock

1

sprig of sage

4

tablespoons

grated Parmesan cheese

4

tablespoons

toasted almonds slices

Salt and freshly ground pepper
Instructions
In a saucepan over medium heat, warm up the stock

In a large saucepan over medium heat sauté the shallot in olive oil for 2-3 minutes until it is translucent and soft, but not brown. Add the pumpkin and cook for 1 minute, stirring 2-3 times. Then, add the barley and stir thoroughly for about 2 minutes in order to "coat" the barley well with olive oil, shallot and pumpkin

Add a soup ladle or two of the stock until the barley is just covered, and stir continuously with a wooden spoon. When the stock is almost completely absorbed, add the sage and repeat this process for about 35 minutes (it depends on the barley's cooking time, which should be clearly indicated on the package).

Add the Parmesan, pepper and salt, as necessary. This will depend on the amount of salt present in the stock. Before serving, top with the almonds. Serve warm.
Notes
I use pearl barley in my recipes because it is less chewy, it has better taste and it cooks faster. Pearl barley has been processed to remove hull and bran. This is the most common form for human consumption.
Paola Lovisetti Scamihorn
Paola is Italian and cooking has always been her passion. In October of 2012 she founded her cooking blog "Passion and Cooking" to collect her recipes and give friends a sampling of true Italian cuisine. She collaborates with several Italian and American magazines and just published her first book - Love is Eating - Healthy and Tasty Italian Recipes for Family Meal (click on http://www.passionandcooking.com/book/).