Before you embark on bread making, buy an instant read thermometer. All bread is done at 200 degrees.
By Deena Wachtel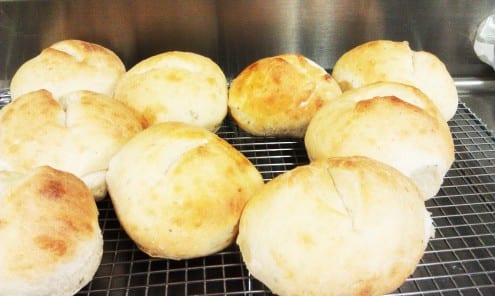 Buttermilk Potato Bread
Before you embark on bread making, buy an instant read thermometer. All bread is done at 200 degrees.
Serves:
1 loaf or 20 rolls
Ingredients
1 small russet potato
1 Tbsp dry yeast
1 Tbsp sugar
½ cup buttermilk
1 Tbsp melted butter
2 tsp salt
1 tsp fresh dill, minced
3 to 3½ cups of all purpose flour
Instructions
Peel potato and cut into large pieces. Place in a saucepan, cover with water, bring to a boil and cook until soft. Drain and reserve the liquid. Mash potato and set aside.
Cool 1 cup of the potato water to 100 degrees and then add the yeast. Proof for about 10 minutes.
Combine mashed potato, sugar, buttermilk, butter, salt, dill and yeast mixture.
Slowly add the flour and knead to produce a smooth, springy dough. This may be 2½ cups of flour... it may be 4 ... it depends on where you are, so just go by feel. You want a TACKY dough, not a dry dough and not a sticky dough.
Place dough in a greased bowl. Cover and let rise in a warm place until doubled in volume.
Preheat the oven to 350 degrees.
Shape the dough into either a loaf pan or rolls (be sure to cut the top of the roll with a pair of scissors so they don't explode in the oven).
Bake until the internal temperature reads 200 degrees.
Enjoy!
Deena Wachtel
Deena is a stay at home foodie, obsessed with food and intent on changing her finicky family into a foodie family. She lives by a set of FOODosophies and has pledged to get her kids into the kitchen to teach them how to cook and love good tasting food. It's not always pretty and there are nights when the kids go hungry. But, for her, it's all for the greater good. She blogs daily at stayathomeFOODIE.com.