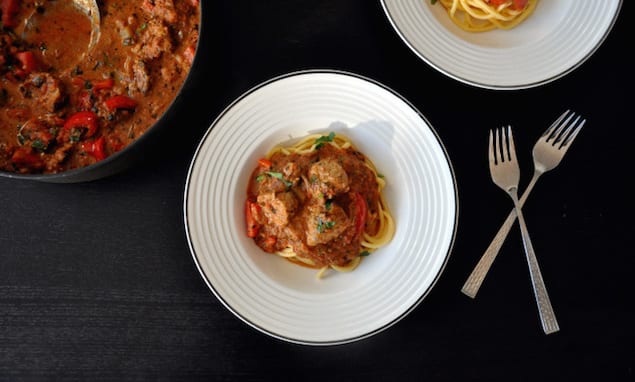 This fusion of the classic spaghetti and meatballs doused in Indian butter chicken sauce is a comforting meal that uses up leftover vegetables in a delicious way.
By Shuchi Mittal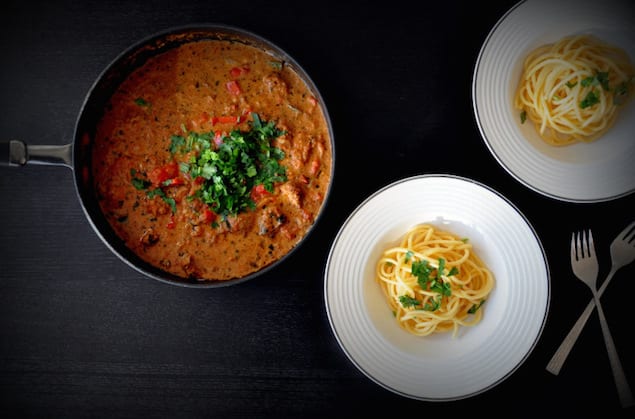 "What is this dish you ask
Fusion of cultures three,
Each apart, yet flavours fuse
Italian, Indian, Chinese.
Spice & comfort
In your dinner bowl tonight,
Whip up some now will you
And slurp up all in sight!"
Here's the truth. I have no idea how I came up with this recipe.
A lazy Saturday lead to me cook up a quick, yet comforting, dinner where I could use up all that was in my fridge. I found tomatoes, onions, red pepper, zucchini, some frozen leftover chicken meatballs and a packet of Chinese noodles. I love creating recipes with what's on hand, so I decided to use the noodles as a 'spaghetti' base, and create an Indian-inspired spicy sauce with he remaining ingredients to go along. And what could be better than the much loved Butter Chicken?! With a few twists, out came a perfectly balanced and super satisfying Indo-Italian-Chinese fusion that worked in every way, and came together in under 30 minutes.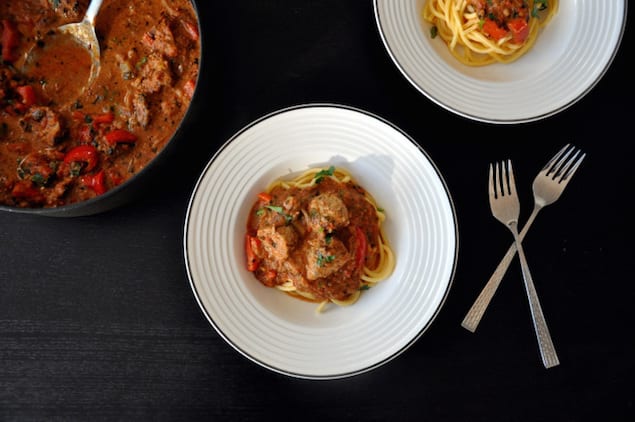 Find the meatball recipe here.
Butter Chicken Pasta
This fusion of the classic spaghetti and meatballs doused in Indian butter chicken sauce is a comforting meal that uses up leftover vegetables in a delicious way.
Ingredients
8-10 chicken meatballs (See the link to my recipe above or store bought)
1 packet (450 gm / 16 oz) Cooked Chinese Yellow Noodles (Lo Mein)
2 large plum tomatoes
1 cup cherry tomatoes
1 small red onion, finely chopped
1 red pepper, diced (optional)
1 small zucchini , finely chopped (optional)
2 teaspoons garlic ginger paste
2 fresh green chilies, finely chopped
6 tablespoons light olive oil
2 green cardamoms, crushed
½ teaspoon cinnamon powder
3 cloves, crushed
1 black cardamom, sightly crushed
½ teaspoon red chili powder
1 teaspoon garam masala
2 teaspoons coriander powder
1 teaspoon cumin powder
2 teaspoons kasuri methi/dried fenugreek leaves
5-6 tablespoons heavy cream
Salt to taste
Instructions
Soak the noodles in hot water till they come apart. Drain & keep aside.
Blend the plum & cherry tomatoes with ½ cup water in a mixer till smooth, and keep aside.
Heat oil in a non-stick pan. Add green cardamoms, black cardamom, cloves and cinnamon powder. Sauté for a couple of minutes till the ingredients start to get fragrant. Now add the garlic ginger paste and the green chilies. Cook for a few minutes and then stir in onions. Add a little salt to let the onions sweat. Once they turn translucent, add the remaining dry spices, along with the zucchini & red pepper. Cook for a few minutes on low heat, ensuring the spices do not burn but just get slightly roasted. Finally add the the blended tomatoes, turn to medium heat and cover and cook for 15-20 minutes, till the tomatoes are cooked through and you can see the oil on the sides. Remove cover and mix in the dried fenugreek leaves. Add the meatballs, and continue cooking on medium heat till the curry has a thick pasta sauce like consistency and the meatballs are tender as they will soak in the juices. Turn off heat, stir in the heavy cream and adjust salt.
When ready to serve, spoon the butter chicken sauce on the noodles. Garnish with cilantro and serve hot. You can also toss the noodles into the sauce and cook on high heat for a few minutes till the noodles are evenly coated with the sauce. Personally, I prefer it this way as it soaks up more flavour!
Skip the meatballs and replace heavy cream with an equal amount of coconut cream for a vegan version. Just as delicious!
Shuchi Mittal
Shuchi cooks with the heart of a poet. Banker turned chef, she runs the 29. Private Kitchen in NYC focusing on social tasting events, dining experiences and small-scale private events. Using simple & wholesome ingredients, she likes to re-invent homemade Indian flavors into modern tapas & small plates. Her dream? To cook, feed, write, and eventually open her own communal dining cafe - with a published recipe book on the stands.