Ladoos, sugary chickpea flour sweets, are used on almost all festive occasions in India, mainly in Puja's or Prayers.
By Anamika Sharma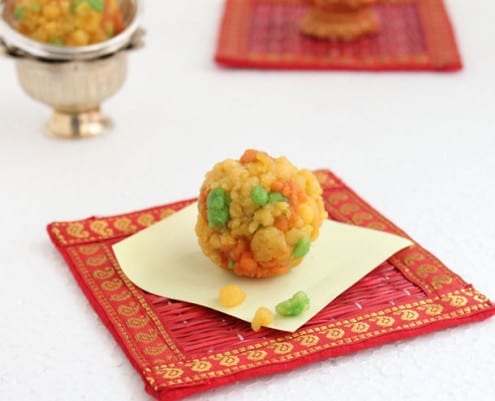 Bundi means small size drops, and Ladoos are small lemon size sweet balls made using Bundis (small pearl drops made by deep-frying chickpea flour & later combined together in sugar syrup). In India Ladoos holds a very special place among the Indian Sweets. Ladoos are used on almost all festive occasions by many of us, mainly in Puja's or Prayers. They surely hold a very high significance as per me in all religious prayers among the Hindu's. Also if you do not wish to make Ladoos, these bundis( dipped in sugar syrup after deep-frying of course) can be used for prasad or you can simply enjoying eating these as it is, these sugar syrup drops taste yum too.
Bundi Ladoos - Indian Sweets
Bundi ladoos holds a very special place among the Indian Sweets.
Ingredients
Besan (chickpea flour) – 1 cup + 2 tablespoons
Water to make the batter – 2 tablespoon approx. ( it should not be too thin or thick, but should have a flowing consistency - pl adjust accordingly)
Sugar – 1 cup
Water for sugar syrup – 1 cup
Kesar – few for the sugar syrup
Cardamom powder – ¼ teaspoon
Food Colour – Orange and Green
Oil for deep-frying the Bundis
Instructions
For the Besan Batter
Take a big bowl and mix besan with water, add little by little the water and ensure no lumps are formed into the besan batter.
Keep stirring continuously to make a smooth batter.
Now take 2 separate small bowls and make similar batter from besan with just 1 tablespoon besan in each small bowl and add a pinch of orange and green colour to this mixture. (We are doing this step to make coloured bundi's for the ladoos, which we will add to the main bundis later).
For the Sugar Syrup -Take a thick bottom pan and add water and sugar to it and heat this on medium to low flame to form one thread consistency sugar syrup. Keep stirring in-between and add in Kesar to this liquid. This process of making sugar syrup will take approximately 15 minutes.
Now take a kadai and heat the oil in it for frying the bundis.
For Deep Frying the Bundi's
Take the besan batter and pour it over a sieve with round holes and tap it gently with a spoon so that small balls of besan fall into the oil.
Keep the sieve low and not too high above the kadai else perfect balls won't be formed.
Keep repeating this process till all your besan is used.
Same process you need to do for the colour bundis.
Now pour the bundis into the sugar syrup and mix well.
Add in the cardamom powder to the fried bundis mixture and stir well.
Let it cool only for few seconds.
For making the Ladoos
Wet your palms nicely and start making the ladoos by pressing one or two tablespoon bundi in your palms to form a ball. The mixture needs to be still hot and if it cools the balls won't be formed.
Keep using the water by wetting your palms nicely to form teach ladoo.
Once you are done making all the ladoos, take one ladoo each again and press again to reshape them to form a perfect ball, repeat this process for all the ladoos.
Notes
For extra shine to your ladoos, apply ghee on your palms and reshape your ladoos the final time. Wet your palms each time you form the ladoos. Sugar Syrup should be of one thread consistency or one step before that. As soon as you deep fry the bundis keep pouring them into the sugar syrup, stir well and then form the ladoos. If you wish to avoid using the coloured bundis, go ahead with just the natural besan coloured bundis. I wanted my bundi's to look colorful and bright hence I used few drops of food colour for making very less coloured bundi's. If you wont wet your palms each time you make a ladoo, it will be real tough for you to bind the bundi's to ladoos.
Anamika Sharma
Anamika Sharma is a passionate foodie, a food blogger with a background in aviation and telecom industry for good 15 years. Her mission is to spread the love for Indian cooking to all those who wrongly think it's too difficult. She loves to cook for her family, specially her kids. Besides cooking she also enjoys photography and traveling. MAD – making a difference is a word she chose to describe her Indian cooking site. Cooking always meant to her to be maddening and now she is mad about cooking.