Learn how to make your very own melt-in-your-mouth pork buns with glazed pork belly, fresh toppings and homemade steamed buns to hold it all.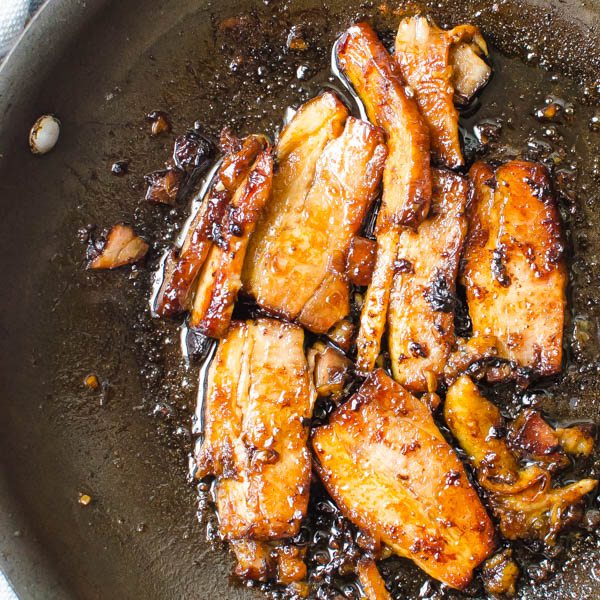 The first time I ever had an Asian barbecue steamed bun was about twenty years ago in San Francisco. Scott and I were on the tail end of a food tour through Chinatown that culminated with lunch at a popular restaurant. The waiter rolled a trolley cart filled with individual portions of dim sum, shumai and bao buns. The buns were fluffy pale white orbs that didn't give any hint as to what was inside them.
We ordered a little of everything, but I was most intrigued by the bao. They were soft and airy — filled with a savory sweet Chinese pork filling. After one bite, I immediately asked for three more. And so my love affair with Asian steamed buns began.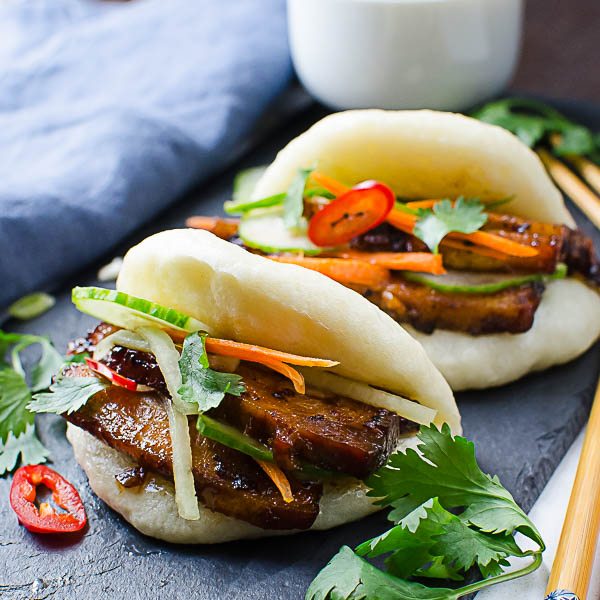 In fact, I'm so zonkers for these fresh, flavorful bites, I figured I better learn how to make them myself. I've seen bao buns shaped in traditional balls that completely cloak their filling as well as the half moon taco-like shells – which to my mind are a bit more casual and unfussy. I opted for the taco shape for these.
I made my own steamed buns, get the recipe here.
Now on to the filling!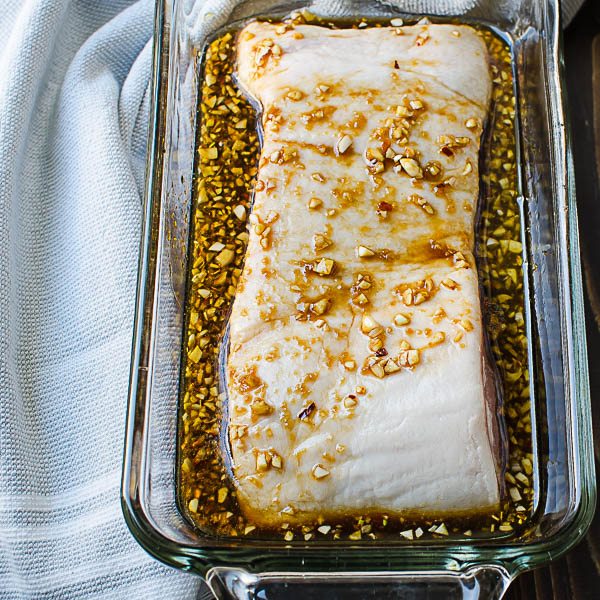 See Also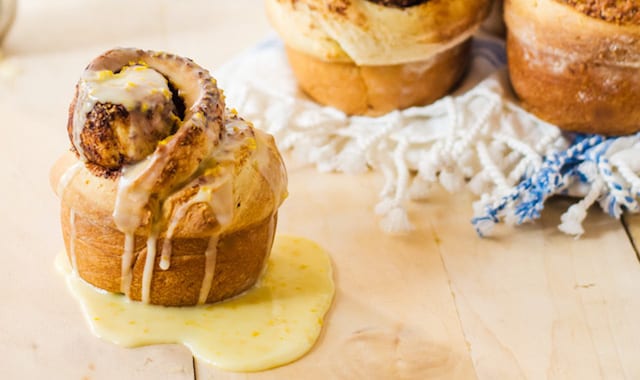 You could stuff these light puffs of steamed dough with peanut butter and jelly and I'm pretty sure they'd be spectacular, but how about stuffing them with pork belly? Pork belly that's been marinated and cooked in a sweet, spicy and savory bulgogi dressing? Perfection. I'll warn you up front, this is a two day operation. Not two days of hard time. It's mostly hands-off time. The pork belly needs to marinate. Then it needs to braise, sealed inside a foil packet.
Of course, it's pork belly, so you know it's going to be fabulous — but its the marinade that sends it off the charts! It's a PUNCH of flavor that will make your eyes bug out with the first taste!
These buns need something fresh to cut the unctuous pork-i-ness. Fresh sliced cucumber, carrots, green onion, cilantro and chiles are just the ticket. Make sure to drizzle with a little more marinade.
Print

Bulgogi Pork Buns
---
Description
Learn how to make your very own melt-in-your-mouth pork buns with glazed pork belly, fresh toppings and homemade steamed buns to hold it all.
---
2

lb pork belly (skin removed)

1 cup

low sodium soy sauce

1/2 cup

mirin

1/2 cup

brown sugar

1/4 cup

sesame oil

1 tablespoon

freshly grated ginger

6

cloves garlic (minced)

1/4 teaspoon

red pepper flakes
For Serving:
cucumber (thinly sliced or julienned)
carrots (julienned)
green onion (thin sliced)
red chili (thinly sliced)
toasted sesame seeds
Asian Steamed Buns (from this site – or store bought)
---
Instructions
In a medium bowl, combine the soy sauce, mirin, brown sugar, sesame oil, garlic, ginger and red pepper flakes. Whisk to combine. Place the pork belly in a plastic or glass container and pour half of the marinade over it. Turn the pork belly several times to coat. Cover and refrigerate for 3-4 hours or overnight.
Pour the remaining marinade into a small pan and heat over medium high heat, whisking constantly until mixture comes to a boil. Reduce heat and simmer 3-5 minutes until slightly reduced. Let the mixture come to room temperature. Transfer to a storage container and refrigerate until ready to serve.
After pork has marinated, preheat oven to 300°. Lay two large pieces of tin foil on top of each other and transfer the pork belly (not the marinade) to the center of the tin foil. Seal it up very tightly, to keep the juices in. Place the foil packet on a baking sheet and cook for 2 1/2 hours. Open up the foil packet to expose the pork, but still holding the juices and turn the oven up to 450°. Cook the pork for 20 minutes until golden. Remove from oven and cool to room temperature. Reseal the foil package and refrigerate several hours or overnight.
Transfer the pork belly to a cutting board and slice crosswise into 1/4″ strips.
Working in batches, add 6-7 strips of pork to a large skillet, along with a little fat and drippings. Cook over medium high heat until fragrant and golden. Add 3-4 tablespoons of reserved marinade and cook for 2-3 more minutes to glaze the pork.
Serve pork belly in Asian Steamed Buns with carrots, cucumber, red chili, green onion, sesame seeds and a drizzle of reserved marinade.
Category:

Appetizer, Main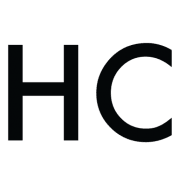 Lisa Lotts
Lisa is a South Florida based food blogger who derives inspiration from a diverse family food-background, which includes southern comfort foods, traditional French and Caribbean cuisine. On her blog, Garlic and Zest, she explores fresh, innovative flavors and the inexorable link between food and family. Her approachable fare tastes like home.