Buffalo Chicken Meatballs with Blue Cheese Polenta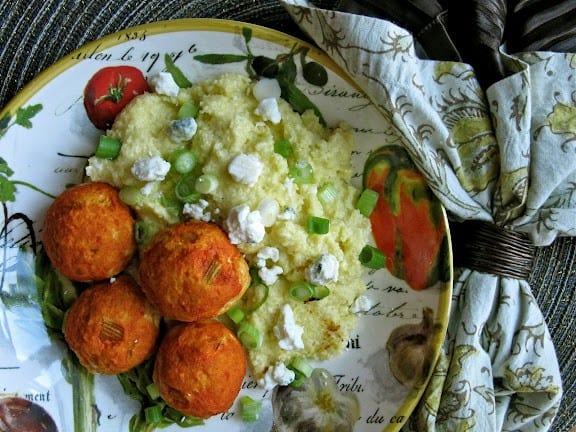 Amber Massey with a creatively healthy play on the taste of buffalo wings.
By Amber Massey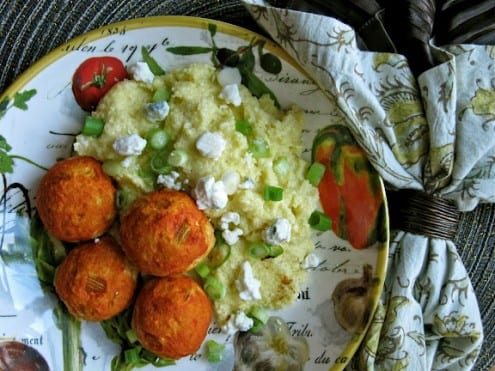 This is my healthy play on the taste of buffalo wings, and oh how good they are.  I recollect on the last time I ate buffalo wings- the boneless kind, because even if it is delictable for my tastebuds- It is still chicken, and chicken on the bone is even worse than regular chicken.  I have no real reason for my demise of chicken (for the most part.. because, after all- if it is on Chocolate Broccoli, I have in fact eaten it.)
I am in fact a sucker for a good meatball.  Even the classic grape jelly, chili sauce, and a crock pot.  They are all good to me.  What's better than a meal you can eat with a toothpick? Ok- not entirely with a toothpick- but you know.
This recipe is beyond simple- and quick to make.  I took the easy way out with already prepared buffalo sauce.. and prechopped celery I found in the prepared produce section of my grocery.  Not sure I could have made it any easier on myself.
While my meatballs baked (for only about 15-20 mind you) I cooked up my side- creamy blue cheese polenta- yum!  I skipped the blue cheese dressing and opted for the healthier whole grain option.  The quick cooking polenta stirred up quickly and super smooth in no time.
Start to finish- this meal was on the table in under 30 minutes.  Super simple, super quick, and super delicious.
And yes.. I'm talking about chicken.  We have a love-hate relationship.
Buffalo Chicken Meatballs with Blue Cheese Polenta
Recipe Type:
Entree, Main
Ingredients
Chicken Meatballs
⅓ cup buffalo sauce (such as Franks RedHot)
1 pound ground chicken breast
1 large egg white
¼ cup chopped celery
¾ cup Panko breadcrumbs
Additional buffalo sauce for basting
Polenta
3 cups skim milk
½ cup water or low sodium fat-free chicken broth
¼ teaspoon salt
⅛ teaspoon black pepper
⅔ cup quick-cooking polenta
¾ cup (3 ounces) crumbled Gorgonzola cheese
¼ cup chopped green onion
Instructions
Chicken Meatballs
Preheat the oven to 450°F.
Combine the buffalo sauce, ground chicken, egg white, celery, and bread crumbs in a large mixing bowl and mix by hand until thoroughly incorporated.
Roll the mixture into round, 2-inch balls, making sure to pack the meat firmly. Place the balls in a baking sheet coated with cooking spray.
Roast meatballs for 10 minutes, brush additional buffalo sauce on each meatball. Continue roasting for another 5-8 minutes, or until the meatballs are firm and cooked through or until meat thermometer reads 165°F.
Polenta
Combine milk, ½ cup water, salt and black pepper in a medium saucepan; bring to a boil. Stir in polenta; cook 5 minutes, stirring frequently. Remove from heat, and stir in cheese. Serve with meatballs. Sprinkle with green onions.
Nutrition Information
Serve Size:
4 meatballs and ¾ cup polenta
Calories:
384 g
Fat:
8 g
Carbs:
42 g
Fiber:
2 g
Protein:
39 g
Amber Massey
Amber Massey is a southern-raised, food-loving, registered dietitian focusing on the culinary world of dietetics. Personal chef, author of her blog, Chocolate Broccoli, and accidental lover of food photography, Amber takes pride in healthy recipe development as well as culinary and nutrition instruction through personal and public cooking classes, public speaking, and media outlets. Amber can be seen in print for her nutrition expertise, as well as multiple magazine publications for her culinary creations, including Taste of Home, Healthy Cooking, Simple and Delicious, and Country Women's Magazine.