Liza Puglia takes a tour of the biggest culinary tradition – the Parilla.
By Liza Puglia – Photo by Duff & Frances Photography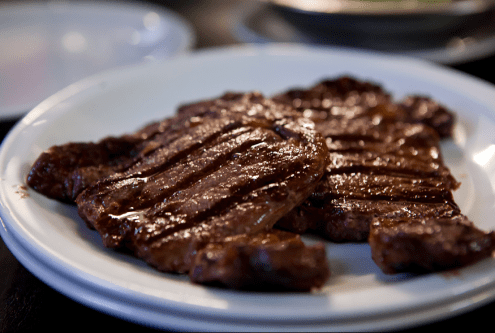 When traveling to new places I want to immerse myself in every bite of the local cuisine. Whether it be an entire pig or rustic stews I want not only the recipe but the history and technique that makes the dish so valuable.
The Buenos Aires Parrilla Tour just does that.   Parrilla translates to grill or steakhouse where the majority of Argentinian food is prepared.  The asado (Argentinian BBQ) is the biggest culinary tradition in Argentina however on the tour you'll learn that not only are they using the parrilla to cook beef and other proteins but that it's also commonly used for empanadas, pizza, and provoleta, a type of provolone cheese that was invented strictly for cooking on the Argentine parrilla.
The tour starts off at a local parrilla where you're first introduced to choripan, a staple sandwich in Argentina that is prepared on the grill.  You learn about chimichurri and other condiments that are served alongside the salty pork sandwich.  From there we walked to an empanadería where we indulged in handmade empanadas stuffed with beef, olives, and boiled egg and they explain how different regions throughout Argentina have their own styles of preparing empanadas.  After empanadas you head to another parrilla where you're greeted with a bottle of local Malbec and a fresh salad.  A nice palate cleanser to say the least.  A moment passes where our friendly guide explains Argentinian butchery before plate after plate of juicy beef and pork arrive to the table.  Just when you thought you were done for the afternoon he reveals that we'll be making one more stop at a nearby ice cream shop.  Here we learned about the Argentines fascination with dulce de leche and soon realized why after having our first bite of dulce de leche ice cream WITH brownie and more dulce de leche.
Overall I'm not sure what the best part of the walking tour was.  Getting inside scoop from a local was really interesting as well as learning new techniques & traditional Argentinian foods.  Although I really enjoyed meeting fellow travelers and swapping stories all over glorious amounts of food.
If you find yourself in Buenos Aires and are curious about the local cuisine book an afternoon with Parrilla Tour, you wont be let down!

Looking for the perfect mushroom sauce for steaks? Check this lovely recipe out.
Liza Puglia
Liza Puglia is a professional cook and food blogger. Spending most of her life in New Orleans and New York City she now resides in colorful Buenos Aires, Argentina where she runs a small restaurant serving Creole infused cuisine. Food, wine, music, and travel mean the most to her and can be found at her blog NOLAchef.