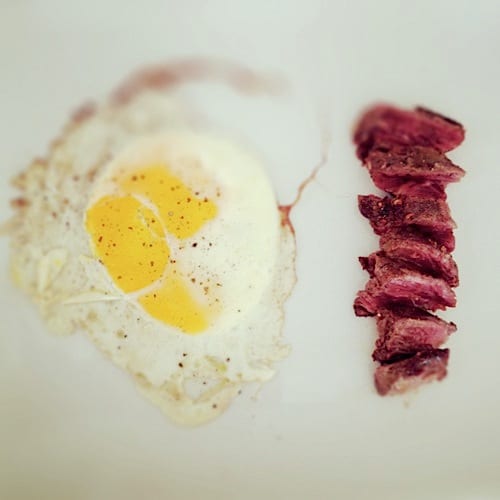 Not looking to shell out big bucks for a steak dinner? Bohemian steak to the rescue.
By Jessica Dang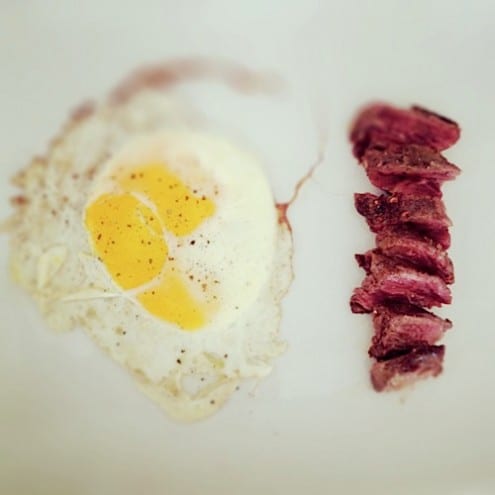 A steak dinner always sounds a little fancy, but you need not shell out the bucks for one when you're #singlegirldinnering at home. Sure, I'll select a choice cut of ribeye for myself from time to time, but for a regular weeknight meal I discovered something called "bohemian steak" at Citarella. This long, well-marbled strip is actually the tail of a porterhouse or T-bone steak. It's really flavorful and just the right size for a #singlegirldinner. Here's a little insider secret from a Paper Bag Princess (i.e. me): the one I bought was $3.96.
Not looking to shell out big bucks for a steak dinner? Bohemian steak to the rescue.
Ingredients
1 strip of bohemian steak
Maldon sea salt
Freshly cracked black pepper
Taco seasoning
1 organic egg
Olive oil
A pat of butter
Instructions
Season the steak with salt, pepper, and taco seasoning. Drizzle with olive oil. Massage everything into the beef. Set aside.
Cover the pan with a slick of olive oil and heat it up on medium-high heat. If you have a cast-iron, it would be best in order to create a browned crust on the exterior.
Throw in the steak. It should sizzle. Leave it alone for a couple of minutes so that it can brown. Once browned, flip to the other side. Cook to your liking. I like mine medium-rare, more on the rare side as you can see.
Remove the steak and turn off the heat. Let it rest on the cutting board for 5 minutes or so. Slice.
Add a pat of butter to the pan and once it melts and gets foamy, crack an egg into the center. Cook to your liking and arrange everything on a plate. Grind black peppper over your eggs. You can shake a few dashes of your favorite hot sauce on top of your steak, if you like.
Looking for the perfect mushroom sauce for steaks? Check this lovely recipe out.
Jessica Dang
Jessica Dang is a freelance writer, blogger, and social media consultant based in New York City. She is currently developing Single Girl Dinner, an online community and resource of dinner ideas for young independent women living in the city. She enjoys reading menus, dining at the bar, and experimenting in the kitchen when no one's looking. When it comes to food, she can't resist uni, foie gras, caviar, or Popeyes' fried chicken.