Brussels sprouts are often roasted with deep, smoky flavors for the holidays but this recipe has them pan-seared and paired with bright flavors like tart cranberries.
By Taylor Kadlec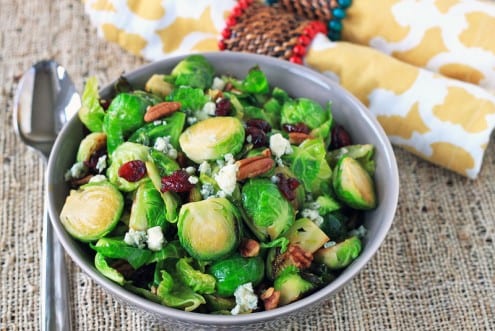 Brussels Sprouts Salad with Blue Cheese and Maple Dressing
Brussels sprouts are often roasted with deep, smoky flavors for the holidays but this recipe has them pan-seared and paired with bright flavors like tart cranberries.
Ingredients
1 lb halved brussels sprouts
2 tbsp olive oil
salt and pepper, to taste
½ cup chopped pecans, toasted
½ cup dried cranberries
⅓ cup crumbled blue cheese
maple dressing:
1 tbsp maple syrup
½ tbsp apple cider vinegar
1 tbsp olive oil
salt and pepper, to taste
Instructions
Preheat oven to 350 degrees F.
Bake pecans in preheated oven on baking sheet for 8-12 minutes, until fragrant. Let cool.
Meanwhile, in a large skillet, heat olive oil over medium heat.
Add brussels sprouts and cook 7-10 minutes, stirring often, until they are bright green.
Once cooked remove from heat.
To make the dressing, combine all dressing ingredients in mason jar and shake well to thoroughly. Alternately, you can combine the ingredients in a bowl and whisk well to combine.
Pour dressing over brussels sprouts, along with cranberries and pecans and stir well to combine.
Transfer to serving bowl and top with crumbled blue cheese.
Serve and enjoy!
Taylor Kadlec
Taylor Kadlec is a lover of all things food including baking, cooking, and of course, eating. She is a self-taught baker and cook, and she shares her kitchen adventures on her blog Greens & Chocolate, where healthy cooking meets sinful indulgence.