When everybody else is reveling in spring food, Bria Helgersson turns to a good friend from the brassicae family.
By Bria Helgerson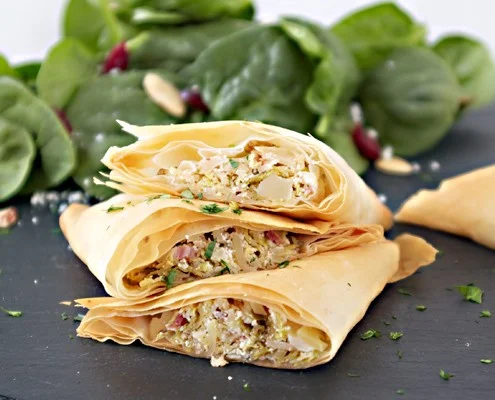 A little comfort, a little freshness, and a little bacon, just what I needed. It was time to jump back on the savory train after the chocolatley-caramel coma I have been in these past few weeks.
Fall and winter are usually full of Brussels sprouts, but they seem to be forgotten come spring and summer. I kept seeing them sitting there all lonely at the grocery store, next to the bright happy asparagus, and thought to myself that they needed a home…in my stomach. So into the cart they went, destined to be sauteed with bacon and shallots, and wrapped up in a crispy filo package.
These little turnovers did the trick to remind me of the comfort and coziness of winter, but were light and bright enough for spring. Pile a few on a plate and serve with a fresh salad for a meal, or cut them in half and serve as appetizers. Either way, whoever is eating them will thank you for looking past asparagus, and taking home some sprouts.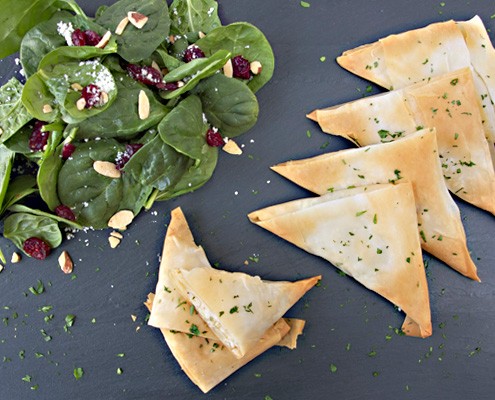 Brussels Sprout & Goat Cheese Turnovers
These filo dough turnovers are chocked full of good stuff, including brussels sprouts, bacon, more than one kind of cheese, and just a little bit of butter. They are perfect for appetizers, or pair with a side salad for a full meal.
Author:
Bria Helgerson adapted from Laura C. Martin
Recipe Type:
Appetizer, Main
Ingredients
1-2 tablespoons extra virgin olive oil
1 large shallot, peeled and diced finely
2 cloves garlic, minced
15-20 small Brussels Sprouts, cored, outer leaves removed, halved then sliced very thinly
1 tsp fresh lemon zest
juice of 1 lemon
⅓ cup (0,75 dl) grated pecorino romano cheese
3 oz (85 grams) honeyed goat cheese (you can use regular goat cheese if you cant find the honeyed variety)
2 slices bacon, cooked crisp and chopped finely
10-12 macadamia nuts, chopped finely
1 tsp fresh thyme, minced
salt and pepper to taste
4 sheets filo dough thawed
1 stick butter (1/2 cup, 1,18 dl), melted
Instructions
In a medium skillet, heat 1-2 tablespoons of olive oil over medium heat. Add the shallots and saute until just softened, about 2-3 minutes. Add the garlic and saute another minute. Add the brussels sprouts, lemon zest, and half of the lemon juice and saute 3-4 minutes, until sprouts are just starting to cook, they should remain crunchy, as you will be cooking them again inside the turnovers. Remove from heat and let cool.
In a medium sized bowl, combine the cheeses, chopped bacon, nuts, thyme, and the rest of the lemon juice and mix with a fork to combine into a loose paste. Add the Brussels sprout mixture and stir to combine, salt and pepper to taste. I had a hard time not eating this with a spoon by itself, but try to use some restraint. This should be a very thick filling.
Time to assemble the turnovers. You will use only one sheet of the filo dough at a time, so be sure to keep the rest under a damp towel until ready to use. If it dries out, it is very hard to use. Cut the sheet into three even pieces lengthwise, you should have long and skinny sheets. Using a pastry brush, brush one of the strips with melted butter, and don't be stingy. Take approximately 1/12 of the filling and place the mound in the center of the end of one of the strips. Fold the corner over to make a triangle shape encasing the filling, and continue to fold the triangle over and over all the way down the length of the strip. Place the turnover seam side down on a parchment lined baking sheet and brush the top with butter. Repeat with the remaining sheets until you have 12 turnovers. Place the turnovers in the fridge for 20-30 minutes until well chilled.
Preheat oven to 375 degrees F and after the turnovers have been chilled, bake them for about 15-18 minutes, or until they are golden brown and crispy. They are delicious served hot, but almost just as good served at room temperature.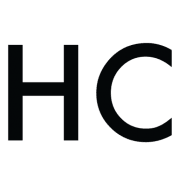 Bria Helgerson
Bria Helgerson is a Chicago based food blogger and pastry school student. Lover of all things sweet and savory, she cooks, bakes, and blogs as she navigates her culinary life at her website These Peas Are Hollow.