Brussel Sprout and Apple Slaw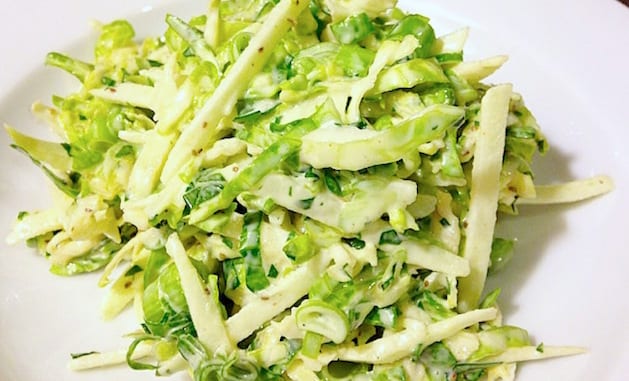 A unique slaw equipped with crunchy Brussel sprouts, crisp granny smith apples and bright green onions. Try this delicious side as a taco topping, too.
By Danielle Marullo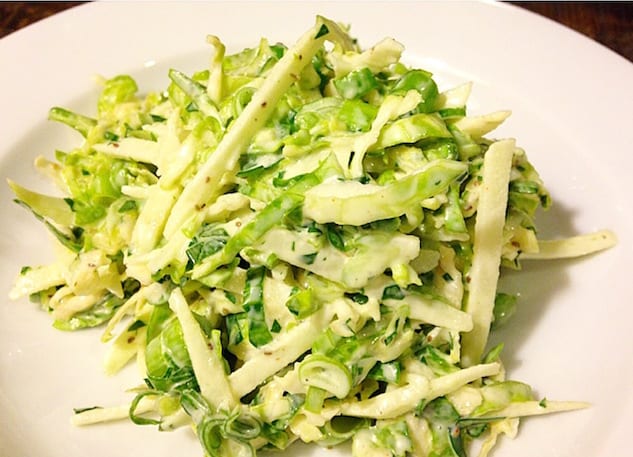 Spring is here! To me, spring means veggies and salads, or anything light and fresh. Brussel Sprous are one of the most popular items on restaurant menus and one of the easiest vegetables to pick up at the grocery store.
So I decided to turn an American favorite, coleslaw, into a unique slaw equipped with crunchy, shredded Brussel sprouts, crisp granny smith apples and bright, green onion and celery seed. Serve this side with sandwiches, at a BBQ or with any dinner entree. Plus, it is a great taco topping!

Brussel Sprout and Apple Slaw
A unique slaw equipped with crunchy Brussel sprouts, crisp granny smith apples and bright green onions. Try this delicious side as a taco topping, too.
Ingredients
⅓ cup mayo (you can use lite mayo or even creme fraiche)
2 Teaspoons Dijon Mustard
2 Tablespoons White Vinegar
2-3 cups Shredded Brussel Sprouts (I bought them pre shredded but if you cannot find them just cut the tough core off the bottom of the sprouts and then chiffonade the leaves (cut into thin slices)
½ Granny Smith Apple Peeled and Shredded (I use the julienne setting on my mandolin slicer or you can do it by hand or on the large hole of a cheese grater.
½ Teaspoon Celery Seed
1 Tablespoon of Sugar
½ Cup of Chopped Scallions
Salt and pepper to taste
4 Tablespoons Chopped Flat Leaf Italian Parsley
Instructions
Whisk together the mayo dijon, vinegar, sugar, celery seed and salt and pepper.
In a separate bowl toss together the Brussel Sprouts, Apple, Scallions and Parsley.
Pour the dressing over the sprout mixture little by little until it is dressed to your liking.
You can eat it right away but it is best to wrap it up and put in in the fridge for a few hours or overnight so the flavors really come together.
Danielle Marullo
Danielle Marullo is a graduate of Penn State University's School of Hospitality Management and is currently a Food and Beverage Manager in New York's famous Waldorf Astoria Hotel. In the past, Danielle has assisted Chef Bobby Flay at the Food Network Food and Wine Festival in New York and, most recently, appeared on Anderson Cooper Live! where she was the winner the "Chopped Challenge" moderated by Food Network's Ted Allen, based on the popular "Chopped!" television show.'Got Room for More' is not only a statement, it's a driving force. It spans beyond hunger and appetite, it feeds our yearning for more knowledge about food. Using the hashtag #GotRoomForMore will build and foster a community of other foodies just like us.