Brownies – As Honest As It Gets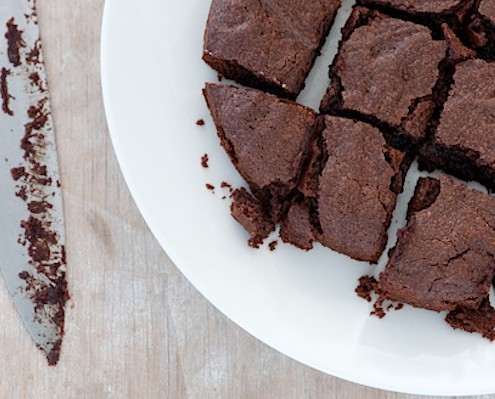 Is there anything easier, better and more honest than a brownie? Jules Clancy doesn't think so.
Text And Photo By Jules Clancy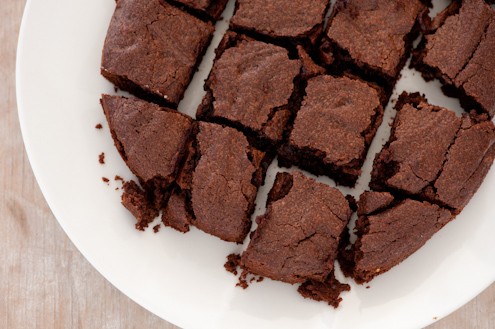 In the baking world there are few things as simple as a good old brownie.
Don't get me wrong.
I'm not saying that brownies are boring or second class in any way. In fact quite the opposite.  It's had to go past the pleasure of sinking your teeth into a well made brownie with a slightly crisp exterior that gives way to squidgy chocolate bliss.
It's just that they're so darn straight forward to make.
Melt some butter, melt your chocolate in the hot butter, stir in some sugar a few eggs and your flour. Then bake until it's nicely underdone.
See. Simple. Honest.
I first made these brownies in a round pan just for fun but really liked that it added a different dimension to the brownies. Feel free to bake in a loaf pan around 24x12cm (9x5 in) if you prefer more traditional brownies. I'm a bit of a brownie purist and prefer mine straight up. But you could always add in some walnuts or pecans for a different texture.
Ingredients
125g (4.5oz) butter
125g (4.5oz) dark chocolate (70% cocoa solids)
150g (5.2oz) sugar
2 eggs
100g (3.5oz) flour
Instructions
Preheat oven to 180C (350F). Grease and line an 18cm (7in) round pan.
Melt butter in a small saucepan. Remove from the heat. Break chocolate into small chunks and add to the butter. Allow to melt.
When the chocolate is smooth and melted, stir in the sugar, and eggs. Then mix in the flour until just combined.
Pour into prepared pan and bake on the middle shelf for 10-20 minutes or until the top feels firm but the center is still moist and squidgy. Cool in the tin.
Jules Clancy
Jules Clancy is a former Food Scientist turned Author and Simplicity Lover. She only writes recipes with 6-ingredients or less. She lives in Australia blogs about 6-Ingredient Dinners over at Stonesoup.