Brown Rice Salad with Basil Walnut Pesto and Spring Vegetables
With added protein from walnuts, this dish should satisfy your lunchtime cravings and keep your energy going until it's time for an afternoon snack.
By Nicole Criss
Every week I find myself searching for ideas for interesting dishes to make for lunch.  I gave up on deli sandwiches a long time ago since I'm not a fan of processed meats.  Buying lunch out everyday really adds up, and in this economy, it's always nice to stretch your dollar.  It's especially nice to have something convenient to pack in the morning when the routine gets hectic.
In the season of new, fresh, and crisp tastes, it's true I sometimes I feel like something heartier for lunch than a salad based on leafy greens.  Enter the salad with a grain as a base, in this case short grain brown rice. With added protein from walnuts, this dish should satisfy your lunchtime cravings and keep your energy going until it's time for an afternoon snack. If you make this in the evening, you can easily portion out to take to the office, the park, or wherever your day may take you.  Eating well on-the-go can still be healthy and most importantly, delicious.
See Also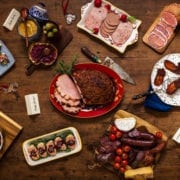 Brown Rice Salad with Basil Walnut Pesto and Spring Vegetables
A hearty salad to pack for lunch in the office or a picnic in the park, filled with good things and flavors.
Ingredients
1 cup short grain brown rice
2 cups water
1 bunch asparagus
2 cups grape or cherry tomatoes, halved
2 cups basil leaves
¼ cup walnuts
1 clove garlic
¼ cup olive oil
¼ cup grated parmesan cheese
salt and pepper to taste
¼ cup or more additional chopped walnuts
Instructions
Bring 2 cups of water to a boil and add one cup of brown rice.
Cover, lower the heat and simmer for about 50 minutes.
While the rice cooks, wash and cut the ends off the asparagus.
Steam the asparagus for several minutes (they should still be bright green.)
Cool them, then cut into pieces about an inch and a half long.
Wash the tomatoes and slice them in half.
To prepare the pesto, place the basil, walnuts, and garlic in the food processor and process for about a minute until finely chopped.
Scrape the contents into a bowl, then stir in the olive oil, parmesan and salt and pepper to taste.
When the rice is finished, allow it to cool, then stir in the pesto.
In a large bowl, combine the rice with the vegetables and stir.
Finally, stir in about ¼ cup or more if desired chopped walnuts and serve.
Nicole Criss
Nicole Criss is passionate about international foods and the cultures from which they stem. Nicole writes the blog 'And Baby Cakes Three,' chronicling stories of her global food adventures from New York City where she resides with her husband and toddler.