This is a simple and healthy recipe featuring brown rice, french beans and fenugreek, which is high in protein and low in calories.
By Anita Mokashi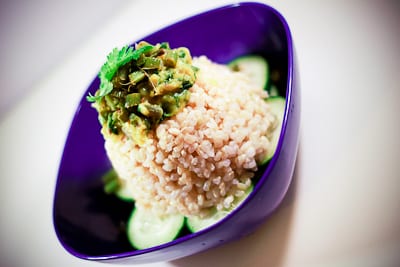 Brown Rice with French Beans and Fenugreek
It's a simple and healthy meal recipe with brown rice, french beans and fenugreek leaves which is high is proteins and low in calories
Ingredients
1 cup brown rice
2 cups French beans chopped
1 cup fenugreek leaves chopped
1 cup moong dal
1 garlic chopped
1 onion chopped
1 green chilli chopped
2-3 curry leaves
1 tsp cumin seeds
2 tbsp oil
1 tbsp lime juice
1 tsp ginger garlic paste
1 tsp garam masala
1 tsp turmeric
1 tsp asafetida
salt as per taste
Instructions
Cook brown rice and keep it aside.
Cook moong dal and keep it aside.
In a pan heat oil, add cumin seeds and asafetida.
Now add chopped garlic, curry leaves, onion, ginger garlic paste and green chillies. Once the onions are translucent, add fenugreek leaves and French beans. Let it cook for 10 mins.
Now add moong dal with some water.
Add garam masala, turmeric, salt and lemon juice.
Let the dal boil for 15 mins.
Finally serve it hot with brown rice.
Anita Mokashi
Anita Mokashi is based in California, but born and brought up in Mumbai, India. Her blog Crave Cook Click is mostly about Indian cooking, but occasionally she shares recipes from other cultures and cuisines too. Anita is also the publisher of a popular photography blog.