Brown Butter and Rum Banana Bread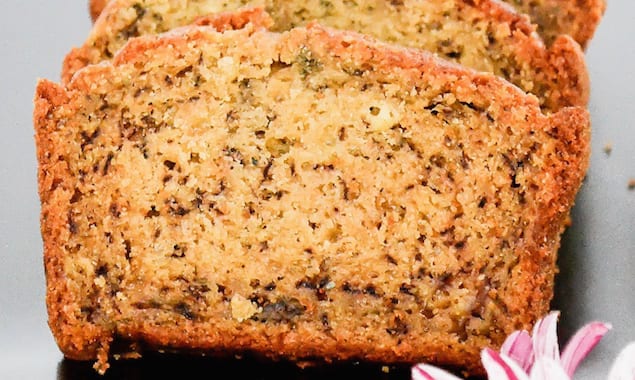 Classic banana bread receives a boozy and nutty twist of brown butter and rum for a perfectly moist loaf. The perfect recipe to use up over ripe bananas.
By ChiChi Dodoo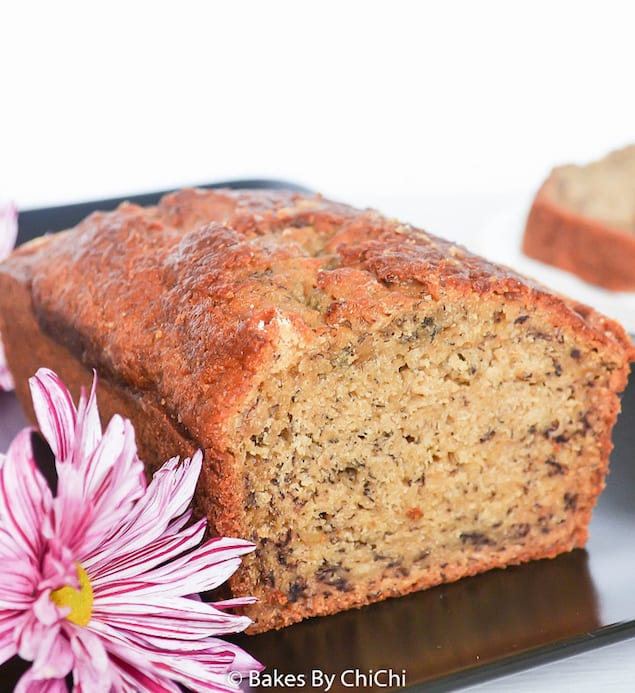 You know it is time to bake banana bread when a fruit fly is spotted hovering around the fruit bowl.
For this recipe, I took my favourite banana recipe and added a twist. Brown butter and rum were infused into the batter. Each time my neighbour visits the Caribbean he brings be a bottle of rum. The rum compliments the banana as well as adds flavour.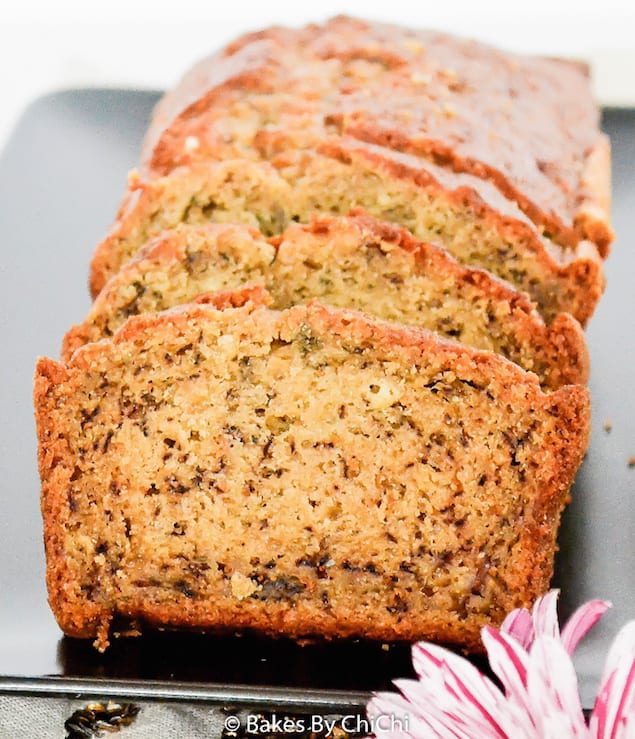 Let's talk about just how delicious this banana bread tastes. The very ripe bananas makes this bread so tender as well as sweetens. So the riper the bananas the better. Don't be so quick to throw away those brown spotty bananas. Brown sugar is the magic ingredient to keeping the brown butter banana rum bread moist. Complimenting the flavours of the bread are vanilla extract and nutmeg. Eggs and buttermilk also add more moisture to the bread. If you haven't got buttermilk, make some by mixing in a half a tablespoon of lemon juice into half a cup of milk. Finally folded into the batter is brown butter which gives a rich nutty flavour.

Brown Butter and Rum Banana Bread
Classic banana bread receives a boozy and nutty twist of brown butter and rum for a perfectly moist loaf. The perfect recipe to use up over ripe bananas.
Recipe Type:
Baking, Cake, Dessert
Ingredients
120g (1/2 cup) butter, melted and browned
135g (3/4 cup) light brown sugar
1 egg
200g banana (about 3 bananas)
1 teaspoon vanilla extract
120 ml (1/2 cup) buttermilk
3 tablespoons brown rum
180g ( 11/2 cups) flour
½ teaspoon baking powder
1 teaspoon bicarbonate of soda
1 teaspoon ground nutmeg
Instructions
Place sliced butter ( butter is sliced so that it melts faster and evenly) in a saucepan over medium heat.Once butter begins to melt begin start whisking. Continue whisking until light brown specks begin to form and you smell a nutty aroma. Remove from heat and and pour into a small bowl with all the bits. Set aside to cool.
Preheat oven to 170 degrees celcius. Grease and dust a loaf tin with flour.
In the bowl of stand mixer beat sugar and egg until well incorporated. Beat in mashed bananas, buttermilk and rum.
Sift into egg mixture the flour,baking powder, bicarbonate of soda and nutmeg and beat until combined.
Pour in brown butter and beat until well combined.
Pour into prepared loaf tin and bake for about 45 minutes to 1 hour or until a toothpick or skewer inserted in the centre comes out clean. Leave to cool tin for 15 minutes, then run a knife around the edge and invert onto cooling rack.
ChiChi Dodoo
Originally, from Ghana in West Africa, Chichi lives and works in London, Uk with her family. A sudden unusual love and passion for all things cake and baking introduced her to the world of blogging. ChiChi is the writer and photographer behind the blog Cakes By Chichi where she shares recipes, tutorials and photos of food she has made.