The nutty flavors in the brown butter transform these rice crispies from the gelatinous classroom snack you remember into a dessert worth splurging on.
By Sherron Watson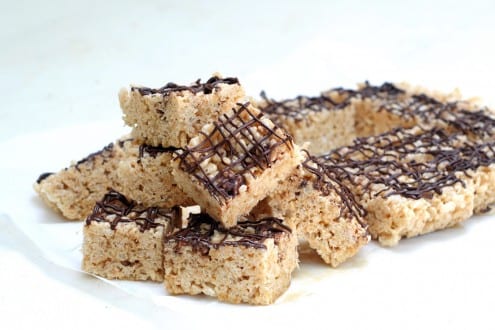 I am convinced that once you have brown butter, you will never go back to using plain butter.
Ok, so I am exaggerating a bit. There are a few things that plain butter is best used for, but at the moment I am finding it hard to remember exactly which recipes.
All I can see are those little brown specks of deliciousness, the aroma of nutty flavors wafting through my house and my teeth sinking into one of the yummiest desserts I have had in a while.
I grew up on Rice Crispy treats. They were a staple for classroom parties, sleep overs and church bake sales.
Who didn't like the snap, crackle, pop of this yummy rice cereal? In fact, I just introduced the cereal to my 5 year old and actually held my ear down to her bowl and gave her instructions to be quiet and to listen. We laughed and she said she could hear every word. I could when I was 5 too.
So why not take this treat of my childhood and bring it into the 21st century with brown butter? I am not the first to have thought of this over the top spin of a simple treat. I don't know who did it first but all I can say is THANK YOU!
I will warn you that it's near impossible to eat just one. Trust me I know these things.
This is not a snack you want to eat frequently…it's called brown butter for a reason, there is a lot of butter in the recipe.
Brown Butter Rice Crispy Treats with Chocolate Drizzle
The nutty flavors in the brown butter transform these rice crispies from the gelatinous classroom snack you remember into a dessert worth splurging on.
Ingredients
½ box of Rice Crispy Cereal or 5-6 cups of cereal
1 bag of mini marshmallows
1 stick of butter, browned
½ stick of butter, browned for the top (optional)
¼ cup of semi sweet chocolate chips (optional)
Instructions
I used parchment paper to line my pan. It made removing and cutting the treats so much easier. If you use a 9X13 your treats will be thinner than what you see in my picture. I have an odd size pan it's like 7X11.
To brown the butter. In a large pot, melt your one stick of butter. With your heat on medium, watch your butter slowly start to turn a caramel color, it will also bubble and foam right before it transforms to the desired brown butter. I use a spatula to stir the butter so that it does not sit and burn. The color will get darker and the aroma will become very nutty.
Remove butter from burner after you have reached the desired color. You don't want it to burn.
Immediately add your bag of marshmallows and return to the heat set to medium. Stir until they are melted. When the marshmallows have melted, add the cereal.
Dump your cereal into the prepared pan and with buttered fingers or spoon, press the treats into the pan. I don't like to do this too hard.
At this point you can stop BUT to have the FULL flavor of the brown butter, it needs a bit more.
While those are sitting for a minute, melt the ½ stick and brown the butter.
I took a spoon and went for the dark flakes of brown goodness at the bottom of the pan and drizzled them on top of the already prepared crispy treats.
Sherron Watson
Sherron Watson is a writer and photographer. Her passion for food started at a young age while working with her family in their restaurant business. A career in photography gave her the experience she needed to start capturing images of her favorite dishes. This led to the creation of her blog: simply-gourmet.com. She is currently a food writer for Capital Style Magazine in Annapolis, MD.