Nothing in the world is wrong with brown butter cupcakes for breakfast on your birthday.
By Cassie Laemmli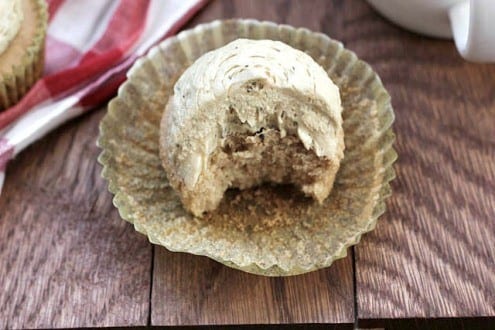 Butter makes everything better.  Agreed?  I thought so.
So what about brown butter?  Brown butter could be considered doubly better than regular butter (in my mind).  I think that means that brown butter makes everything doubly better.
Especially on birthdays.  Especially for breakfast on birthdays.  Which is exactly what these were.  Birthday breakfast cupcakes with brown butter.  Nothing in the world is wrong with brown butter cupcakes for breakfast on your birthday.
I mean, tell me you don't agree…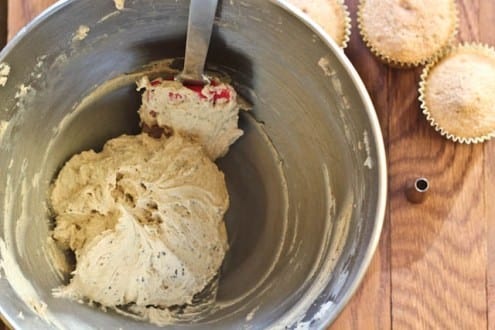 I might not have eaten cupcakes for breakfast on my birthday but my body has recently decided that sleep is not so important.  I woke up around 3:30 the morning of my birthday and then I never went back to sleep.
See Also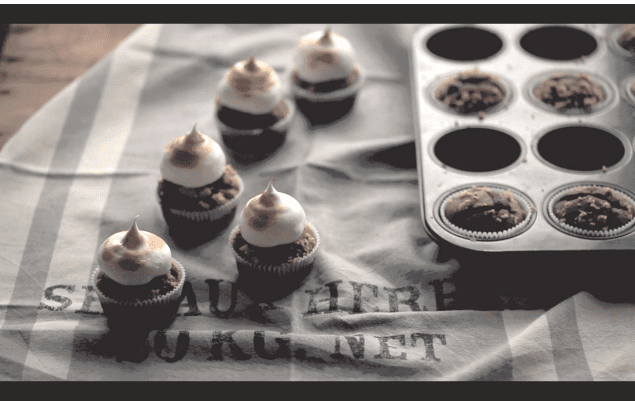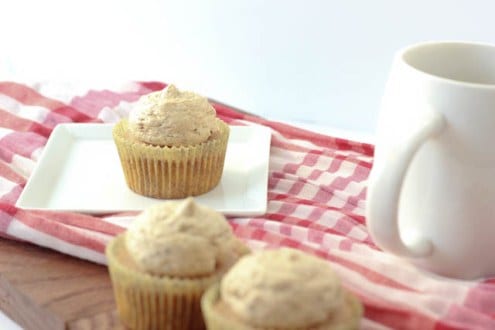 I finally got out of bed at 6:30 or so and baked up the best cupcakes I've ever had.  The coffee in the buttercream sent these already-awesome cupcakes over-the-top.  Except if you don't like coffee, then the buttercream might not be your thing.  Add rum instead.  Still, over-the-top.  Yes?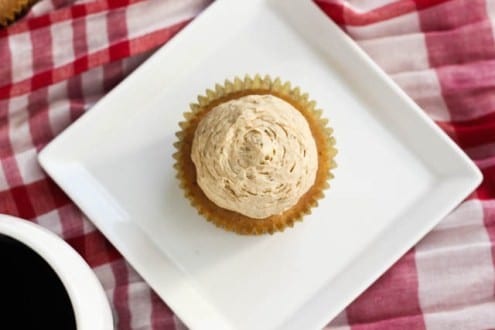 Brown Butter Cupcakes with Coffee Buttercream
Moist and nutty cake with a hint of cinnamon, topped with rich, fluffy coffee frosting.
Ingredients
for the cake:
¾ cup all-purpose flour
¾ cup cake flour
½ Tbs. baking powder
¼ tsp. salt
½ Tbs. cinnamon
4 Tbs. butter, room temperature
4 Tbs. brown butter, room temperature (see notes below)
¾ cup granulated sugar
2 eggs
1 tsp. vanilla extract
¾ cup milk
for the buttercream:
1 tsp. instant coffee granules
½ tsp. cinnamon
⅛ tsp. salt
½ cup butter, room temperature
2 cups powdered sugar
1 tsp. vanilla extract
2 Tbs. milk
Instructions
for the cake:
Preheat oven to 350 degrees. Line a cupcake pan with 12 liners. Set aside.
In a medium bowl, measure flours, baking powder, salt and cinnamon and whisk together until combined. Set aside.
In the bowl of a stand mixer, fitted with a paddle attachment, combine 4 tablespoons of room temperature butter with the granulated sugar and cream until combined. With the mixer on low speed, stream in the brown butter and mix until combined. Increase the speed and allow it to mix for 2-3 minutes, or until the mixture is free of fat streaks. The mixture will be fluffy and a light brown color.
Add the eggs, one at a time, until fully incorporated. Mix in the vanilla extract.
Add the dry ingredients, alternating with the milk, in three increments and mix just until combined.
Pour into prepared muffin pans. If you prefer to bake as a cake, double the recipe and pour into two 9-inch round pans or one 9x13 cake pan.
Bake for 18-22 minutes, until a toothpick inserted in the center of the cupcakes comes out clean. Let cool completely before icing the cupcakes.
for the buttercream:
Mix instant coffee, cinnamon and salt in a small bowl and mash until it resembles sand. If you have a mortar and pestle, it will work great here.
In the bowl of a stand mixer, fitted with a paddle attachment, whip the butter until smooth. Add 2 cups of powdered sugar slowly until incorporated. Add the vanilla and coffee/cinnamon mixture and combine. Stream in 2 tablespoons of milk and mix well.
If you need a thicker frosting, add more powdered sugar here. If it needs thinned out a little, add more milk.
Notes
To brown butter: place butter pieces in a small sauce pan over medium-high heat. The butter will bubble up. Stir very frequently. The color will begin to change and you'll see some brown flakes on the bottom of the pan. Continue to stir until the butter has a nutty fragrance and is golden brown. The whole process will take 5-7 minutes. Be patient!
Cassie Laemmli
Cassie Laemmli is a Kansas City-based foodie and author of the food blog Bake Your Day. She loves people and has a passion for living life well; especially living well through food. Cassie believes that food is nostalgic, it is comforting, it brings people together, and it builds community. She shares stories about her life and her love of food, along with recipes that are made from fun, accessible and affordable ingredients.