Enjoy an awesome banana bread recipe, made with brown butter, from Laura Davidson.
By Laura Davidson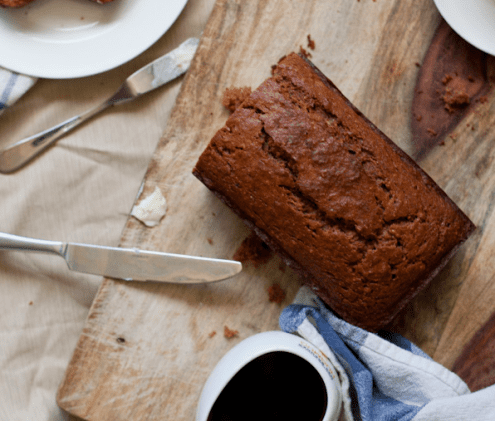 Brown Butter Banana Bread
Enjoy an awesome banana bread recipe, made with brown butter, from Laura Davidson.
Author:
Laura Davidson, Adapted from my Favorite Go-To Banana Bread
Ingredients
1 stick (1/2 cup) unsalted butter, browned (see directions below)
¾ cup turbinado raw sugar
1¼ cup mashed very ripe bananas (about 3 medium-sized bananas, mashed with a fork)
2 large eggs, room temperature
1 cup whole wheat flour
½ cup all-purpose flour
½ cup almond meal
½ teaspoon kosher salt
1 teaspoon ground cinnamon
1 teaspoon baking soda
¼ teaspoon ground nutmeg
⅓ cup very hot water
Instructions
How to Brown Butter:
Place butter in small saucepan and turn over very low heat. The butter will quickly begin to bubble and foam, swirl pan continuously and use a spatula to stir butter gently for several minutes. Once butter begins to get fragrant and you notice brown bits forming at the bottom, remove from heat immediately. Continue to stir until butter is golden brown and very fragrant--it should smell nutty and similar to caramel. Remove from saucepan into measuring cup and allow to cool down until lukewarm or at room temperature.
Making the Bread:
Combine dry ingredients in a bowl, whisk together until well incorporated, and set aside.
Peel bananas into separate small bowl and mash with a fork (or potato masher) until smooth, with some small lumps throughout. Set aside.
Combine brown butter (be sure to scrape all of the brown solids out, these hold the most flavor) and sugar in stand mixer bowl and using paddle, mix over medium-speed until well-incorporated--about a minute or two.
Mix and beat in one egg at a time over low-speed, scraping down the bowl occasionally with a spatula.
Add the mashed bananas and mix over low speed until batter is smooth.
Alternate adding dry ingredients (3 parts) and water (2 parts), allowing the dry ingredients to be absorbed each time for about 15-20 seconds. Scrape down the mixer bowl occasionally with a spatula.
Remove from stand mixer and scrape down the bowl to ensure that the batter is consistent.
Pour batter into a buttered or well-greased 9 x 5 inch loaf pan. Using the spatula, smooth out the top.
Bake at 350 degrees for 55-60 minutes or until inserted toothpick comes out clean.
Laura Davidson
After deciding to take a leap of faith, Laura enrolled in culinary school to pursue her passion for all things food. On her blog, Blogging Over Thyme, she shares her experience as a culinary student, her favorite recipes, stories, and photography!