Spot Prawns are natural, sustainable fast food. If you choose to boil them they cook in two minutes in a pot of boiling water. Enjoy their succulent meat alone or with a dipping sauce of your choice.
By Valerie Harrison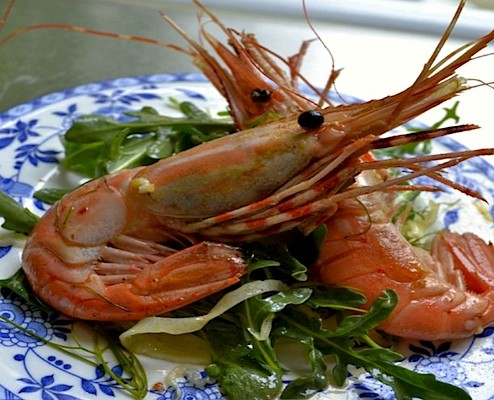 Here in the interior of British Columbia we herald in Spring with tender local asparagus, freshly shelled peas, and crimson stalks of rhubarb but on the coastal waters of British Columbia nothing ushers in Spring better than fresh live Spot Prawns. From May 1 until July 1, we have the opportunity to devour some of the freshest and best-tasting prawns in the world here in British Columbia which are one of the most tantalizing things to be found in our coastal waters. Sweet, firm, peachy-pink and tender, these alien-looking prawns are sustainably harvested by local fishermen. This means we are able to enjoy eating them well into summer and still feel good about it. The summer has been sneaking up pretty quickly with the window of opportunity to enjoy this delicacy being relatively short but rest assured we have rolled up our sleeves and feasted on local Spot Prawns often.
Early dawn in and around Vancouver Island the traps that have been out all night are collected by the stoic fishermand who deliver their catch to the market.  Now mid-season we have continually been enjoying huge, succulent British Columbia live spot prawns purchased right off the boats in Steveston, or from a local fishmonger who ventures out on the coastal waters and delivers her seasonal catch alive back to her shop for sale in my interior hometown. The only way to get them fresher is to live right on the coast and lay traps yourself. Spot Prawns are like gold!!!! Believe me they were still kicking and pleading when they arrived on my kitchen counter at home today!
Spot Prawns are natural, sustainable fast food. If you choose to boil them they cook in two minutes in a pot of boiling water. Enjoy their succulent meat alone or with a dipping sauce of your choice. A little twist, peel back the shell and you'll be taken away to the sun-baked shore. Their meat is intensely sweet and tender. I don't like to mask their mellow sea flavour so when making them at home I enjoy keeping the flavours simpler. I shared my favourite way with the Spot Prawn last year from legendary Canadian Chef Rob Feenie Sautéed British Columbia Spot Prawns with Garlic, Jalapenos and Spicy Mayo. This post is late in coming, and the season half over but rest assured we have been enjoying Spot prawns to their fullest extent.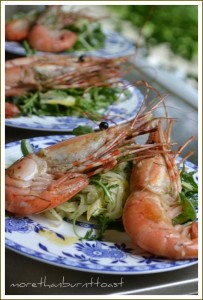 Serve this delicacy with a loaf of crusty homemade bread to sop up all the juices, plenty of napkins and the ability to lick your fingers and what more could you ask for? Maybe perhaps to have the season last for more than eight weeks! Keep it simple and buy a ton of fresh prawns while they're here.
British Columbia Spot Prawns with Lemon Fennel and Arugula Salad
1/3 cup extra-virgin olive oil
1/2 teaspoon salt
1 lemon
1 clove garlic, minced
½ teaspoon sugar
Freshly ground pepper
2 pounds head- and tail-on Spot prawns or jumbo shrimp
5 tablespoons extra-virgin olive oil, divided
2 garlic cloves, minced
1/2 teaspoon dried crushed red pepper flakes
3 tablespoons grappa or ouzo
1 fennel bulb, very thinly sliced crosswise plus 1/3 cup fennel fronds
6 cups (lightly packed) baby arugula
TO MAKE THE VINAIGRETTE: Juice and zest one lemon. In a small jar with a tight-fitting lid, combine the extra–virgin olive oil, lemon zest and juice, garlic, sugar, salt, and plenty of pepper. (Several good grinds of pepper make the vinaigrette taste robust, a perfect complement to the fennel.) Cover tightly and shake vigorously to blend. Taste and adjust the seasoning. Set aside.
Chop the fennel fronds and measure out 1/3 cup. In a large bowl, combine the fennel, ¼ cup of the fennel fronds (saving the rest for garnish), and the arugula. Add 1/2 of the dessing. Toss lightly to mix and set aside.
Heat 3 tablespoons oil in a small saucepan over medium heat. Add garlic and pepper flakes; saute until aromatic, about 30 seconds. Transfer to a medium bowl; stir in grappa, 1 tablespoon fennel fronds and remaining half of the prepared dressing. Add prawns; toss to coat. Marinate at room temperature, tossing occasionally, for 30 minutes.
Heat your grill to high heat. Grill prawns, brushing with marinade from bowl, until bright pink and just opaque in center, about 2 minutes per side. Transfer to a plate.
To the marinated fennel add the arugula. Toss well. Arrange the salad on 4 dinner plates. Top with shrimp, garnish with remaining chopped fennel fronds. Serve immediately.
Valerie Harrison
Valerie is the author of More Than Burnt Toast living in British Columbia, Canada. Join Valerie as she explores the worlds cuisine using local and sustainable ingredients found in the Pacific Northwest. Every day we should be inspired and excited about what we are eating even if it just means making use of a wonderful find at our local farmers market.