This bright and fresh vegetable noodle bowl can be served cold or warm. It's great both ways, and will make you feel great from the inside out!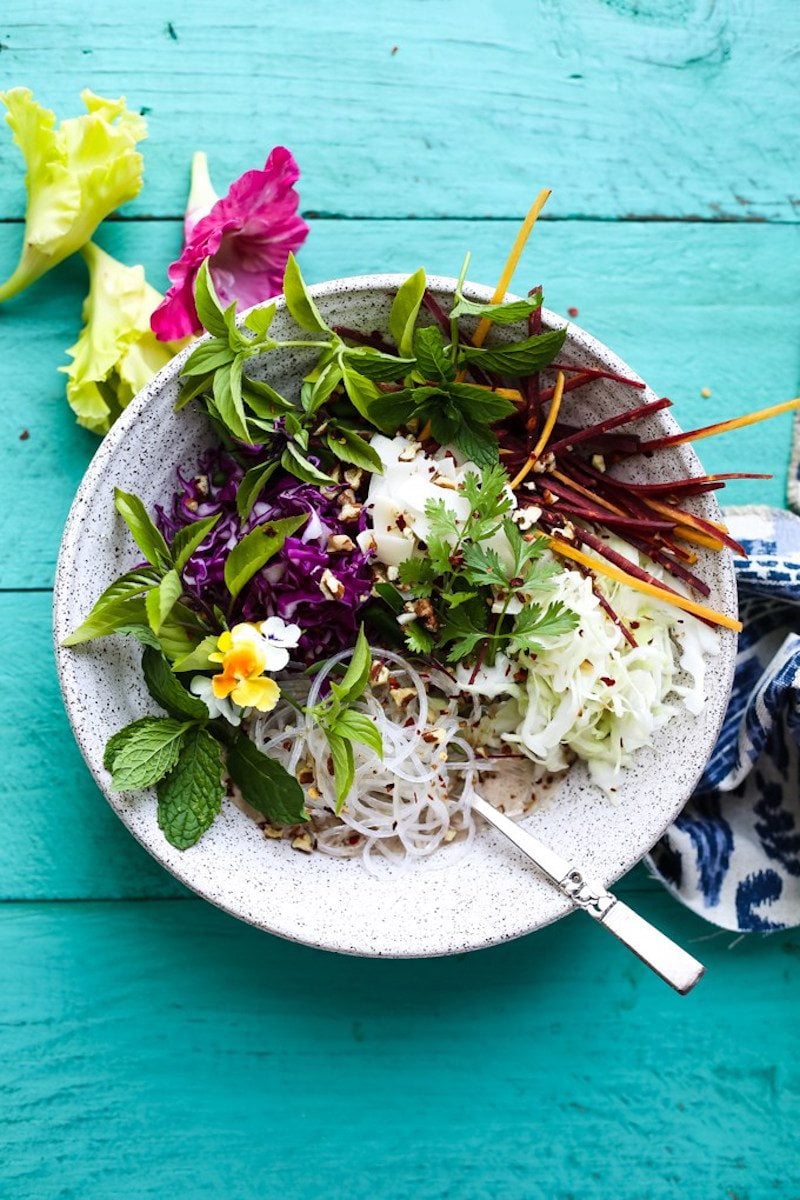 This recipe is one that plays to the idea of beautifying from the inside out. In the very least, I was inspired by all of the coconut. This bowl is a concept that I worked and re-worked all summer long, adapting it to what vegetables were fresh at the time, and changing up the sauce with add-ins like fresh tamarind and varied herbs, as my moods dictated.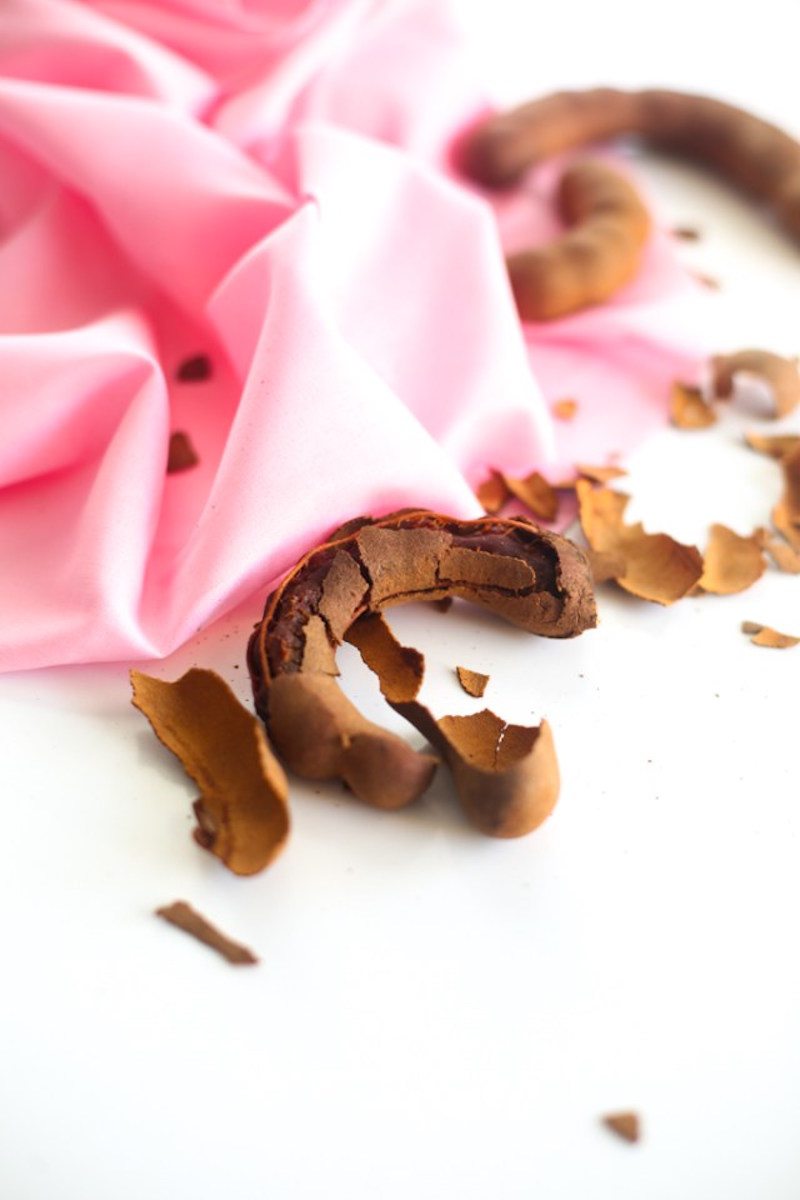 The sauce can be eaten cold or warm, and should you want to take this into the fall, would be great with a little extra spice thrown in, and paired with some grated raw butternut squash and heartier greens in place of the more summery vegetables.
The noodles should definitely stay though; starchy (albeit, healthier in this case) foods forever.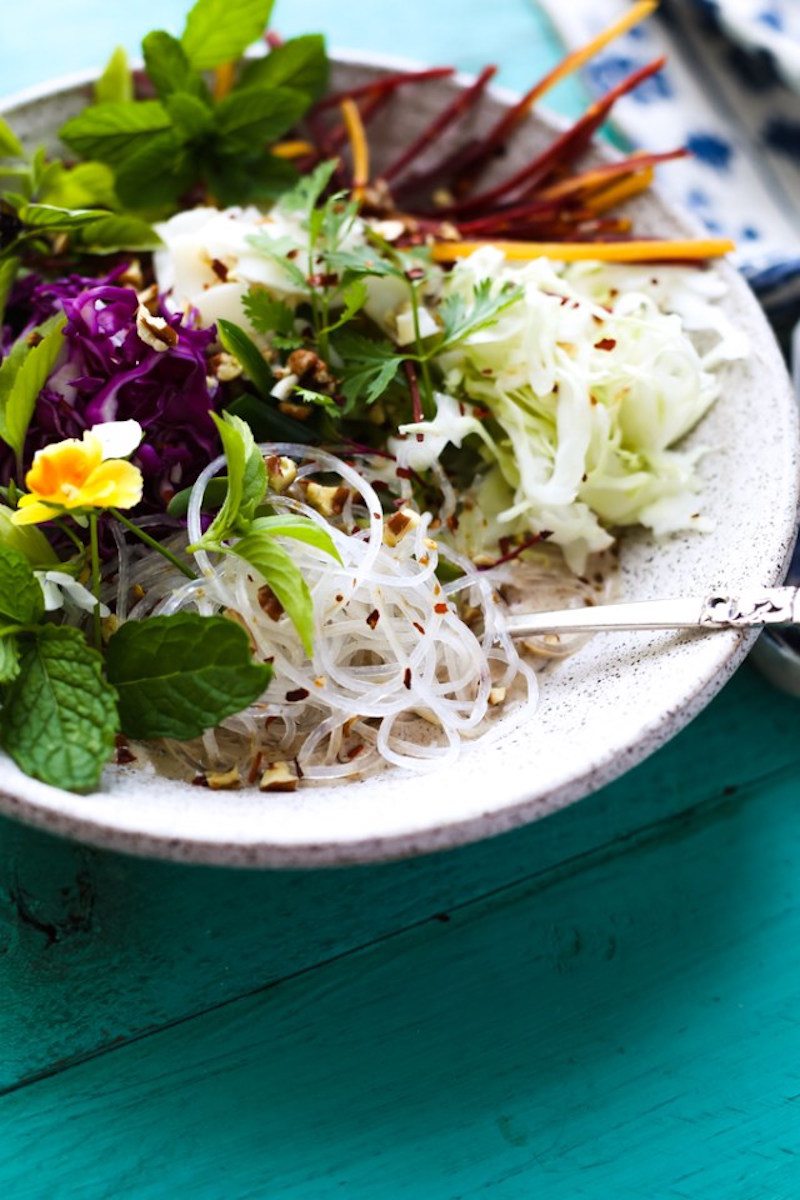 Bright Veggie Noodle Bowl in a Creamy Almond Butter Coconut Sauce
Ingredients
Sauce:
1 cup coconut cream
½ cup creamy almond butter
2 tablespoons coconut aminos
1 tablespoon honey
½ tablespoon fresh lime juice (about ½ lime)
1 garlic clove, chopped
¼-inch piece ginger, chopped
¼ teaspoon ground turmeric
Pinch of red pepper flakes
Noodle Bowls (Per Serving):
2 bunches bean thread (cellophane) noodles
Toppings: shredded green and red cabbage, shredded carrots, sliced snow peas, thinly sliced green papaya, herbs such as basil, cilantro, and mint
Sauce
(All toppings and sauce portioned as desired.)
Instructions
Make the sauce by placing all ingredients in a blender and pulsing until smooth. Set aside. (I do this first to let the flavors meld a bit, but feel free to prepare your noodles first if you like.)
"Cook" the noodles by placing them in a large mixing bowl, and covering with hot water. I let mine sit for about 5 minutes to get a cooked, but still a little bit chewy consistency. Drain.
Assemble the bowls. Start with a small pool of sauce at the bottom of each bowl and top with noodles and chopped vegetables and herbs. Drizzle a bit more sauce over the top if desired, or mix so that everything is coated. Enjoy!